Enjoying The Great Outdoors at Cedar Crest
Susan Ingram
August 1, 2023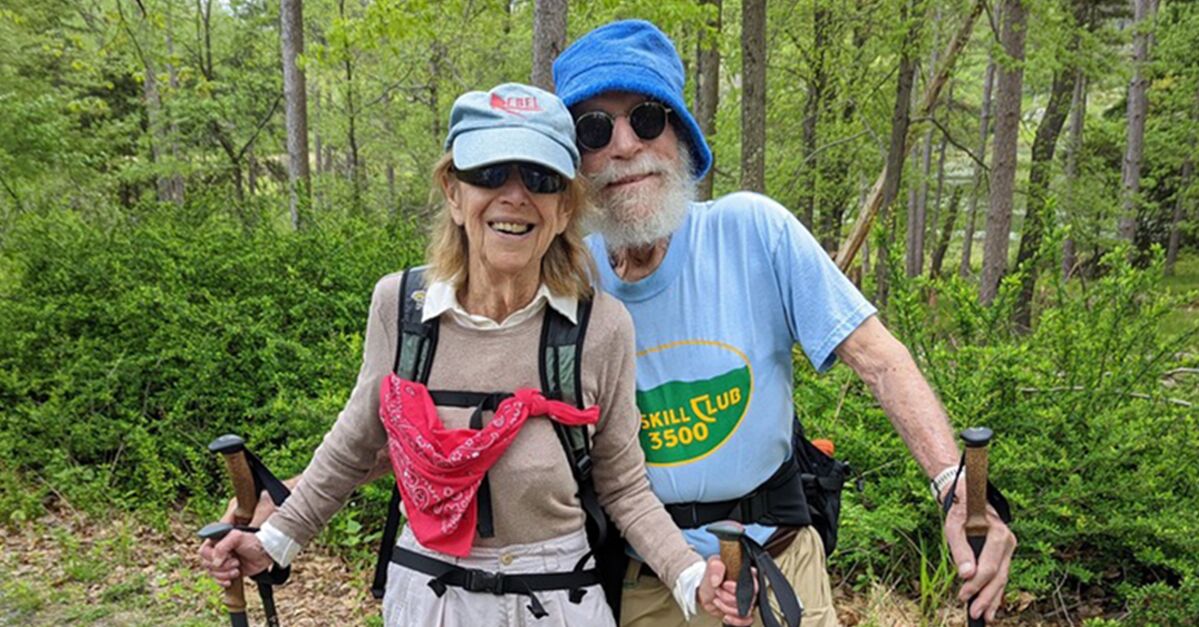 When avid hikers David and Naomi Sutter were researching their senior living options, one feature was at their top of their wish list - trails, trails, trails. 
Cedar Crest, the Erickson Senior Living community in Pompton Plains, N.J., caught their eye, given the many outdoor amenities and activities offered in and around the lush 130-acre campus.
"Cedar Crest is a marvelous place," says David. "It has a very unique location - that's what attracted us to it. For anyone interested in walking or moderate hiking, this is the place to be."
Nestled in the Ramapo Mountains, Cedar Crest boasts myriad walking and hiking opportunities.
"The community abuts Mountainside Park, so there are many miles of gentle hiking trails," he adds. "And, the people who designed Cedar Crest created access to over four miles of hiking trails right here on campus. We love this place - we've been here about 13 years."
'A turning point'
Believe it or not, David wasn't always a fan of taking to the trails. 
"One day, Naomi said to me, 'We're going to go for a hike.' I was 36 and Naomi was 31 then," David recalls. "I said, 'I don't want to go on a hike. I don't like hiking.'"
Nevertheless, Naomi prevailed, and they went on their first hike in Waterloo, N.J.
"By the time the day was over, I said, 'Oh, this is marvelous!' We joined the Union County Hiking Club in 1964, and we've been members of hiking clubs ever since," he says. "That was a turning point in our lives."
Now, the couple walks two to four miles a day on Cedar Crest's campus or nearby park trails all year round.
"Like the Sutters, many of our residents take advantage of our walking paths by themselves or with a friend," says Erica Zayat, resident services senior manager. "We are situated in a beautiful mountainous area, so no matter where you are on campus, you have a beautiful view." 
Outdoor amenities abound
Erickson Senior Living prides itself on offering safe, accessible outdoor environments that encourage residents to get active and socialize, enhancing their overall well-being. By taking advantage of these amenities, residents feel more energized and have greater focus and stamina.
"Spending time out in nature, tied together with getting exercise and being socially active, is good for the mind, body, and soul," adds Zayat. "Having an array of outdoor amenities is a key component to maximizing well-being."
From outdoor active spaces such as well-manicured walking paths to entertainment like summer evening open-air concerts, the opportunities are everywhere!
Cedar Crest features an outdoor patio, perfect for hanging out after a swim in the pool or dip in the spa. Garden allotments appeal to green thumbs, and for those with a competitive spirit, the putting green, horseshoe pit, and bocce courts are always busy.
Al fresco dining spaces are great for socializing, while the meditation garden offers the ideal environment for peace and relaxation.
Investing in well-being
"Our outdoor meditation garden was made possible by the Well-Being Fund," Zayat says. 
The fund, a multimillion-dollar investment provided by Erickson Senior Living, supports the addition of enhanced health and well-being amenities and services to residents in its communities across the country.
"We're so thankful! Getting fresh air and soaking up sunshine in the garden has had a significant impact on residents," she adds. 
Not only do Cedar Crest's outdoor amenities and activities allow residents to spend time in nature, they also provide the added benefit of social interaction coupled with healthy movement. 
"It all fosters connection," Zayat says. "Our residents love our walking club, which gets together every week from April to November. The hiking club, bocce, and horseshoes are also really popular." 
Get outside!
The Sutters, who couldn't be happier living at the scenic community, agree that their time outside enhances all aspects of their well-being. 
"There are so many physical activity options," David says. "We walk one hour in the morning and one hour in the afternoon. It induces a great serenity."
Thanks to resident-led efforts and investments in outdoor spaces, an increasing number of Cedar Crest residents are finding ways to spend time in nature, which is proving to be an integral part of their active, worry-free lifestyles.
Invest in your future self at Cedar Crest. From top-notch amenities to affordable, maintenance-free apartment homes, you are sure to live your retirement to the fullest. Request more information today!
Back