Enjoying the Freedom of a Fun and Flexible Lifestyle at Cedar Crest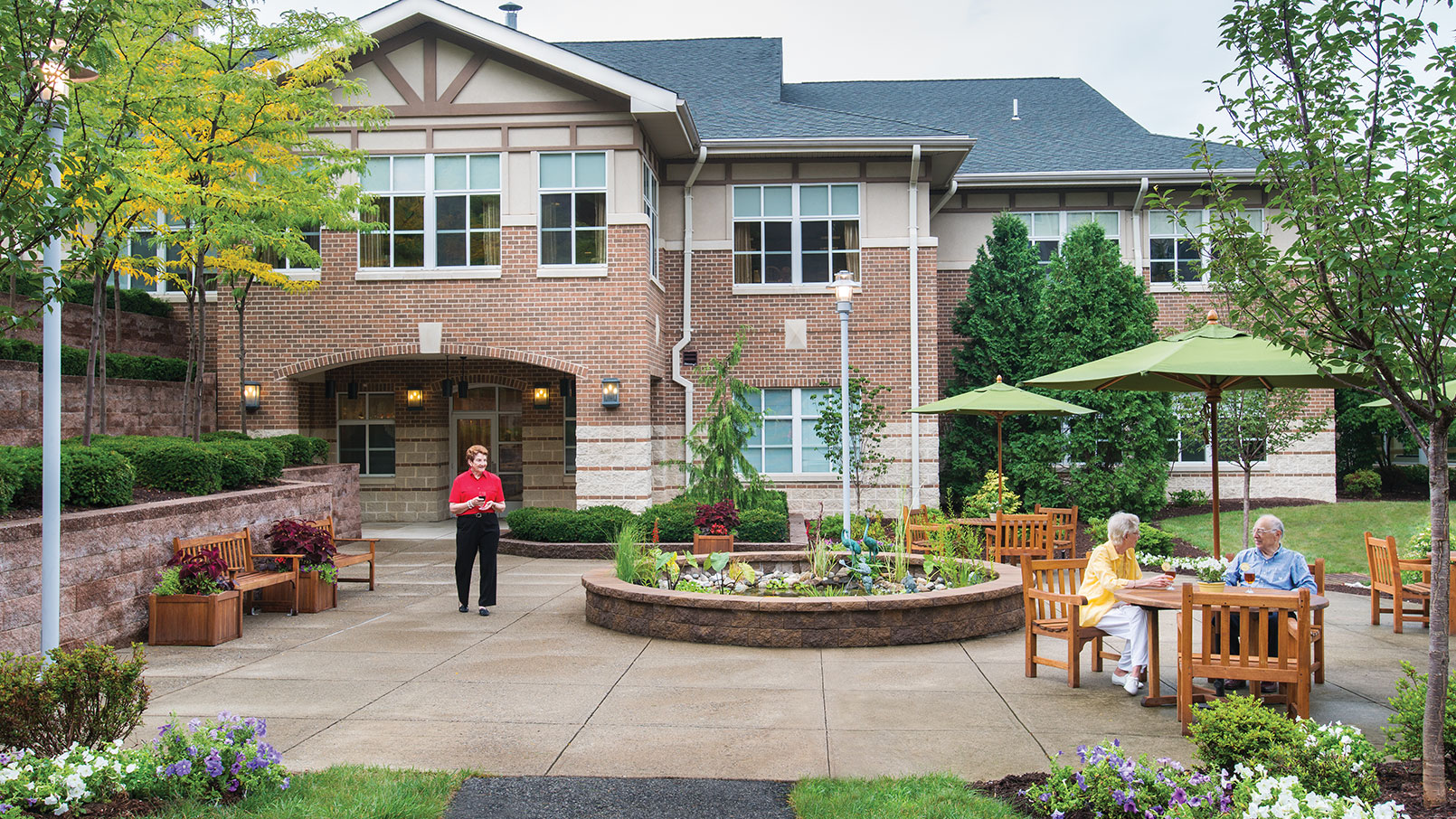 Cedar Crest, an Erickson Senior Living-managed community in Pompton Plains, N.J., is a popular choice for people who want the convenience of on-site amenities as well as the freedom to pursue hobbies and leisure activities off campus. When Joann West moved to Cedar Crest 15 years ago, slowing down was not on her to-do list. The vibrant, independent lifestyle she found at Cedar Crest turned out to be just what she was looking for.
Learning new skills
One of Joann's retirement goals was to learn to play the guitar, and she's happy to say that Cedar Crest helped her accomplish that feat. "I joined Cedar Crest Strummers guitar classes 10 years ago and now play with pleasure and abandonment," she says. "We meet weekly, have singalong concerts, and play in the living rooms during the holiday seasons."
Joann also keeps in shape physically and has been leading aerobics classes on campus for the past 12 years. "The residents who regularly come to these sessions can run circles around the college students who come to observe," Joann says. "I make those students participate, and they have trouble keeping up with us!"
Taking the lead
Joann has even started a number of groups on campus over the years, including the North Jersey Group, for residents who moved to Cedar Crest from North Jersey towns, as well as the Cedar Crest Retired Nurses group. "To celebrate Nurses Month in May, we made a video starring some of our retired nurses and current nursing staff at Cedar Crest, comparing the changes in nursing care over the years and looking forward to what's to come," she says. Joann also serves on the Philanthropy Committee, and has organized a number of fundraising programs for the Resident Care Fund. The group also organizes Cedar Crest's annual Alzheimer's Walk.
An active off-campus life
As busy as she is on campus, Joann also finds time to pursue hobbies outside of Cedar Crest as well. She continues to serve as a mentor for and participate in the American Society of Safety Professionals' (ASSP) Women in Safety Excellence group. "My career as a safety professional took me all over the world, inspecting workplaces for unsafe conditions, training workers and corporate officials in safe work practices," she says. As the first woman president of the New Jersey chapter of ASSP in its 75- year history, she's considered a pioneer in the field.
Staying in touch
Joann loves staying in touch with her former colleagues through her participation in the society. When she ventures off campus, she still drives, but she appreciates that she'll still easily be able to get around if and when she decides to go without a car. "Knowing that there is so much transportation variety here, I won't hesitate to give up driving when the time comes," she says.
Freedom and security
In addition to the freedom she enjoys to pursue her varied interests and come and go as she pleases, Joann is also appreciative that her life at Cedar Crest eliminates many of the hassles that come with homeownership. "With the monthly maintenance fees at my condo, I didn't have to worry much about outside maintenance, but anything inside the front door was my responsibility," she says. "The place was new when I moved in, so repairs were not a problem then. But after 20 years, things like the hot water heater had to be replaced. Now, I have hot water every time I turn on the faucet, and I don't have to worry about it."
Another benefit Joann has found at Cedar Crest is on-site rehabilitation services. "I recently had a backward sit fall, which resulted in a compressed spinal fracture. The rehab sessions here helped to speed my recovery in record time," she says. "They were just wonderful, professional, and caring in every way!"
Consider being part of a vibrant senior living community like Cedar Crest. Beautiful walking paths, gardens, resort-style amenities, an on-site medical center staffed by full-time medical professionals, and new friends await. Request a brochure or a visit now!
Back