Design Your Dream Dwelling at Cedar Crest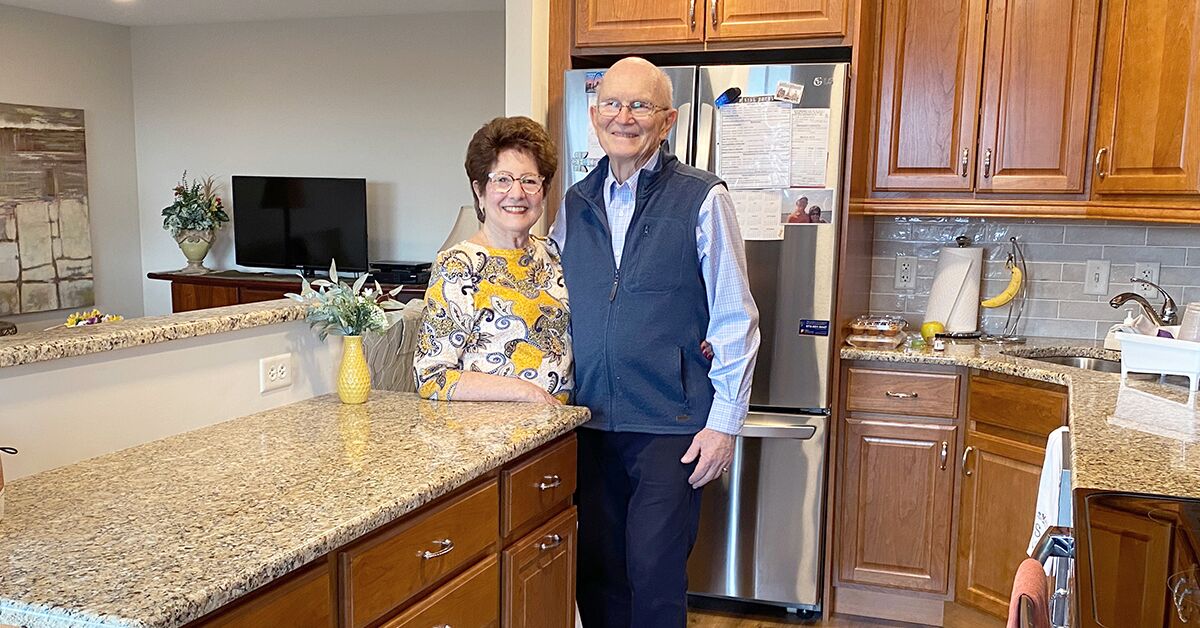 After 30 years of living in nearby Wayne, N.J., John and Linda Schweighardt decided to move to Cedar Crest, an Erickson Senior Living community in Pompton Plains, N.J. 
Thanks to Linda's years on staff at the community, they were already well-acquainted with the community's active, worry-free lifestyle - and eager to start enjoying it themselves. 
For nine years, Linda served on Cedar Crest's communications team, helping residents and visitors in the Woodland Commons, The Belmont, and Village Square neighborhoods.
"Being so familiar with Erickson Senior Living's mission and the community's staff and residents - as well as the activities and amenities - made it an easy decision for us to want to move here when the time came," Linda recalls. "Meeting new people, who are our age and shared our experiences, appealed to us."
Equally appealing was the opportunity to work with Cedar Crest's Custom Interiors team, which helped the couple create the home of their dreams. 
The perfect layout
"During our time as Cedar Crest priority list members, we looked at a number of different apartment home layouts," recalls Linda. 
By joining the priority list, the couple gained right of first refusal on an apartment home of their choosing. With plenty of input over the years from residents and help from Sales Counselor Ruth Phillips, the Schweighardts narrowed down their floor plan choices. 
When a spacious two-bedroom, two-bath corner home opened up, they knew it was perfect for them. The couple put their house on the market and started preparing for their move.
Knowing they wanted to reconfigure the space entirely, Linda and John worked with Custom Interiors Coordinator Kristin Clarke to curate a new layout and personalize the home to suit their needs.
Customize your space
"I put in many personal touches using some of Cedar Crest's recommended vendors," notes Linda, "so our open concept could be set in motion." 
"Open-concept living is a popular preference in recent years," says Clarke. "We are getting lots of requests to remove walls to create an airy feel."
In addition to designing a sunroom, Linda and John flipped the locations of the living and dining areas and extended the kitchen. Custom-made shelving was also installed to create a designer look.
"I sourced the kitchen backsplash and the bathroom's lighting fixtures, cabinet handles and pulls, and mirrors," Linda says fondly of the process. "It was like finishing the interior of a new house, down to choosing paint colors!" 
While getting ready for their move, the Schweighardts took advantage of another priority list perk - a visit from Planning and Moving Consultant Anne Connor. 
During Connor's visit, she asked about the items that would be coming with them to their new home. Using a layout board, Connor helped them arrange furniture and décor to best suit their custom floor plan.
Treasured possessions
"I always suggest surrounding yourself with things that you love, such as family photos, art, and travel treasures," Connor says. "When you move into your new space, these things that bring you joy will make you feel at home right away." 
She also suggests planning a layout with furniture that is optimized for day-to-day living. Consider swapping formal living room furniture for comfy couches and pillows that will heighten your TV-watching and entertaining experiences. 
"In embracing your new lifestyle, don't be afraid to welcome new pieces. If your mattress is more than ten years old, for example, consider treating yourself to a new one!" she adds, with a laugh.
Linda notes that Connor's guidance really streamlined their moving process. "When it came time to move in, everything had a place," Linda says. "She was patient and always available to 'double-check' some of my original decisions!"
'A win-win'
When the couple's personalized apartment home was complete, they were excited to get involved and enjoy their maintenance-free lifestyle. 
"I already knew a number of our neighbors from having worked here, but new ones are coming by to welcome us," says Linda. "We're enjoying dinners in the restaurants, a few exercise classes, off-campus trips, and playing cornhole! We're looking forward to taking advantage of even more benefits and activities as we get settled."
With the perfect floor plan design, an array of amenities and activities, and access to the greater Pompton Plains area with family nearby, the Schweighardts say that "Cedar Crest is a win-win for us!"
At Erickson Senior Living communities, residents like John and Linda appreciate the opportunity for new beginnings - and the ability to create beautiful spaces where they can live the carefree retirement they've always imagined.
Invest in your future self at Cedar Crest. From top-notch amenities to affordable, maintenance-free apartment homes, you are sure to live your retirement to the fullest. Request more information today!
Back