Cedar Crest's Veterans Stay Connected Through Resident and Staff Efforts
Susan Ingram
November 14, 2022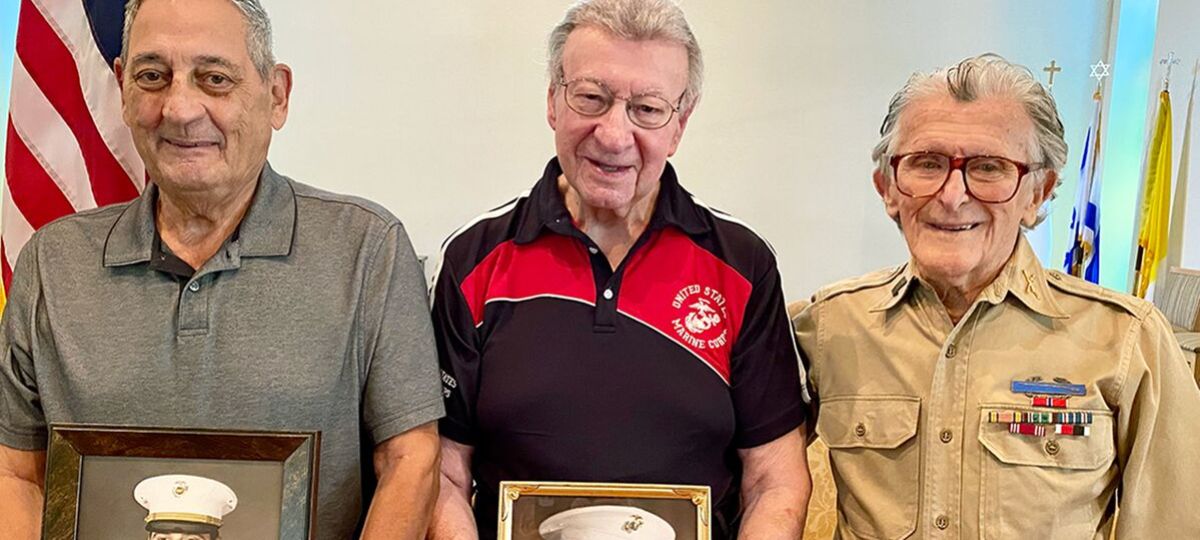 Cedar Crest, the Erickson Senior Living community in Pompton Plains, N.J., has a resounding number of residents who have served our nation - 263 known veterans, to be exact. These men and women, including 49 World War II veterans, 95 Korean War veterans, 62 Vietnam War veterans, and 57 peacetime veterans, represent all branches of the military.
Working with resident life staff, Korean War veteran and computer specialist Neal Monda founded the community's Veterans Computerized Database in 2017. The comprehensive system, updated regularly by Neal and his wife Bette, benefits the planning stages of Cedar Crest's patriotic events.
The couple reaches out to each new resident, asking them to answer a short list of questions. Those who want to be included in the database must also provide an outline of their service history and their contact information.
'A better person'
Neal, who served as a sergeant in the U.S. Marine Corps from 1949 to 1954, remembers his time in Korea like it was yesterday, he says.
"We were continually climbing up one mountain and down another; never knowing where I was, where I had been, or where I was going," he recalls. "I would stand watch in minus 50-degree weather, watching tracers cut through the black night sky. Our canned food was so frozen that I ate it with my knife."
The people who kept him motivated during these arduous times, says Neal, were his marine buddies.
"Being a marine in Korea was an impactful experience for a 19- to 20-year-old kid," says Neal. "I am, without a doubt, a better person for having served my country and having made a very small contribution to the thriving, successful, and free nation that is South Korea."
Now, Neal appreciates the ability to share these recollections with the hundreds of veterans at Cedar Crest, including resident Steve Vallario.
Mission accomplished
Vietnam War veteran Steve Vallario entered the U.S. Marine Corps in 1958, attending Officers Training School in Quantico, Va. As a first lieutenant, Steve served as a logistics and supply officer in Albany, Ga.
"Our primary mission was to support marines east of the Rocky Mountains, all the way to the East Coast - known as the Atlantic Fleet," Steve says. "The mission was to rebuild, repair, and supply ground combat equipment that would support all marines being deployed."
His tour as first lieutenant was over in 1961. "I just missed being deployed to Vietnam," Steve adds, "but I had a lot of experiences when I was stationed in Albany."
As a second lieutenant, Steve was to organize and prepare for the annual Marine Corps Birthday Ball.
"It's been celebrated each year since 1921. At every Marine Corps base, the birthday is celebrated on Nov. 10," he explains, in honor of when the Continental Congress ordered two battalions of marines to advance on November 10, 1775.
"This assignment was a tremendous amount of pressure, and it required a lot of effort to make sure all of the details came together," recalls Steve. "It was successful. I accomplished the mission!"
Part of history
Cedar Crest resident Gabe Vitalone, who recently reached his centennial birthday, has collected a lot of memories from his years on active duty as well.
Joining the ROTC allowed Gabe to finish his Fordham University education, after which he attended Officer Candidate School at Camp Davis in Holly Ridge, N.C. After training, he joined the 89th Infantry Division. In late 1944, Gabe was deployed to France, following in the footsteps of the Allied invasion.
"We were with General Patton on his push through Germany," Gabe recalls. "We ended up on the Czechoslovakia border. Then the war ended, and I was in occupation for another year."
On April 4, 1945, the 89th Division liberated a concentration camp in Ohrdruf, Germany, that was a subcamp of Buchenwald. It was the first Nazi camp liberated by the U.S. Army.
"The liberation was a happy one, but even to this day, it's very difficult to talk about," Gabe notes.
'A tale to tell'
The war ended that May, and Gabe went home the following July. He continued his college education, taught at both elementary and college levels, and got married. Gabe and his wife Evelyn celebrated their 68th anniversary in July.
At one of Cedar Crest's recent veterans' events, Gabe sang a rousing version of the national anthem to a packed house. The community's Korean War-era veterans were honored, while memories and songs from each military branch were shared.
"At events like these, residents have the opportunity to connect with others who also served and form friendships that blossom from the momentous events they went through," says Resident Life Manager Amy Wagener. "Every veteran has a tale to tell that is inspirational to all. It really contributes to the community feel here at Cedar Crest."
To learn more about affordable, independent senior living at Cedar Crest, request your free brochure to get the scoop on amenities, floor plans, and so much more.
Back