Cedar Crest's Upgraded Amenities Support Senior Residents' Overall Well-Being
Susan Ingram
October 26, 2022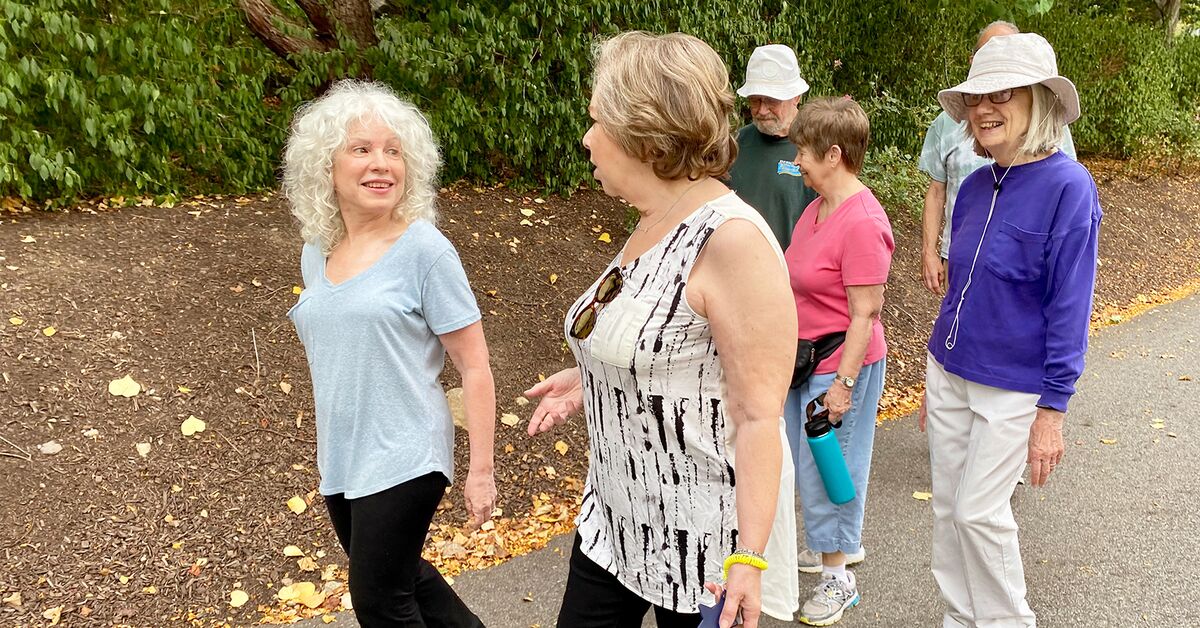 Being active is one of the best ways to enjoy a fuller, more satisfying life. At Cedar Crest, an Erickson Senior Living community in Pompton Plains, N.J., residents are finding it easier than ever to get involved!
Cedar Crest's fitness and aquatics centers offer an abundance of opportunities that support physical, mental, and spiritual well-being. From relaxing classes like hatha yoga and guided meditation to invigorating workouts like aerobics and boxing, residents have many avenues to better their overall health.
Holistic senior care
After researching more than 20 retirement communities across four states, Deborah Steincolor and her husband, of nearby Montclair, N.J., ultimately chose Cedar Crest because of its "holistic approach."
"There are many resources here that benefit your physical and mental well-being, as well as your spirituality, like the meditation and support groups," says Deborah. "And the activities - whether you choose bocce, mah-jongg, or Yo-Chi - contribute to those, too." 
Staff and resident-led programs at Cedar Crest allow community members to care for their well-being while forming new friendships. Given the community's long list of fitness classes and clubs, ranging from interests like current events and cultures to books and games, residents are able to stay engaged through their interests.
"Many residents tell me how much they appreciate all there is to do here," says Fitness Coordinator Stacey Myers-Smith. "As we age, it is even more essential to stay active. We encourage residents to choose something they enjoy and ask friends to join them; that way, they stay motivated. Most importantly, it creates a sense of community."
"It's the energy of the people - both the residents and the staff at Cedar Crest - that really forms a caring community," Deborah says. "Everyone's so enthusiastic. I've never seen such a vibrant community!"
Health and wellness programs for seniors
All Erickson Senior Living communities offer the "holistic approach" that Deborah was seeking in a senior living option.
This year, Erickson Senior Living provided a multimillion-dollar investment, through its Well-Being Fund, to support the addition of enhanced health and well-being programs and services to residents.
Incorporating findings from the company's research partnership with Harvard University and the Benson Henry Institute (BHI) for Mind Body Medicine at Massachusetts General Hospital, these additions are designed to enhance the physical, emotional, and social well-being of residents.
In 2021, residents at selected Erickson Senior Living communities participated in the Embrace Well-Being and Flourish study, which used the BHI's SMART (Stress Management and Resilience Training) curriculum to provide them with practical strategies for managing stress and improving resiliency.
Results of the study showed statistically significant changes, including increases in resilience, coping, and positive emotions, while decreases in distress and social isolation were seen.
"Through the Well-Being Fund, we are able to apply evidence-based research to further enhance the programs, amenities, and services available to better enable residents to achieve optimal health outcomes," notes Dr. Margaret Kimbell, vice president of community living for Erickson Senior Living.
Investing in mental and physical health
Residents at all Erickson Senior Living communities now have greater access to tools and strategies that support resilience and overall health and well-being. Examples include Wellbeats, a new fitness app that allows residents to participate in on-demand and live exercise, yoga, and meditation classes from any location.
At Cedar Crest, the fitness center is being updated to feature state-of-the-art equipment, including NuStep and Matrix ellipticals, recumbent bikes, treadmills, Echelon bikes, and rowers. Other indoor and outdoor amenities, such as the aquatics center, are being enhanced as well.
"These investments from the Well-Being Fund have already started to pay off," says Fitness Manager Jen Schweizer. "After residents try a new fitness class or use the new fitness equipment, they usually come to us and let us know that they have more energy and feel more alive."
Vibrant senior living
"With the maintenance-free lifestyle that Cedar Crest residents enjoy, they have more free time on their hands," explains Schweizer. "Our offerings allow them to not only 'get out,' but to reap many health benefits and live life to the fullest." 
Schweizer adds that, beyond the community's fitness offerings, there are plenty of opportunities for social and spiritual engagement. Whether you choose to meet friends at one of Cedar Crest's top-notch restaurants, interact with like-minded people at hobby-oriented clubs, or attend one of the many pastoral care services and events, there are plenty of ways to get involved.
Invest in your future self at Cedar Crest. From top-notch amenities to affordable, maintenance-free apartment homes, you are sure to live your retirement to the fullest. Request more information today!
Back