Cedar Crest's Staff Members Share a Commitment to Care
Susan Ingram
March 7, 2023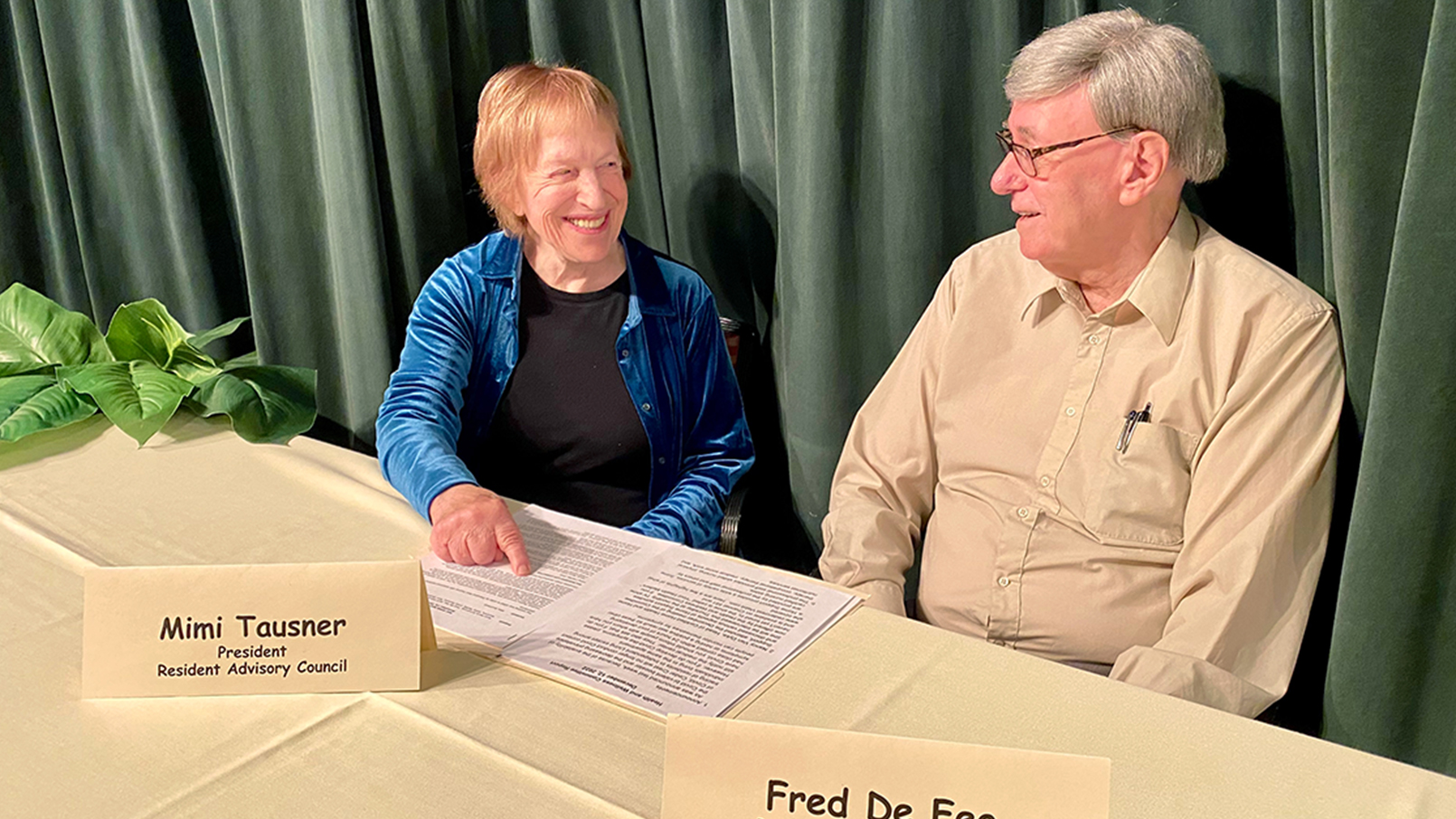 "It's all about our people," says Kristen Compton, the executive director of Cedar Crest, an Erickson Senior Living community in Pompton Plains, N.J.
From the knowledgeable sales associate who helps you find the perfect apartment home, to the fitness trainer who motivates you to reach your goals, to the enthusiastic servers at your favorite on-campus restaurant, it's the staff members who make Cedar Crest such a great place to live.
"Every day, I witness how our employees work with residents in a genuine, kindhearted manner. Whether they're moving in, launching a new group, or planning a special celebration, our staff members are there for them," says Compton. "That dedication helps our residents enjoy the worry-free lifestyle that is central to Cedar Crest's engaging community living."
Making connections
Originally from Edgewater, N.J., Mimi Tausner was drawn to Cedar Crest because of its vibrant living environment.
"I first learned about Erickson Senior Living when a friend moved to Lantern Hill, which is an Erickson community in New Providence, N.J.," Mimi recalls. "However, Cedar Crest was closer to where my children live, so that's the one I decided to tour."
Upon her first visit, accompanied by five family members, Mimi was sold on Cedar Crest's community of engaged residents and staffers. In 2017, she moved into a two-bedroom, two-bath apartment home.
"I didn't know anybody when I moved here, but now I'm busy as can be, maintaining relationships with employees and neighbors," she says.
As Mimi started making friends, she was invited to join a group of women who met for dinner every other week. One of those women had been president of the Resident Advisory Council (RAC), which partners with staff and management on important community projects.
"She urged me to think about running for the RAC. About a year later, I volunteered to run!" recalls Mimi. "The level of collaboration and communication between RAC members and staff is wonderful."
'Our terrific employees'
Erickson Senior Living and its national network of communities strive to hire, retain, and promote the best of the best to provide an excellent resident experience.
"Our terrific employees strive to make Cedar Crest a cohesive community that welcomes and uplifts everyone who lives and works here," says Compton. "To make this possible, we recruit people who meld with the mission and values of Erickson Senior Living."
Alan Butler, CEO of Erickson Senior Living, couldn't agree more.
"Senior living should be considered a destination for career-driven people who possess a passion for serving others," notes Butler. "We continue to innovate and train our workforce because the services we offer to residents are only as good as the people who provide them. I am confident that we have the best in the business working for Erickson Senior Living."
Amazing career growth
Many people choose to work at Cedar Crest - and continue extending their careers with Erickson Senior Living - because of the many opportunities for professional and personal growth.
Seventeen years ago, as a high school student, Christopher Kilhaney began his career with Erickson Senior Living. While he started out in one of Cedar Crest's restaurants, he moved up the ranks over the years.
"My career growth has been amazing," says Kilhaney. "Now, almost two decades later, I serve as the dining services recruiter for the community's human resources department. Every person that I've had the pleasure of knowing at Cedar Crest, residents and staff included, are family to me."
Brightening lives
At Cedar Crest, employees make a profound difference. Every service offered and each helping hand extended contributes to residents living better, more rewarding lives.
"Residents often share how much their lives have been enhanced through creative acts of kindness," says Compton. "Maybe a fitness trainer offered some encouragement, a custom interiors coordinator found an innovative design solution, or a restaurant's general manager made a special occasion memorable. Employees recognize how much they impact our residents, and they work hard to maintain that level of service."
"The employees seem to like working here, and it shows. It makes all the difference in our lives," Mimi says. "The young people who serve us in the restaurants are a delight to talk to. Seeing so many young people here brightens our lives!"
If you are contemplating a move to senior living, just like Mimi was, consider the advantages of having kindhearted staff members support you in all aspects of life. "You won't regret it!" she says.
Invest in your future self at Cedar Crest. From top-notch amenities to affordable, maintenance-free apartment homes, you are sure to live your retirement to the fullest. Request more information today!
Back