Cedar Crest's On-Campus Resale Shops Benefit a Good Cause
Susan Ingram
September 7, 2023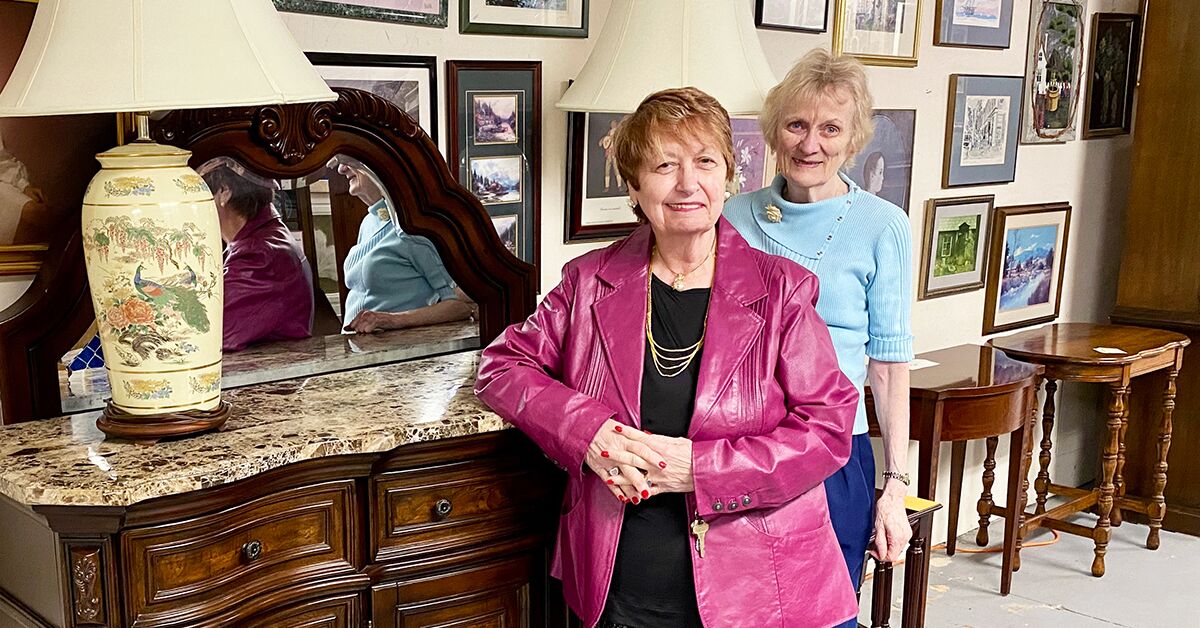 Decade-old jewelry pieces and hand-crafted dining sets are valued treasures that many hold dear. 
But visit Cedar Crest, the Erickson Senior Living community in Pompton Plains, N.J., and you'll discover that the volunteers who lead the community's resale shops are the real treasures. 
The Treasure Shoppe and Dave's Den, managed by residents Marilyn Craine and Pat Jacoby, are on-campus resale shops that donate proceeds to Cedar Crest's Resident Care Fund, which provides financial assistance to those who, through no fault of their own, outlive their resources. 
"I always refer to the Treasure Shoppe as being the thrift shop and Dave's Den as the boutique," says Marilyn, who loves helping her neighbors' donations find new, loving homes. 
Taking the reins
When Marilyn moved to Cedar Crest about 13 years ago from nearby Nutley, N.J., residents had already begun selling their unwanted items. Due to high demand, two rooms on the first floor of the Park View building were transformed into the Treasure Shoppe. 
And when the burgeoning thrift shop required an expansion, a second store - with room for larger pieces, including furniture and artwork - was opened on the first floor of Greenleaf Court. It was named Dave's Den after Dave Way, the resident who first suggested the idea of an on-campus resale shop. 
Soon after resident Blanche Blitzer agreed to manage Dave's Den for two hours every Thursday, the Treasure Shoppe's leader decided to step down. 
"That's when I tumbled into running the Treasure Shoppe," says Marilyn, with a laugh. 
Blanche eventually retired, too, but Pat was there to take the reins. Pat, who moved to Cedar Crest from nearby Livingston, N.J., in 2017, boasts a 50-year background in fine collectibles. 
Giving back
The mission behind the shops - giving back to the community - is what really motivated Marilyn and Pat to step up to the plate. 
Cedar Crest's Home for Life promise, fulfilled through the Resident Care Fund, provides peace of mind for residents and their family members. 
"In 2022 alone, the two shops brought in nearly $62,000," says Pat.
And because Marilyn challenged New Jersey's taxing of goods sold at the resale shops, residents and staff pay no tax, get great bargains, and, best of all, support the Resident Care Fund through their purchases.
Timeless treasures
Dave's Den is open one day a week for two hours, and the Treasure Shoppe is open for four hours across three days. That may seem like a limited amount of time, but Marilyn and Pat say that fielding calls and assessing and acquiring items is a full-time job.
To assist shoppers, Marilyn and Pat recruit a handful of volunteers - from a pool of about 40 - each day to staff the registers and provide quality customer service at the stores. 
"Our process these days is streamlined, efficient, and lucrative, thanks to Pat's eye for real treasure and her extensive web of dealers and movers that keep items moving," says Marilyn.
Both Pat and Marilyn get calls from residents who have items to donate. With years of experience in what sells and what doesn't, the two make informed choices. For high-end items that don't sell to residents, Pat calls in her dealer contacts.
"We have everyday things that people need, like toasters. Recently, a woman was delighted with her new Crockpot - on sale for just $4!" notes Marilyn. "But if something is donated that looks pretty elegant, we run it over to Pat." 
"I get Chippendale-style desks that are very beautiful," Pat says. "I get Baccarat crystal and Tiffany crystal. Really neat things. I also get some nice Chinese and Turkish rugs."
Spreading the love
Marilyn and Pat have also worked hard to cultivate contacts outside of Cedar Crest so no item gets left behind. 
"I was one of eight children and times were tough," Pat recalls. "I don't like throwing anything away."
"So, every Friday, the items we've had for quite a while go to the employee lounge. They're thrilled!" adds Marilyn. "We are always reaching out, giving towels and things to the local animal shelter or extra bags to the food pantry." 
While Marilyn, Pat, and their volunteers work for free, the reward on their efforts is priceless. "We get a lot out of it," says Marilyn. "It's such a good feeling to be able to help somebody."
To learn more about affordable, independent senior living at Cedar Crest, request your free brochure to get the scoop on amenities, floor plans, and so much more.
Back