Cedar Crest Singers Bring Joy to Their Neighbors Through Music
Susan Ingram
August 15, 2023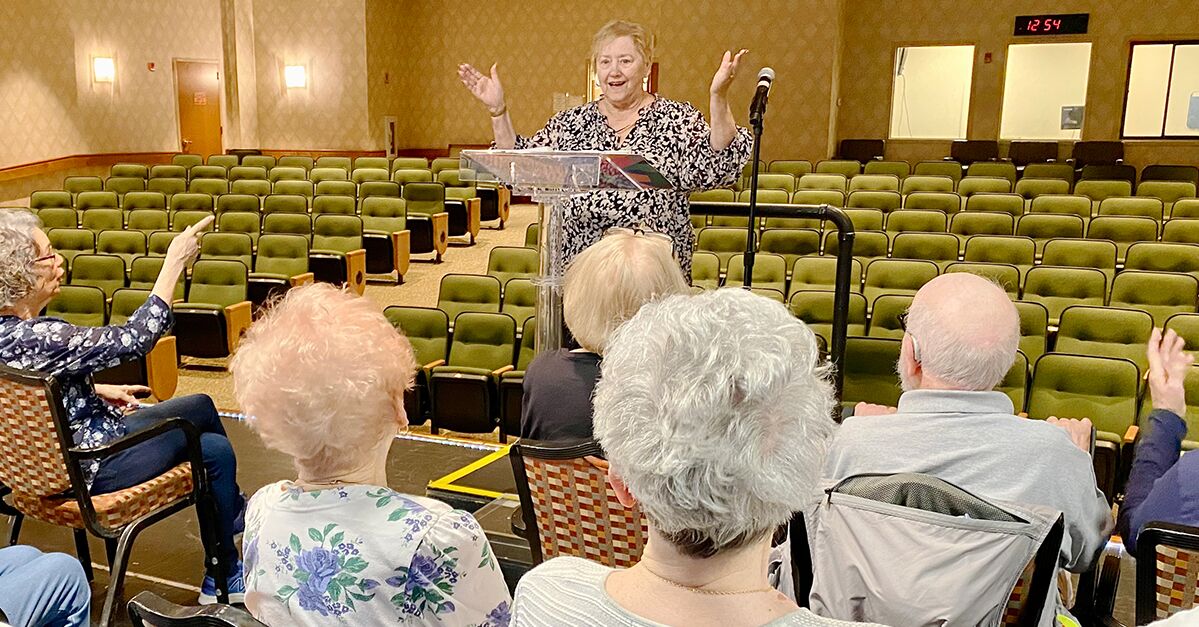 Donna Inez, a former nurse and computer medical records manager, has been singing since she was seven years old. 
After graduating college, she sang with David Randolph's Masterwork Chorus in New York, at the Philharmonic and Carnegie Hall, and later with the Morris Choral Society in New Jersey.
So, when it came time to research her senior living options, finding a community that supported her passion for singing was at the top of her list. Cedar Crest, an Erickson Senior Living community in Pompton Plains, N.J., checked that box and more. 
With a maintenance-free lifestyle and an array of amenities, clubs, and activities to choose from, the lifelong singer and music lover knew that Cedar Crest was the place for her. 
Since moving to the vibrant community with her husband in 2010, she's stepped up to the plate as the Cedar Crest Singers' chair and conductor - and she couldn't be happier. 
Two decades of delight
When Donna joined the Cedar Crest Singers, then-conductor Blanche Blitzer decided it was time to retire the baton. 
"One evening, we were all around the piano for happy hour. As I was singing and chatting, just having a good time, one of the group members said to me, 'We don't have a conductor anymore. I think you'd be a good fit,'" Donna recalls.
She was doubtful, but a friend urged her to at least give it a try. 
"She said, 'Do it for one concert. If it doesn't work, it doesn't work,'" Donna adds. "I did it for one concert, and that turned into two and three and four. Now, I've been doing them for over ten years!"
This past Christmas, the group held its twentieth concert - with Donna front and center on stage. 
"I love it," she says, "and the Cedar Crest Singers just love to sing. We rehearse every Friday, usually with a good group of people. The largest group was 65."
Musical memories
The Cedar Crest Singers perform a variety of songs from holiday favorites and Broadway show tunes to the "old chestnuts," Donna says. "The standards, which give us a wide range of musical styles to choose from."
Donna works with pianist Fred Fischer, another community resident, to make the selections for each concert's song list - usually about two dozen pieces.
"I have lots of music at my fingertips. I put little check marks next to the selections in our songbook that I think we should sing," she says. "Then, Fred and I get together a couple of times before the first rehearsal to iron out what pieces we want to perform."
With choral movements, happy songs, a few sad songs, and solo pieces, there's something for everyone. 
"Anyone can join the Cedar Crest Singers!" she notes. "If you sing in the car, if you sing in the shower, or if you sing just about anywhere, you can join."
Resident Services Manager Drew Nieuwenhuis explains that this energetic group has fostered friendship and touched the lives of many residents. 
"Music is a universal language that bridges generational, social, and cognitive barriers," he notes. "It allows a diverse group of people to come together and work in harmony to create something special."
Nieuwenhuis' statement is an apt description of the Cedar Crest Singers, whose dedicated members share their love of music, lift spirits, and bring joy to the community.
Touching hearts
Fred stepped into the accompanist seat this year, soon after he and his wife Judith Love-Fischer moved to Cedar Crest.
"My whole life has been nothing but music," Fred says. "I describe myself as a classically trained jazz pianist." During his musical career, he served as the director of music at a private school, an organist, a choir director, and has played in nightclubs and jazz concerts. 
An associate pastor at Fred's church mentioned Cedar Crest to the couple.
"When we visited Cedar Crest, the first thing I did was check out the seven-foot Yamaha grand piano in the chapel," Fred recalls. "We moved to Cedar Crest because, well, that is so impressive! In fact, there's a grand piano in each of the three clubhouses and a grand piano on the Cedar Crest Singers' stage. What other retirement community has this kind of stuff going for it?"
Besides playing with the Cedar Crest Singers, Fred rounds up other jazz musicians and singers for the weekly Jazz at Village Square events.
"For me, music is an expression of life," Fred says. "Whether you're playing sing-along music or jazz, people love it, and it's touching their heartstrings."
To learn more about affordable, independent senior living at Cedar Crest, request your free brochure to get the scoop on amenities, floor plans, and so much more.
Back