Cedar Crest Residents Enjoy the Freedom of a Worry-Free Retirement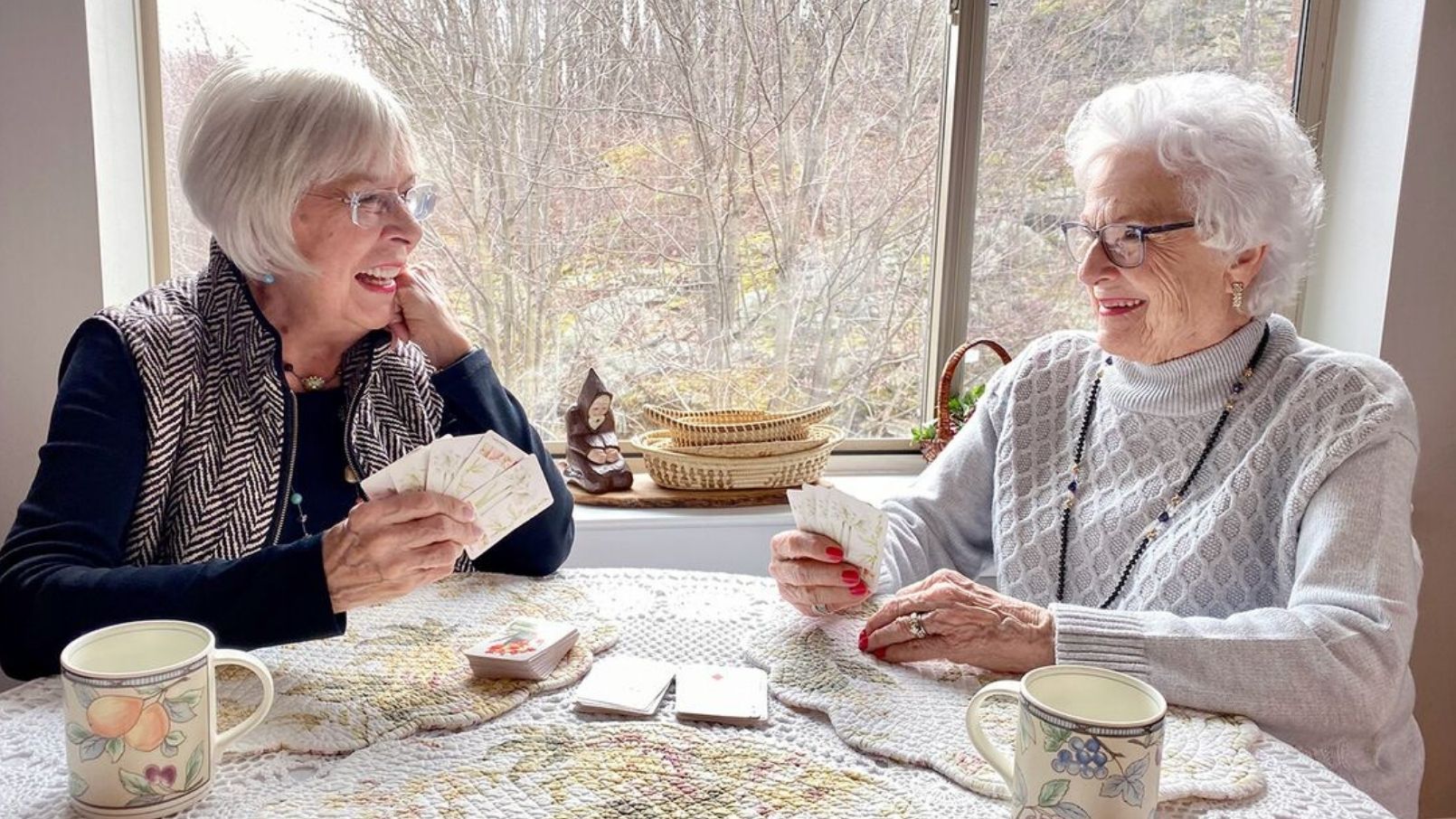 At Cedar Crest, an Erickson Senior Living community in Pompton Plains, N.J., opportunities abound for residents to enjoy an active, vibrant lifestyle. With maintenance-free living in the community's stylish apartment homes - along with plenty of on-campus amenities and clubs to choose from - residents have the freedom to pursue the retirement they've always envisioned.
Instead of being isolated in a house that no longer suits their needs, residents are part of a supportive, welcoming community that provides the resources to foster meaningful connections and care for their overall well-being.
A perfect match
When maintaining a 65-year-old home by herself became too burdensome, Ellen Contino, a longtime teacher and guidance counselor from Wayne, N.J., happily moved into her new apartment home at Cedar Crest.
"I had visited friends here and seen their apartment homes. I knew it was a beautiful community," Ellen recalls. "Ultimately, what drew me here was that it's so close to where my son lives in Vernon."
Sales Counselor Kate Tanis helped Ellen find the perfect apartment home: a bright two-bedroom, two-bathroom corner design.
"I opened the door, and there was this big floor-to-ceiling window - the whole end of the room," says Ellen. "And what do I see? Beautiful scenery of trees and rocks and the mountain. It's absolutely gorgeous."
Happy hallmates
"Ellen knew people here and appreciated the benefits of the community," Tanis says. "She was eager to start her 'amazing next chapter.' Ellen always visited campus with her good friend Marian Chrisbacher, who was also interested in moving."
And with help from Tanis, Marian started a new chapter in her life at Cedar Crest too.
"When I took Marian to see my apartment home, she said, 'I think I'm going to come here, too, and maybe we'll be in the same building, or close by,'" Ellen recalls. "I thought that would be great. Marian moved in a few months after me - across the hall!"
Social butterflies
Ellen and Marian participate in lots of activities together now, like bridge and aerobics. They've also connected with their neighbors - while still staying in touch with old friends in Wayne.
Whether you prefer working out in the state-of-the-art fitness center or engaging in hobbies, activities, artistic pursuits, or volunteer opportunities, there are many ways to expand your social circle at Cedar Crest.
"Having all those choices, you're likely to find a club, group, or activity that interests you," says Cedar Crest Sales Director Ray Guarino. "When you participate and meet people that share the same hobbies, you start forming connections and branching out - that's how residents thrive and flourish here."
Resident Services Manager Drew Nieuwenhuis agrees. "Cedar Crest offers residents the ability to get out in a community setting and make new friends with similar interests. We also welcome residents' ideas in starting new activities or groups."
Hassle-free living
Ellen and Marian both appreciate their maintenance-free apartment homes and active lifestyles as well.
Through Cedar Crest's comprehensive monthly service package, residents' day-to-day lives are completely carefree. Expenses that homeowners regularly incur - such as the gas and electric bill, property taxes, seasonal upkeep, and appliance replacement and repair - are all taken care of, leaving you with even more free time to be out and about. 
"I don't miss my house at all," Ellen says. "I didn't want to deal with the washing machine having to be replaced, a rack collapsing in the closet, or a leak appearing someplace. It was just endless because our house was so old. I wanted to be free of that."
Holistic care
After spending many winters in the Florida sun, Peter and Joyce Streelman decided it was time to return to their home state of New Jersey, so they could be near their adult children.
The Streelmans, also fans of Cedar Crest's worry-free lifestyle, were particularly impressed with the community's care offerings.
"For us, it's knowing that as we age, we're going to have more issues," Peter explains. As a continuing care retirement community, Cedar Crest provides the resources you need to care for your mental, physical, and spiritual well-being - now and in the future.
The Streelmans also take advantage of the community's wide array of activities, indoors and out. "There are two beautiful gyms here. I go every day," Peter says. "And the walking trails are beautiful."
Peter also attends yoga classes once a week, while Joyce belongs to a knitting group and sings in two choirs. Together, the couple joined bocce ball and they play volleyball in the pool twice a week.
Invest in your future self at Cedar Crest. From top-notch amenities to affordable, maintenance-free apartment homes, you are sure to live your retirement to the fullest. Request more information today!
Photo: Good friends, now neighbors: Ellen Contino (left) and Marian Chrisbacher live on the same floor at Cedar Crest and both love the carefree lifestyle.
Back