Cedar Crest Residents Donate All Year
Dorrie Anshel
December 20, 2021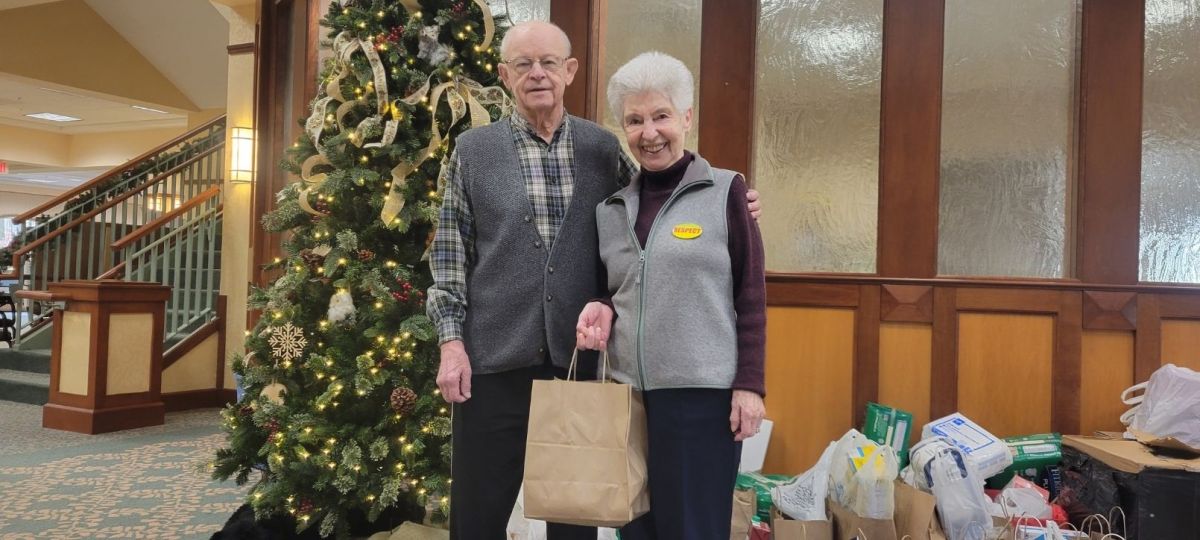 Charitable giving and the holidays go hand in hand. The spirit of generosity is at its peak, and organizations typically report their highest level of donations between Thanksgiving and New Year's.
The residents of Cedar Crest, the Erickson Senior Living community in Pompton Plains, NJ, not only embrace the traditional season of giving, they contribute year-round to a variety of organizations that are making a difference in their community, nationwide, and around the globe.
Fall at the community is a busy time, with walks to raise money and awareness for breast cancer, sponsored by the Wellness Center, and Alzheimer's disease, a resident-run event held for more than 12 years. Says Joann West, one of the resident organizers, "People donate for their passion, and this is their passion. We all know someone affected by this disease and want to see it eradicated in our lifetimes."
Kathy Moffitt, president of the Protestant Council at Cedar Crest, understands well the concept of donating for your passion. She and her fellow council members give all year long to a variety of local, national, and international organizations that are making a huge impact in the communities they serve.
"Holiday giving is important," she says, "and our members are incredibly generous at that time of year. But hunger happens all year. Needs exist all year. So we make sure to give during those times when donations tend to be low."
The council's two annual food drives take place in January on Super Bowl weekend – or as they call it, "Souper Bowl" weekend – and in July. Open to all Cedar Crest residents, the drives collect non-perishable food for the Pequannock Food Pantry, housed in the First Reformed Church of Pompton Plains; monetary donations buy grocery store gift cards so recipients can purchase fresh fruits, vegetables, and dairy products. This year the council collected $2400, which the pantry will distribute among 200 families.
Another ongoing effort is the council's quarterly clothing drive. Their most recent effort netted 200 lawn bags filled with clothing and shoes, which the First Reformed Church sent to their sister church in Newark.
Kathy explains, "There had been a huge apartment fire in Carlstadt, NJ, near Newark, which left hundreds homeless and with nothing other than the clothes on their backs. The church made sure that everyone affected by the fire had enough clothing and shoes to get them through that initial period, until they could get back on their feet."
The council also sets aside 25% of their receipts for various missions and typically gives between $500 and $3,000 per month. The Salvation Army and Doctors without Borders are two of the organizations to which they've donated.
"We choose very carefully before we donate," notes Kathy. "We look for organizations with extremely low administrative costs that have earned a five-star rating. We want as much money as possible to go to those who really need it."
This thoughtful approach to giving has touched all the residents at Cedar Crest, and everyone participates. "Other religious groups advertise our efforts in their respective newsletters and encourage members to contribute," says Kathy. "And residents, regardless of affiliation, step up to give. It's an incredible, community-wide commitment, and we are grateful."
Erickson Senior Living's Director of Operations, Jeff Watson, says, "Cedar Crest residents are so generous with their time, talents, and treasures, not only to do good in the world, but to also feel good in the world. It's this spirit of kindness that always radiates throughout our campuses and enables those who call Cedar Crest home to make a joyful difference in the lives of so many."
Consider being part of a strong and caring senior living community like Cedar Crest. Beautiful walking paths, gardens, resort-style amenities, an on-site medical center staffed by full-time medical professionals, and new friends await. Request a brochure or a visit now!
Back