Living Life to the Fullest at Windsor Run
By Kelly Shue
February 25, 2022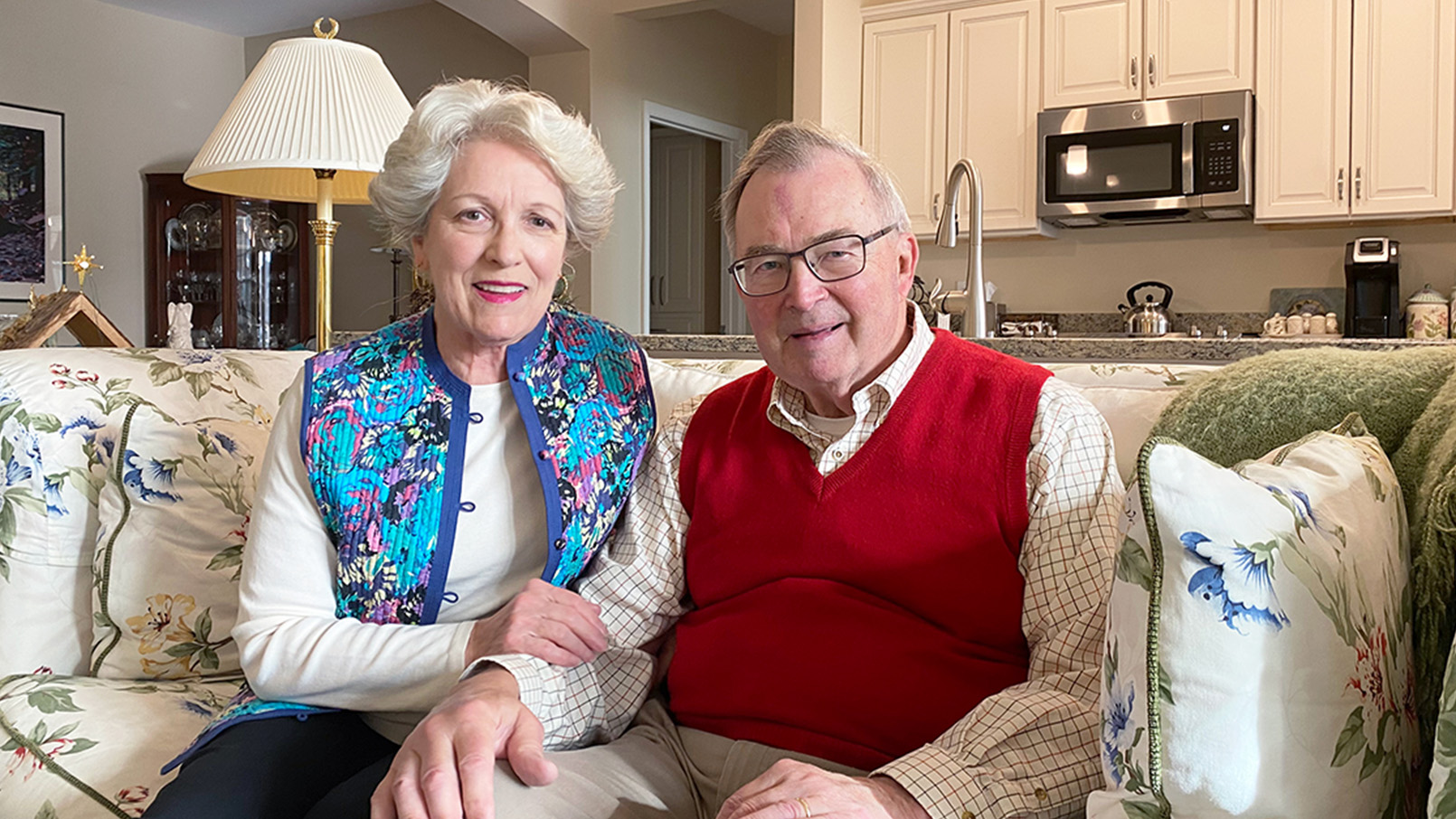 Eager to move to Windsor Run, an Erickson Senior Living community in Matthews, N.C., Janice and Rick Carter reserved the first apartment home available at White Oak Terrace, the community's newest residential building.
With a new life ahead - enhanced by financial security, maintenance-free living, and an abundance of activities - the couple chose to move from their house in Charlottesville, Va., even before their apartment home was ready.
"Once we decided, we were eager to get started," says Janice.
With the help of the dedicated sales team, the Carters moved into a Windsor Run apartment home temporarily as they waited.
"From the beginning, everything at Windsor Run has exceeded our expectations," says Janice.
Finding the right senior living community
Janice was first introduced to Erickson Senior Living's vibrant lifestyle years ago when she toured Greenspring, a sister Erickson community located in Springfield, Va., with her mother. Her mother ultimately chose to move to Ashby Ponds, the Erickson community in Ashburn, Va.
"She was one of Ashby Ponds' pioneer residents," notes Janice. "She really loved it, living her life there. In fact, I credit her longevity to the lifestyle she enjoyed."
The Carters' decision to move to Windsor Run was also aided by the time Janice spent on the board of trustees for a continuing care retirement community (CCRC) near the couple's home in Charlottesville, Va. CCRCs offer a robust, independent lifestyle and a continuum of health care on the same campus, providing residents with engaging opportunities today and peace of mind for tomorrow.
"It was in that role that I learned all the ins and outs of CCRCs, including the financial side of things," she says. "I also talked with a lot of residents. In doing so, two things stood out. First, residents liked their lifestyle better than they thought they would, prior to their move. And second, they always said they wished they had moved sooner."
This insight left an impression on Janice.
"Especially, the 'moving in sooner' sentiment," she says. "I found that the idea of moving in sooner rather than later really had merit. Rick and I knew we wanted to move to a community as a couple. That way we could establish ourselves and make friends together."
Reaping the benefits of senior living
With their daughter Amy and her family living in Charlotte, the couple decided that Windsor Run was the perfect Erickson Senior Living community for their needs.
Amy and the couple's son Ted are thrilled with their parents' decision.
"Both our children saw, first-hand, what a gift it was to me when my mother moved to Ashby Ponds," she says. "It was comforting to know that she was in a place where she would be well cared for. Amy and Ted feel the same way."
The Carters and their children also appreciate the financial security offered at Windsor Run.
Windsor Run provides a wide variety of unique floor plans, ranging from one-bedroom to spacious two-bedroom designs - all of them maintenance-free. The monthly service package bundles monthly and quarterly expenses - like electric, property taxes, water, cable, and Wi-Fi - into one predictable bill, allowing residents to balance their budgets with confidence.
"Financial security is one of the real pluses of being part of Windsor Run," says Janice. "You know, with certainty, what you are dealing with."
The Carters also enjoy the freedom that comes with maintenance-free living.
"It's wonderful to set yourself free from the things that previously, while living in your house, took up your time and money," says Janice. "We no longer own leaf blowers, lawnmowers, or snow shovels."
Socializing in senior living
Armed with financial security and newly found free time, the Carters quickly jumped into their new lives. Rick plays golf with the men's golf outing group and Janice participates in a weekly Bible study, the garden club, and lifelong learning lectures.
And with family nearby, the couple loves hosting dinners and picking up their granddaughter from school.
"The night before Thanksgiving, we reserved the private dining room for a family dinner," says Janice. "It was wonderful. We entertained with ease."
Now, settling into their apartment home at Windsor Run, Janice is gratified that their list of activities will continue to grow.
"It's exciting to start each day with so many opportunities," she says. "It's also a gift to be near family. Our move has been so good for all of us."
Invest in your future at Windsor Run. From top-notch amenities and activities to affordable, maintenance-free apartment homes, you'll enjoy living your retirement to the fullest. Request more information today!
Back