Why Erickson is the Right Choice for Your Move to Senior Living
By Michele Harris
January 12, 2022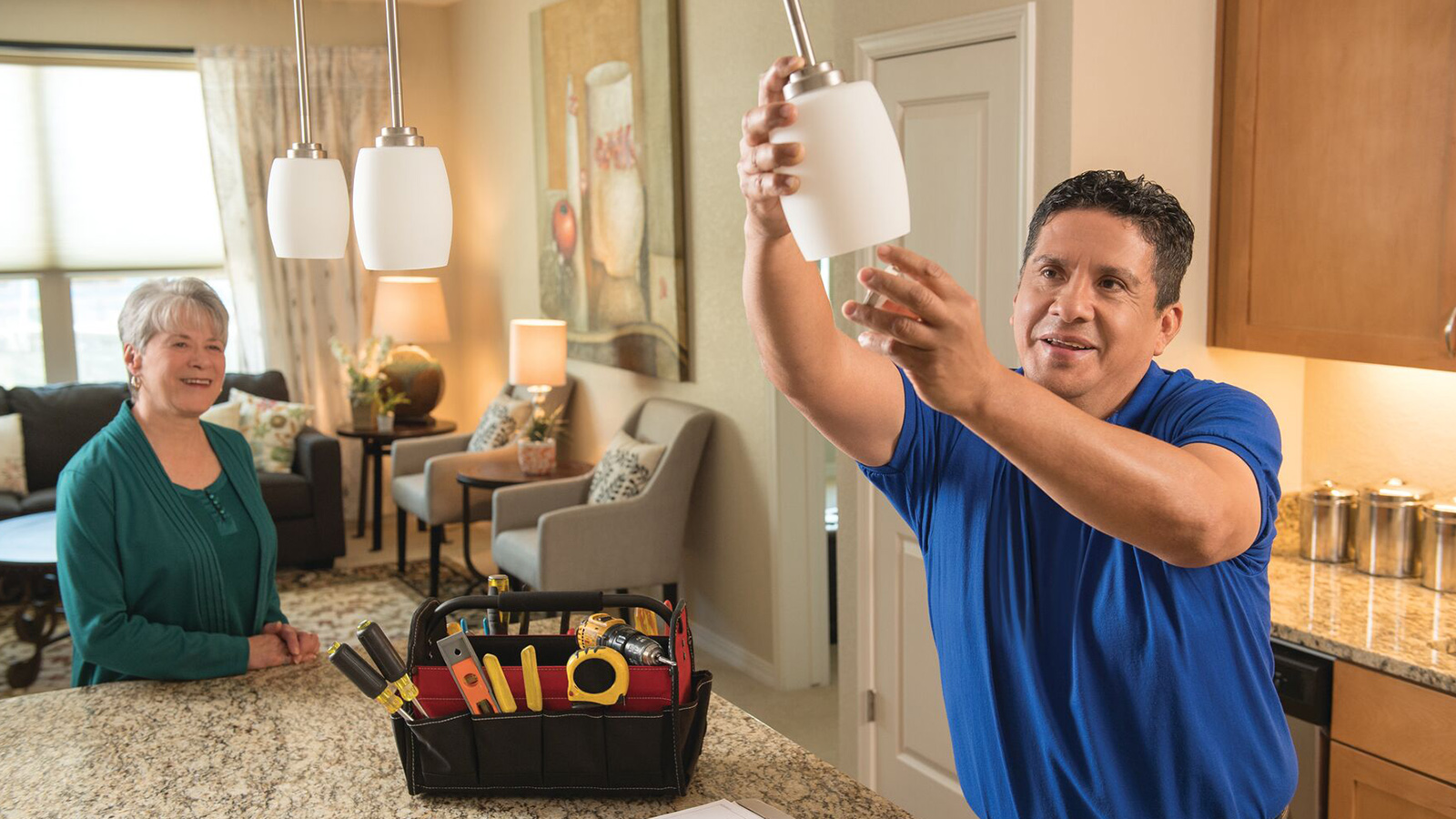 There are many choices when it comes to retirement living. Some people plan to stay in the home they've lived in for years. Others consider moving to 55-plus communities that may have amenities like a recreation center, but offer no additional support or care, should it ever be needed. And others choose a continuing care retirement community (CCRC), which offers fitness amenities and wellness support, opportunities for socialization such as dining, groups and clubs, as well as a continuum of health care within the same campus.
It's important to explore all the options so you can see what works best for you. Additionally, making the right choice can save you from the stress and expense of moving twice. 
Transparent Pricing and Senior Living Costs
Wayne Smith, a retired project director for Johns Hopkins, and his wife Linda started exploring retirement living options for Wayne's parents, who were having trouble managing in their multilevel home.
Wayne says he must have visited at least 18 different retirement communities. None of them felt right … until he found Charlestown, an Erickson Senior Living community in Catonsville, Maryland.
He was initially—and pleasantly—struck by Charlestown's transparency. He appreciated that all the pertinent information, including costs and fees, was easy to find on the community's website.
"At all the other communities, you had to call a salesperson to find out about the costs and fees. It made me feel like there was something they didn't want me to know," says Wayne. 
He also liked the fact that Charlestown is a CCRC, so if his parents needed care down the road, it would be available, right on campus.
For their own retirement, the Smiths originally planned to live in a rental apartment for a few years and then move to a retirement community. The idea was to save money, but when Wayne started looking at the costs, it became apparent that renting an apartment didn't make sense—given the expenses and stressors of making two moves, instead of only one.
The Smiths moved to Charlestown in 2019, and they are incredibly happy they did. Wayne's mother also currently lives there, and when she needed rehabilitation care after a recent hospital stay, Wayne simply walked across the campus to visit her each day. 
Maintenance-Free Lifestyle at Erickson Senior Living
Maureen and Thomas Sullivan had moved to a 55-plus community years ago. It was a blast at first, says Maureen. They bonded with their neighbors and enjoyed living in an active, social community.
Over time, however, the social aspect of that community stagnated. "We organized our own social get-togethers, but once everyone got older, we didn't really do that anymore," says Maureen.
Some people moved away because they needed care. Others moved because it became too difficult to maintain their multi-story homes.
The Sullivans wanted to live in a community with friendly, engaged people and lots of things to do. They found what they were looking for at Seabrook, an Erickson Senior Living community in Tinton Falls, New Jersey.
"Here, we have a hardworking staff who will do whatever they can to help," says Maureen. "We have such wonderful neighbors. And there's always something to do!"
Maureen also points to the maintenance-free lifestyle at Seabrook. "Seabrook takes care of all our needs," she says. "When we lived in the 55-plus community and there was bad weather, we'd have worrisome questions like, 'How are we going to get food?' or 'How am I going to make it down the icy driveway to get the mail?'"
Finding the Right Senior Living Community
When John and Carol Broadrick wanted to build a beach house in Delaware, they ensured the home was designed with accessibility in mind so they could spend their retirement years there comfortably. 
It was great for a while, but eventually, John grew tired of maintaining their home.
While visiting a cousin at Maris Grove, an Erickson Senior Living community in Glen Mills, Pennsylvania, the Broadricks liked what they saw. 
They joined the Maris Grove priority list, which solidified their intention to move to the community. When the apartment home they wanted became available, Carol wanted to ensure they were making the right decision. She asked John if he was truly committed to moving.
"I sure am," he said. "I'm tired of taking care of the house."
Since moving to Maris Grove, John and Carol got involved in several clubs and activities and now have more time to pursue their hobbies and interests.
Equally as important, they know they have a home for life, and they won't need to call on their daughters to care for them.
When John asked one of his three daughters what she thought of their move to Maris Grove, she answered emphatically, "Dad, you did the right thing. It's a no-brainer."
To learn more about the benefits of moving to an Erickson Senior Living community near you, request a brochure today!
Back