Serving Up Delicious Dishes at Erickson Senior Living Communities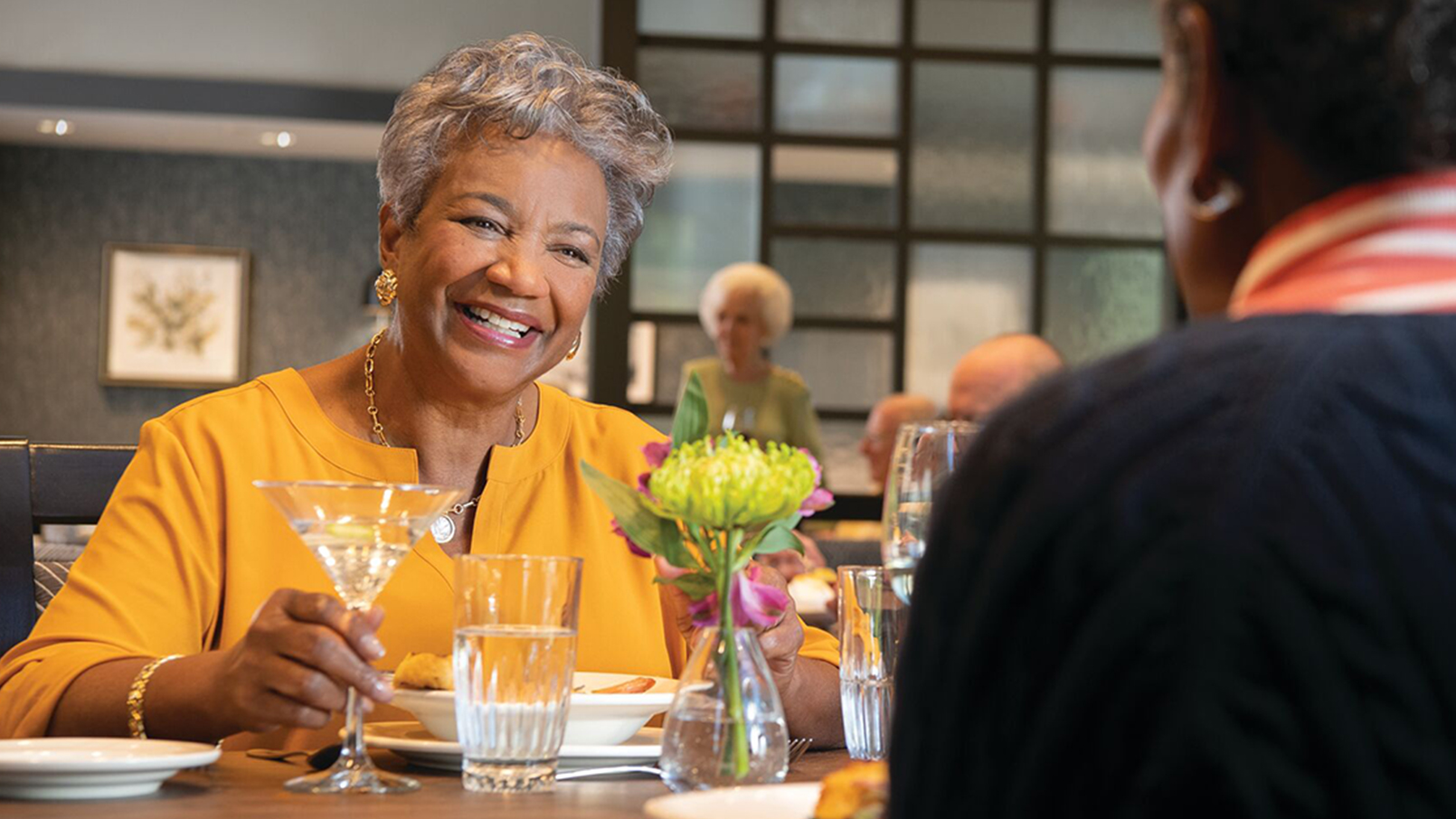 Savoring a delicious meal with loved ones is one of life's great pleasures. At Erickson Senior Living communities, the exceptional dining experiences available on campus are an integral part of residents' daily lives. Whether meeting friends for a casual lunch and coffee in the café, relaxing with a glass of wine in the evening at the bar, or sharing a chef-created dinner menu with family to celebrate a special occasion, mealtime at Erickson Senior Living communities is about more than just taste.
Across the country, dishes and dining spaces are carefully designed by professional culinary teams to create opportunities for connection. We recently sat down with Kevin Bunn, Erickson Senior Living's vice president of dining services, to learn more about how dining further enhances the vibrant retirement lifestyle that residents enjoy.
Q: There's nothing like enjoying a meal with family or friends. How do Erickson Senior Living communities make this a reality for residents?
A: Absolutely! With nearly 40 years of experience in serving older adults, Erickson Senior Living and its culinary professionals have expertise in catering to unique nutritional needs and tastes, making it easy for residents to find meals that fit into a healthy lifestyle.
At each community, well-being goes beyond nutrition and physical health. To us - and to many residents - the social aspect of our Signature Dining program is equally as important as the food on the plate. Each venue, from the most casual coffee shop to the most formal dining room, is designed to bring residents together to engage with one another, as well as friends, family, and staff. With the addition of our reservation system, it has become even more convenient for residents to plan these special times.
Q: How has the Signature Dining program enhanced the menus at each community?
A: Signature Dining prioritizes choice, ensuring that each person's palate and dietary needs are met. Expert chefs regularly update menus with new selections and popular features, all of which are always cooked to order with fresh ingredients. We also post nutritional information to the My Erickson® app, so residents can easily view ingredients, calorie counts, and more, right from their smart devices.
This experience is quite different from what you might expect when dining at a senior living community.
With multiple restaurants just steps away from each apartment home, Erickson Senior Living residents have the freedom to pick and choose where they eat every day. With more than 25 delicious, chef-prepared selections for each meal - that are often influenced by resident input - menus stay fresh and flavorful.
Q: Al fresco dining and pubs are popular at many communities. Why is it important to provide residents with choices of dining venues?
A: When we introduced the Signature Dining program, we realized that a venue's style and atmosphere also affect a resident's restaurant experience. Our goal is to offer a variety of options that reflect life events. For instance, a deli-style café to pick up lunch during a busy day. Formal restaurants to share a special occasion with family and friends. Outdoor seating to enjoy dinner in the nice weather. A pub to relax with neighbors while watching the big game. These venues mesh nicely with our overall mission of providing the very best amenities to the residents we serve.
Q: At each campus, the culinary team consists of talented chefs that are supported by professionals. How does this dynamic benefit residents?
A: This is one of the main advantages of the partnership between Erickson Senior Living and its managed communities. On a high level, we develop training opportunities, create and share best practices, and foster economies of scale across the country.
When our chefs take advantage of these company-wide resources, we are able to fully unleash the creativity and talent of our teams at each community. Using the skillsets and knowledge they gained, culinary teams enhance menu selections and plan fun events that highlight staples within the regions they serve - like seafood in Massachusetts or barbecue in Texas. Residents are the real winners because they get to enjoy great food that's prepared by professionals who are committed to quality.
Q: The holidays are just around the corner. What can residents and their guests expect?
A: Spending time with family and friends over a wonderful meal is a time-honored tradition during the holidays. Our culinary teams love it as well! We respect all celebrations, and we strive to create memorable experiences for everyone. Birthdays or anniversaries are big deals to us, too.
Preparation makes a big difference - we thoroughly research the traditions of each holiday before decorating our restaurants. While Thanksgiving and Christmas are premier events, we also support residents who enjoy commemorating Hanukkah and Kwanzaa, for example. Often, you'll see dishes specific to a region of the world provided at many of these events. We take great pride in celebrating many cultures, and this is reflected in our commitment to offering diverse menu selections so that there is something for everyone. 
Take the next step! To learn more about the quality dining experiences offered by an Erickson Senior Living community near you, request a brochure today.
Back