Retirement is the Time to Pursue Your Passions
By Michele Harris
April 19, 2023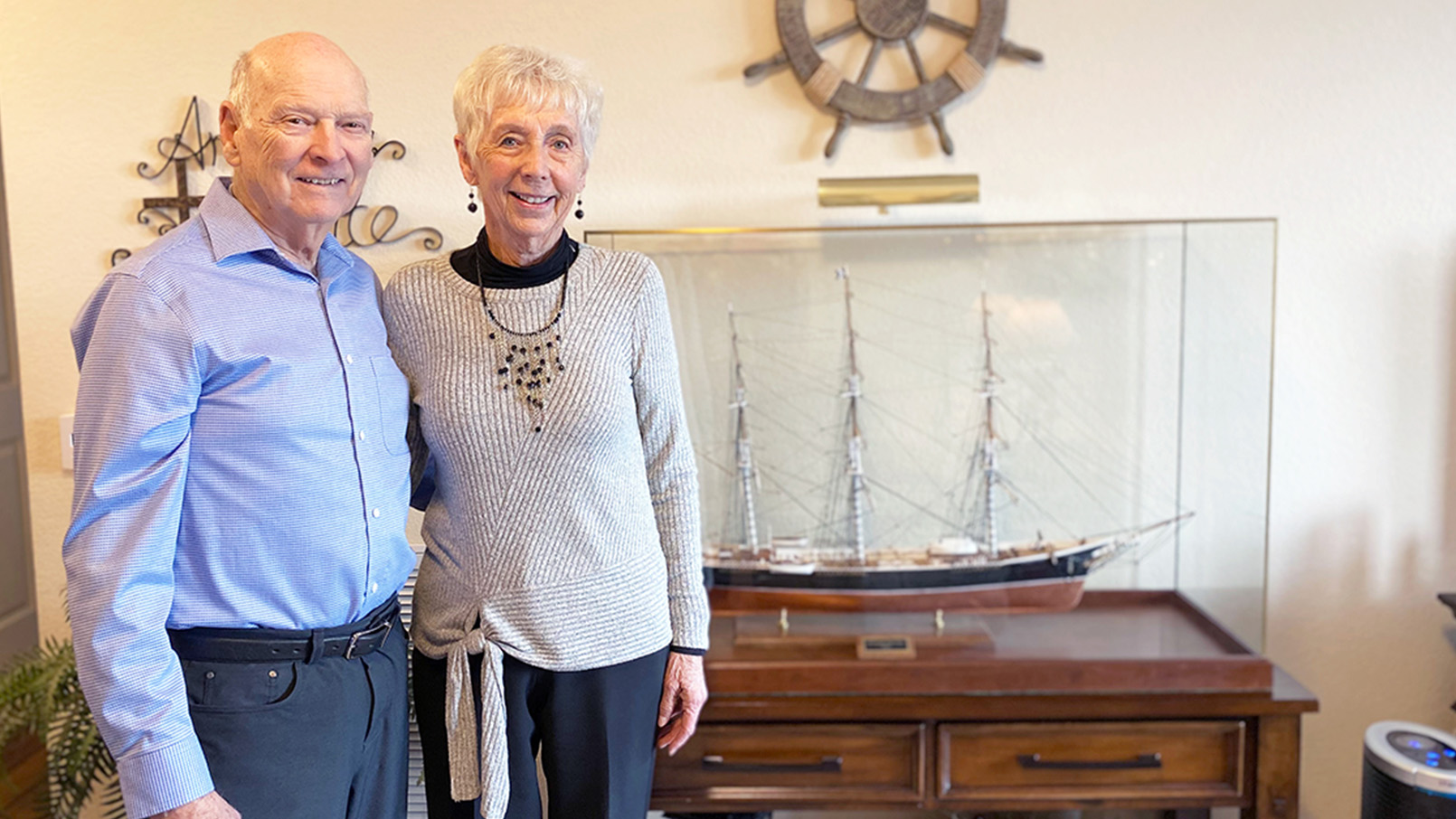 Retirement may be the first time in your life when you can spend your days doing just what you want.
Some people love physical activities like hiking, golfing, or playing pickleball. Some find joy through creative endeavors such as music or art. Others may learn a new skill or take up pastimes like chess, mah-jongg, or journaling.
Not only is pursuing your passions fun, but it's also good for your health. When you engage in something you enjoy, you feel better. It's that simple.
A model hobby
Unlike the nonstop pace of his early career days, Roger Chenoweth now has time to tap into his creative side and give back to the community.
As a young man, Roger fell in love with old sailing ships and started building scale models of his favorites. While establishing his engineering career, he spent his free time - what little he had - building a model of the Sovereign of the Seas, a clipper ship built in 1852 that set the world record for fastest sailing ship.
"It took ten years to complete," says Roger. "I had so little free time in those days."
In 2017, Roger moved to Wind Crest, an Erickson Senior Living community in Highland Springs, Colo., with his wife, Joan. Since embracing the community's maintenance-free lifestyle, he has plenty of time to do what he enjoys.
Now, he's working on a larger Sovereign of the Seas model and says this one should take less than a year to complete, adding, "The feeling of accomplishment, of using my hands to build something, has always been huge for me. People ask, 'How do you have the patience to do that kind of detailed work?' All I can say is that God has given me patience, because it takes me hours and hours!"
As much as he loves building model ships, Roger says it's just one of the ways he prefers to spend his days.
"I serve the people here at Wind Crest in any way I can," he notes. "I lead a Bible study group and sing in the chorale. There's barely any time left over - in a good way!"
Creative expression
"I've always been creative and made things," says Suzi Dobbelaere, who worked for greeting card manufacturer Hallmark before she retired.
Suzi is also a lifelong nature enthusiast. She previously lived in a remote woodland area, where she studied wildlife and created art from things she found in the forest.
"Where some people might see something common, like a stick, I see a bird or a giraffe or some other animal, so that's what it becomes," says Suzi. "It all brings joy and color to my life."
Despite her love for her home nestled among the trees, Suzi realized that it was time to make a change. "I couldn't take care of the place anymore, and I was kind of isolated out there," she says.
So, six years ago, she moved to Tallgrass Creek, the Erickson Senior Living community in Overland Park, Kans.
"Here, you see people every day, interacting with friends and neighbors in the hallways, restaurants, and at club meetings. It's been wonderful for me," Suzi says.
Now, Suzi exercises her creativity by constructing colorful totem poles, which she displays in Tallgrass Creek's art exhibitions. Alongside her work, she posts her artist statement: "Creativity is my joyful place, where connection to something far greater than self exists."
Life on the links
While working as a software development manager for JCPenney, Dick Skinner only got the chance to play golf every so often.
"When I retired, I started golfing quite a bit," he says. And when he moved to Highland Springs, the Erickson Senior Living community in North Dallas, Tex., he played even more through the resident-run golf group.
"Nowadays, I try to play golf a couple of times each week. I see golf as something good for my physical health, and each time I hit a good shot, I feel a sense of accomplishment. I enjoy myself even on days where my total score is below my norm," says Dick.
He adds, "I look forward to each round with anticipation. Of course, I rarely have the great round I'm anticipating, but hope springs eternal!"
Golf is just one of the activities that make Dick's retirement so rewarding. "Before I retired, I never imagined living in a place like Highland Springs," he says. "I've been very happy with the variety of activities available and the number of friends I've met."
Best of all, he says, "I also met Kathy, my wife, here. We got married nine years ago."
As these Erickson Senior Living residents have learned, pursuing your passions helps you live life to the fullest in retirement. To learn more about how you can make the most of retirement, request a free brochure today.
Back