Out and About at Linden Ponds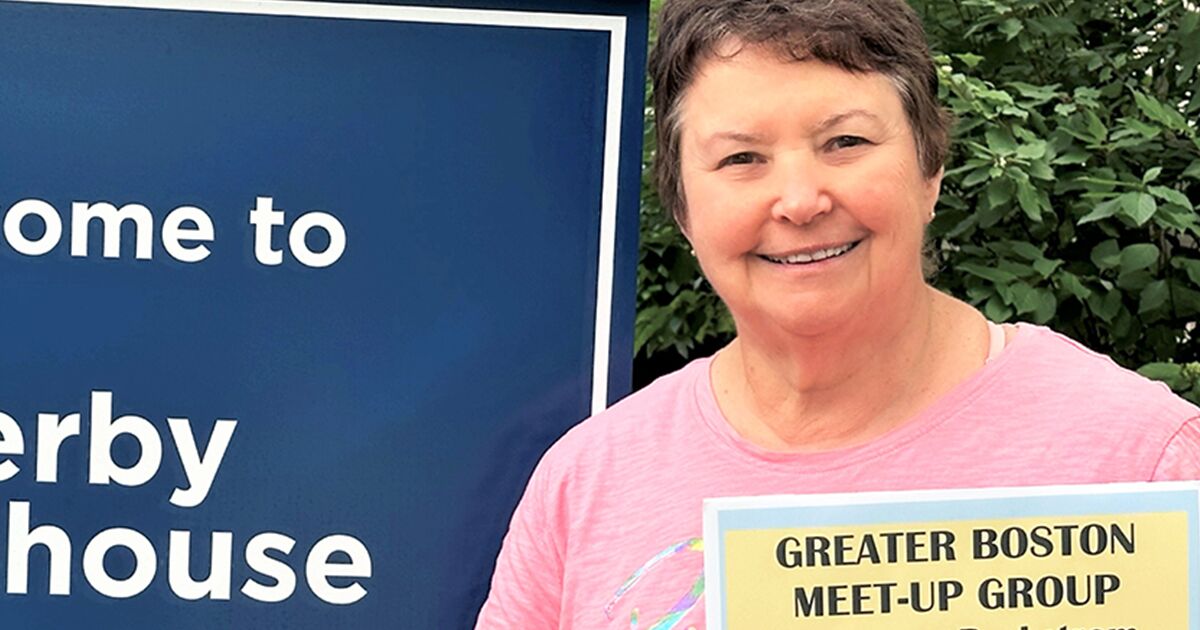 Since moving to Linden Ponds, an Erickson Senior Living community in Hingham, Mass., Joyce Beckstrom has enjoyed the ease with which she can travel back and forth between her apartment home and her favorite destinations in the greater Boston area.
"Getting back from Boston using the Hingham Ferry, walking down the sidewalk, turning the corner, and seeing the Linden Ponds shuttle waiting to bring us home is the best feeling," Joyce says. 
"On my most recent ferry trip, I walked through the North End to Mike's Pastry for cannolis. If you know the North End, I would still be looking for a parking spot if I had driven there myself!"
Like all Erickson Senior Living communities, Linden Ponds offers the best of both worlds--local volunteer and cultural events paired with exciting on-campus happenings, keep residents like Joyce active and engaged.
Joyce wasted no time getting involved in community life after her move to Linden Ponds in 2018.
"I started the Greater Boston Meet Up group and joined a variety of clubs that relate to my interests," says Joyce. "Currently, I'm a member of the National Park Explorers, Eastern European Heritage, Nova Scotia, photography, gardening, global warming awareness, composting, and genealogy clubs. I also volunteer through our campus 'yellow pages' directory, offering help to fellow residents."
So many amenities
Believe it or not, Joyce also finds time to take advantage of the community's top-notch amenities. 
"Our fitness centers offer all types of activities, including dancing, yoga, pickleball, exercise and balance classes, and everything in between," she says. "In addition, our Performing Arts Center and Art Gallery celebrate creativity with musicals, movies, and outside entertainers."
Linden Ponds' special events, such as the annual harvest fair--featuring residents' unique works of art made from wood and fabric--and the annual gala with dinner and dancing, are also popular among residents. 
"Our campus offers so many amenities and activities, from fitness classes to resident-led clubs for almost every interest," says Sales Director Susan Sheehan. "Not only that, but Linden Ponds' location in the greater Boston area means that cultural and sporting events, dining, shopping, arts and entertainment, and volunteer programs are also available nearby." 
Community ties
Despite her busy schedule on campus, Joyce enjoys embarking on a variety of off-campus adventures.
"I also drive to Beverly, Mass., for monthly get-togethers with old friends," says Joyce. 
She continues, "But our shuttles let me expand my horizons to Boston's cultural venues, including the Pops Symphony Orchestra, Boch Center-Wang Theatre, Museum of Fine Arts, Peabody Essex Museum, and much, much more."
Joyce is also a frequent traveler with Linden Ponds' special trips group, visiting local destinations and going on overnight trips. 
"Our recent stay in Maine was great," notes Joyce. "Alexandra Cavanaugh, our amazing trip coordinator, works closely with resident clubs to ensure that every detail of every trip has been thought through and well planned." 
A world of new adventures
Although Joyce says that it's impossible to name her favorite trip, her Chinese New Year celebration excursion earlier this year was a real hit. 
"This gave me the opportunity to try foods I never would have sampled otherwise, including chicken feet. What a treat!" she says with a laugh. "After lunch, we visited the local Asian market--for those adventurous enough to try cooking some new dishes at home."
While Linden Ponds residents appreciate being able to visit the same grocery stores and places of worship they always have, there's something special about experiencing the world around them. 
As 2024 approaches, Joyce looks forward to many new opportunities to engage with her neighbors--both on and off campus.
"My advice to anyone considering a move to Linden Ponds is don't wait!" she says. "It's easy to meet new people and get involved here."
Unparalleled lifestyle
Erickson Senior Living communities like Linden Ponds are redefining retirement living by offering residents an unparalleled lifestyle that combines convenience, opportunity, and the joy of being a part of something greater.
To learn more about the benefits of moving to a maintenance-free community, request more information today. 
Back