Linden Ponds' Ukulele Club Brings Music and Joy to the Community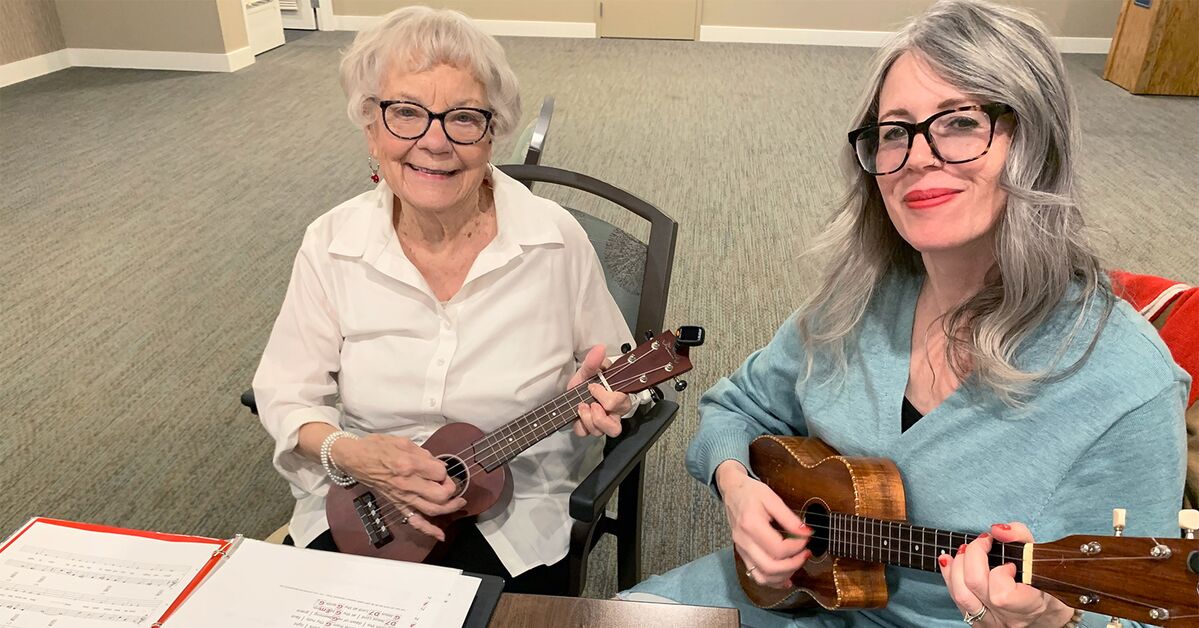 Hingham, MA - The ukulele, which first became popular in America during the Great Depression, is experiencing a resurgence of interest--likely due to its affordability, portability, and accessibility. This emerging trend is nowhere more evident than at Linden Ponds, an Erickson Senior Living community in Hingham, Mass.
"Anyone can play and, as small as it is, you can take a ukulele with you anywhere," says resident Ellie Hughes, who moved to Linden Ponds with her husband Jim in 2021.
Less than a year after moving in, Ellie started the community's first ukulele club, open to any resident who is interested in learning to play.
 "We are having so much fun!" she says. "We sing and laugh together and are building a cache of inside jokes as everyone learns something new. It's remarkable how enthusiastic everyone is and how much joy this little instrument brings us."
Starting a musical movement
To get the club started, Ellie reached out to Community Resources Manager Molly Lynch St. John.
She gave me her full support and told me to go for it," says Ellie. "Molly helped me put together a flyer to spread the word. At our first meeting, there were four of us. Now we're nearing 20!"
As she was organizing the ukulele club at Linden Ponds, Ellie was taking ukulele classes at the nearby Hingham Senior Center from local musician and Berklee School of Music graduate Juli Finn. One day, she approached Juli about the possibility of her offering ukulele classes at the community.
"Juli could see the value of introducing the ukulele to residents at Linden Ponds, so she agreed," says Ellie. "We are so grateful to have her. She's a wonderful teacher! And, she's often joined by her husband Jon, who is also an accomplished, professional musician."
A range of skills
Every Tuesday afternoon, Juli instructs the more experienced club members for the first hour, dedicating the second hour to teaching beginners the basics of playing the ukulele. Once the beginners feel confident, they are encouraged to join the advanced group.
"As people get more proficient, they get more adventurous," says Ellie. "We play a wide range of music, including old favorite singalongs to ABBA, John Denver, Taylor Swift, and Ray Charles."
No matter how skilled they are, ukulele club members always have a good time.
"I may be prejudiced, but I think uke players are out for fun--as well as learning music," quips club member Pat Holland. "The uke is a very forgiving instrument. It's also a great way to make new friends. We welcome all!"
Spreading the joy
As membership of the ukulele club grew, curious residents across campus were interested in hearing what they've been practicing. 
Last summer, Jon and Juli held a concert for the community, inviting their students to perform as an opening act. They performed together again over the holidays.
"Six of us perform, dubbing ourselves the Uke Tones," says Ellie. "We are a performance group within the club. Our goal is to get everyone comfortable in front of an audience."
This past fall, the ukulele club took part in Linden Ponds' annual activities fair, joining more than 80 other resident-run clubs and activities on campus.
"It was so much fun," she says. "The fair was another opportunity for our friends and neighbors to see and hear what we do. The response was unbelievable. People stopped to sing with us--several of whom became members of our newest beginner class."
The activities fair also provided the ukulele players with a chance to interact and engage with members of other Linden Ponds clubs.
Performing crowd favorites
"Members of the French Club asked if we knew the song 'Alouette,'" says Ellie. "We had never performed it, so Juli looked up the lyrics and Jon called out the chords to the rest of us so we could play. Next thing we knew, people around us were singing, laughing, and having a wonderful time."
She adds, "Not to be left out, the Italian Club asked us to play 'That's Amore,' which we did in the same way. It led to dozens of people breaking out in song! That's the kind of energy the ukulele creates. People love it."
Something for everyone
As the club embarks on its second year, Ellie is looking forward to welcoming more members.
"My advice to anyone considering playing the ukulele is to give it a try," she says. "We are an open, inviting group that enjoys playing music. And, it makes us and other people happy, too. We see and hear how we make a difference, adding a dimension of learning and fun into people's lives--and building new circles of friendships, my own included." 
To learn more about affordable, independent senior living at Linden Ponds, request your free brochure to get the scoop on amenities, floor plans, and so much more.
Back