Linden Ponds Residents Find the Key to a Healthy, Happy Life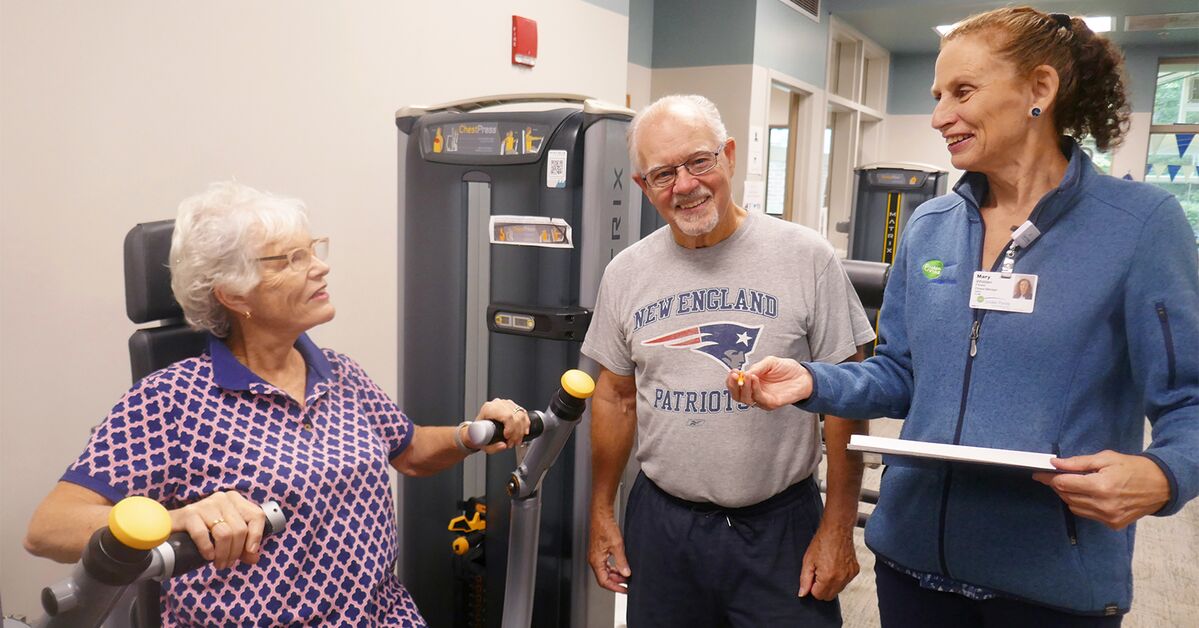 "I love the diversity of all the activities and opportunities to socialize," says Suzanne "Suzie" Halsey of Linden Ponds, an Erickson Senior Living community in Hingham, Mass. "There is truly something for everyone!"
Committed to strengthening all facets of personal wellness, Linden Ponds offers residents - like Suzie - numerous amenities that contribute to physical, mental, and spiritual well-being.
And Erickson Senior Living shares the same commitment. This year, the company provided a multimillion-dollar investment, through its Well-Being Fund, to support the addition of enhanced health and well-being programs and services for residents.
"Each person's wellness journey is unique," says Mary Whidden, Linden Ponds' fitness manager. "This generous investment enables our team to continue meeting wellness goals and needs in a variety of different ways."
Dedicated to well-being
Incorporating findings from Erickson's research partnership with Harvard University and the Benson Henry Institute (BHI) for Mind Body Medicine at Massachusetts General Hospital, these additions are designed to enhance the physical, emotional, and social well-being of residents.
"Through the Well-Being Fund, we are able to apply evidence-based research to further enhance the programs, amenities, and services available to better enable residents to achieve optimal health outcomes," notes Dr. Margaret Kimbell, vice president of community living for Erickson Senior Living.
As a result of these efforts, Erickson Senior Living residents now enjoy greater access to tools and strategies that support resilience and overall health and well-being. Examples include Wellbeats, a new fitness app that allows residents to participate in on-demand and live exercise, yoga, and meditation classes from any location.
Investment in people
At Linden Ponds, the fitness center is now equipped with two Echelon Reflect mirrors, two Echelon Connect Bikes, an Echelon Connect rower, a new Matrix treadmill and elliptical trainer, and disc golf equipment.
"All of my life, I have made it a point to stay relatively physically fit," says resident Paul Showstead, Suzie's husband. "Thus, it was important to me to choose a community with a fitness center that met my needs. The fitness center at Linden Ponds certainly does that!"
Paul especially appreciates the new state-of-the-art fitness equipment, which provides a selection of programmed exercises and real-time feedback.
Upgrades galore
In addition, the Well-Being Fund contributed to the creation of a fitness studio that is used for exercise classes, such as the popular new Rock Steady boxing class.
"This was another impactful addition," says Whidden. "Rock Steady boxing, a noncontact program, allows participants with Parkinson's to feel strong and powerful while working on motor skills. It's also a very social, supportive class, which is an extremely important aspect of health and wellness."
The Well-Being Fund also helped purchase a memory fitness program, an indoor pickleball court, indoor shuffleboard, and closed captioning for Linden Ponds TV. 
"The new pickleball court is wonderful," says Paul. "We have a great leader who provides instruction, sets up matches, and makes it fun. It is also a great way to meet other residents."
Personal benefits
For Paul, Suzie, and their neighbors, socialization is key to maintaining their overall well-being.
"There are so many options to stay healthy and connect with others," says Suzie, who works out regularly in the fitness center. "As a retired nurse practitioner, I appreciate all the activities and resources that support our wellness goals. I love the saltwater pool - the glass windows on the sides allow us to see our beautiful arboretum while we swim. Last year, there was a winter beach party at the pool with a variety of competitions, such as two-person rafting and beach ball volleyball."
Suzie and Paul also attend Linden Ponds' monthly Lunch and Learn sessions, which cover topics such as proper nutrition and fostering brain health.
"And we love to get outside too," she says. "We have a patch in the gardens. This summer produced a healthy yield of tomatoes and cucumbers!"
Holistic approach
In addition to the resources designed to promote physical and social wellness, Linden Ponds' pastoral ministries staff fosters spiritual wellness through inclusive gatherings for people of different faith backgrounds.
And at Linden Ponds' on-site medical center, the board-certified, full-time providers - specializing in senior health care - are available to meet with residents to discuss any aspect of their wellness journeys.
"Paul and I truly enjoy the whole package that comes with living at Linden Ponds," says Suzie.
Invest in your future self at Linden Ponds. From top-notch amenities to affordable, maintenance-free apartment homes, you are sure to live your retirement to the fullest. Request more information today!
Back