Linden Ponds Residents Appreciate the Wide Variety of Dining Options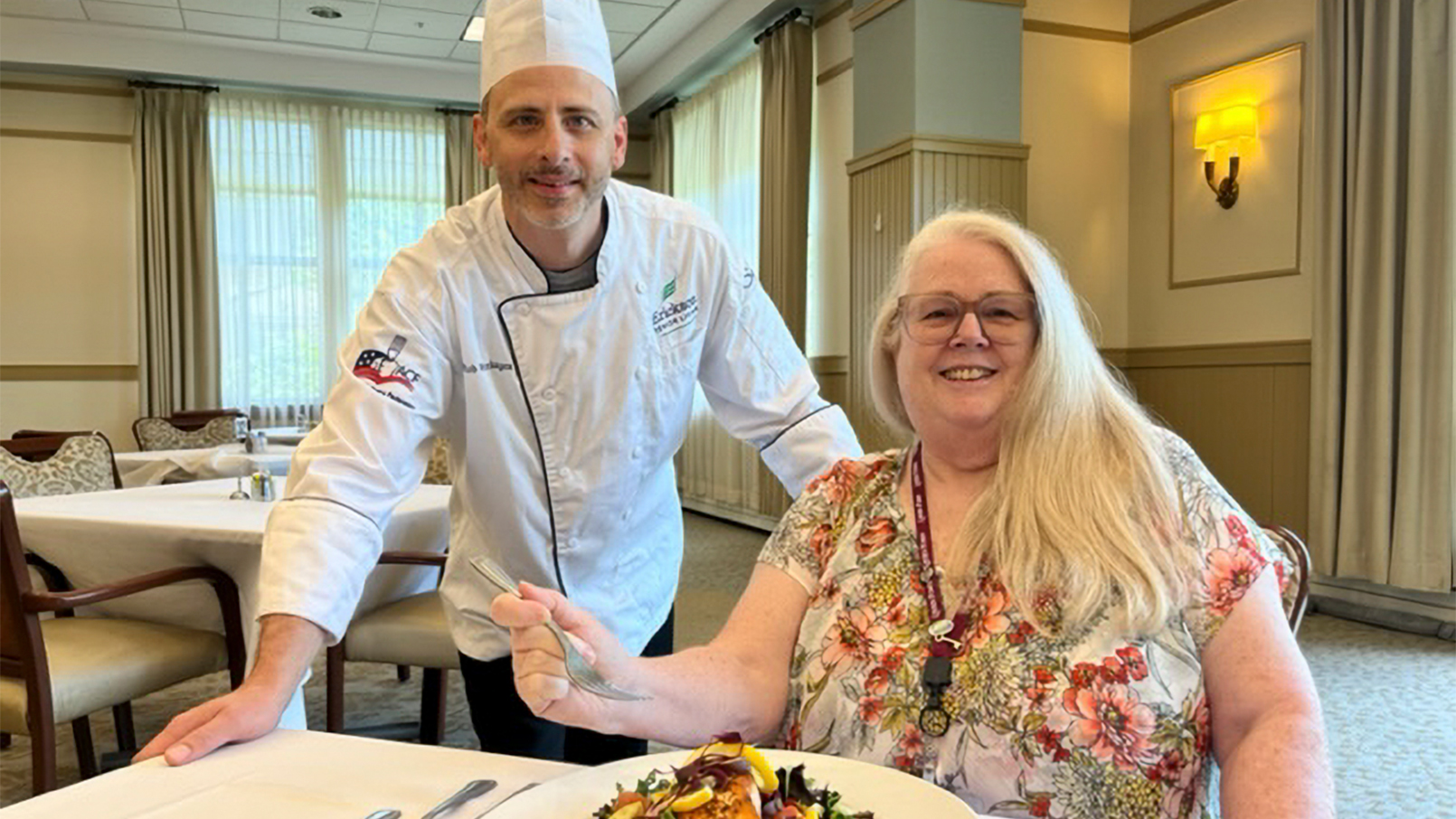 Residents at Linden Ponds, an Erickson Senior Living community in Hingham, Mass., enjoy an extraordinary experience each time they dine at one of the community's four restaurants.
Thanks to Linden Ponds' industry-leading Signature Dining program, residents are treated to customized menus, meals cooked with fresh ingredients by culinary professionals, and opportunities to socialize with neighbors, family, and friends.
Venues and menus
Linden Ponds' flagship restaurant, the Fireside, features classic American cuisine including capellini and meat sauce, cod with shrimp and wine sauce, and eggplant parmesan. For those looking for lighter options, the Fireside also offers entrée salads, sandwiches, and burgers. And the ice cream sundae bar, stationed there every Wednesday night, always earns rave reviews.
The Harbor Café serves up chef-inspired meals from a variety of cuisines. Blackened chicken thighs, Moroccan vegetable stew, and pork tenderloin with sherry pineapple are just a few knockout dishes. Open for breakfast, lunch, and dinner, this casual venue also offers fresh salads, sandwiches, and the popular Signature Burger.
The perfect spot to meet friends for lunch, happy hour, or dinner is the Acorn Pub and Tavern. This modern bistro features a wide array of burgers, entrée salads, soup and sandwich combos, and pizza.
The Overlook is a resident-favorite for its contemporary dishes, including couscous salad, chicken Chasseur, Asian chicken salad, and vegetable stir fry.
"I dine most often in the Overlook restaurant," says resident Connie Graham. "I like the casual atmosphere, and I'm always able to find an appealing food choice. My favorite item is the beef barley soup. I order it with two multigrain rolls to soak up any leftover broth - it's too good to waste a drop!"
Powerful partnership
Executive Chef Robert Wittenhagen and his team of chefs collaborate closely with the Resident Advisory Council's dining committee to ensure that 100-plus daily menu options reflect the tastes and preferences of the diverse community.
"The dining committee was one of two committees I joined during my first year as a resident," says Connie, who currently chairs the dining committee. "We act as a liaison, informing the community of upcoming changes to the dining program, as well as providing resident input to the dining team. I immediately discovered that dining services is very responsive to residents."
Dining Services Director Tomas "Omar" Gonzalez agrees. "Our team is dedicated to listening, understanding, and wherever possible, implementing the suggestions from residents. We've held focus groups where people could come and express their satisfaction or concerns."
While preparing the menus, Wittenhagen tries to include staple New England dishes, such as Seafood Newburg and stuffed shrimp - meals that residents know and love. "The feedback from residents is very positive," says Wittenhagen. "They tell me they love the variety and the made-to-order quality, which wouldn't be possible without the Signature Dining program."
Nutrition matters
The Signature Dining program also allows chefs to develop healthy, nutritious dishes and cater to residents' dietary needs.
According to a study by the National Institutes of Health, "Eating well is vital at any age, but as you get older, daily food choices make an important difference in your health. Eating a well-planned, balanced mix of healthy foods every day helps prevent heart disease, type 2 diabetes, bone loss, some kinds of cancer, and anemia."
Connie has witnessed, firsthand, the positive impact that balanced eating can have on one's well-being. "I have diabetes, yet after my nine years at Linden Ponds, I have not only been able to manage my condition, but I've seen it improve considerably," says Connie.
Residents can stay informed about their menu choices by visiting the Net Nutrition section of My Erickson®, an app accessible to community members via a smart device. Here, nutritional information is provided for every entrée served, which can be especially helpful to residents with dietary guidelines.
For those interested in tasting Linden Ponds' dining options for themselves, Sales Director Susan Sheehan encourages reserving a spot at one of the community's monthly informational luncheons.
"Our luncheons are a great way for guests to enjoy many of the same menu items our residents choose from daily," she says.
Currently, the three-course luncheon menu begins with a fresh Caprese salad, boasting garden-ripe tomatoes, basil, and sweet mozzarella. The main course is grilled chicken topped with a tangy pineapple salsa and served alongside rice pilaf, zucchini, and summer squash. For dessert, guests get to enjoy a decadent slice of coconut crème pie.
"I began my work life in a small restaurant, so I have experienced both front- and back-of-house roles," says Connie. "This grants me a unique perspective to judge the dining program, and I'm simply amazed by the number of menu choices and how friendly the management team is."
Invest in your future at Linden Ponds. From top-notch amenities and activities to affordable, maintenance-free apartment homes, you'll enjoy living your retirement to the fullest. Request more information today!
Back