Linden Ponds' Resident Tutors Share their Gifts with Others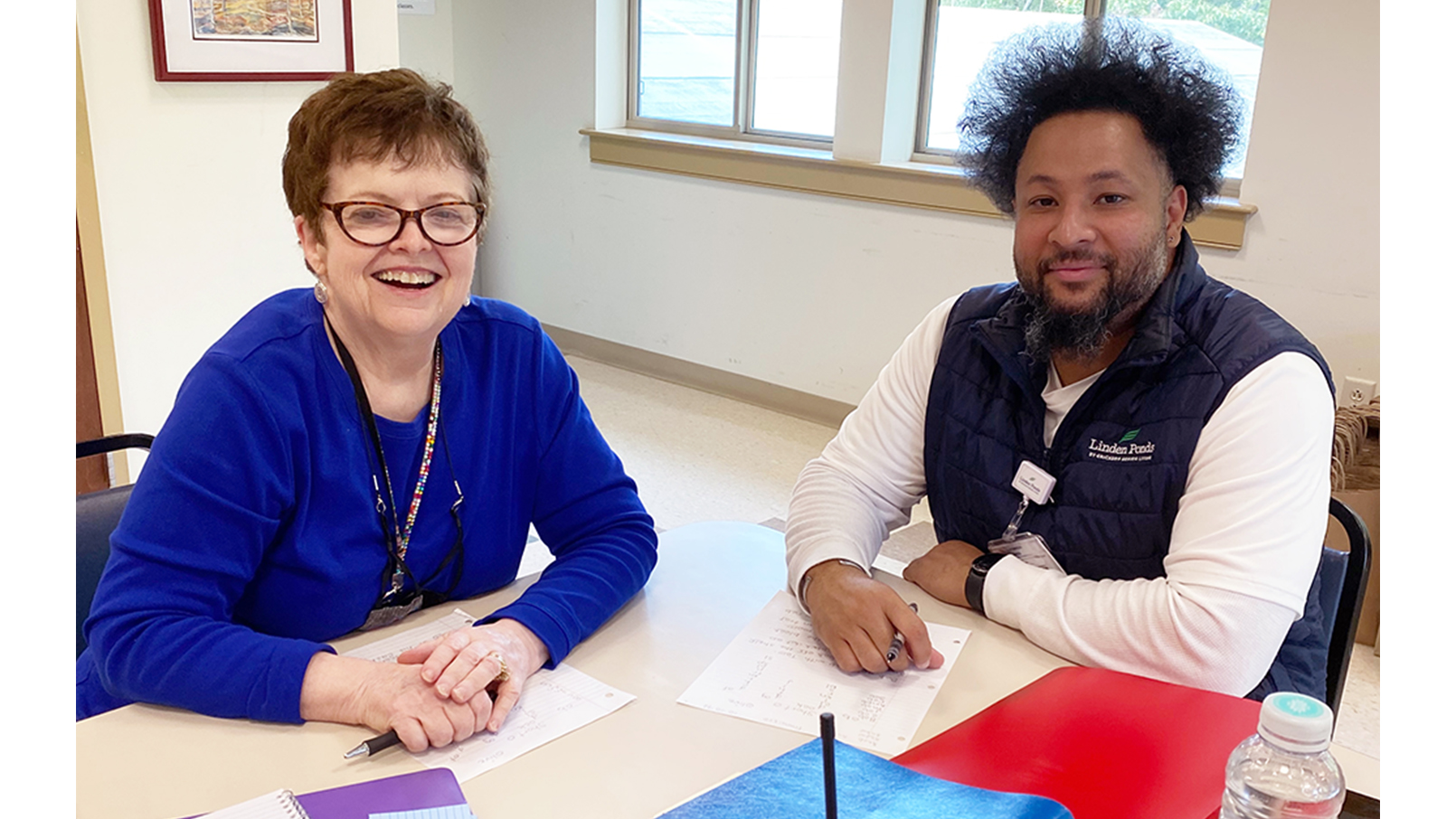 Canadian-born Mairi Bleakie, Linden Ponds' director of resident life, recently obtained U.S. citizenship.
 "I've lived in the U.S. for twenty-five years," she says. "I realized that I needed to be more participatory in the country that is now my home. I believe I have a responsibility to vote--to choose the direction I'd like to see for the States."
 Bleakie credits the expert guidance of the resident-run Linden Ponds tutoring program for her success.
 The support provided by resident tutors, which varies based on the needs of each "student," includes teaching English language skills, literacy, and reading and helping with U.S. citizenship applications and test preparation. 
"These dedicated residents are an invaluable resource to staff members. By sharing their knowledge, many of us have reached our goals," Bleakie says. "When I first expressed my desire to become a U.S. citizen, resident Neal Smith offered to review my application and gave me a study guide."
 Neal, who began volunteering with the program seven years ago, notes, "The tutoring program is one of the most respected activities on campus."
Wealth of knowledge
Human Resources Coordinator Ali O'Brien, who oversees the program and works directly with the volunteers, says that tutoring opportunities are available to all staff members at Linden Ponds.
 "We recommend the tutors to all staff members for whom English is their second language," O'Brien says. "Often, they are also interested in help with the citizenship test. Our volunteers, on occasion, have even been so kind to help pay for the tests."
 Staff members who are involved in the program are given an hour of paid leave per week to attend the tutoring sessions. And, an annual luncheon is hosted for all "students" to celebrate their accomplishments.
Taking the reins
"The support from Linden Ponds' administration is huge," says resident Jane Wagner, who joined Linda Lowe and Susan Murray on the program's leadership team following her move two years ago.
 "I used to run a citizenship volunteer program in West Virginia for 15 years," Jane says. "We helped 300 students successfully obtain U.S. citizenship."
Given her prior experience, Jane offered to find efficiencies by creating a more formal process for the program.
"We put together orientation materials and created a resource library for our tutors," says Jane. "Now, we also hold periodic meetings to provide updates and exchange ideas. We've really become a solid program over the last year!"
Set up for success
As a retired teacher, Linda enjoys sharing her English knowledge and expertise in the field of education. 
 "I taught elementary school for 34 years in Boston, Mass.," she says. "I'd never taught adults before, but I really enjoy volunteering, so I thought I'd give it a whirl."
Linda's stuck with the program ever since, and when Jane joined, she got even more involved.
"Jane developed an incredible structure for the program," says Linda. "Seeing how much her background and experience have benefitted us, I offered to help her create an assessment process for our tutors. Not all of our volunteers have a teaching background, so the assessment tells us what they know and what their skills are."
Once O'Brien's human resources team receives a request for tutoring, Linda is their first point of contact. She evaluates the employee's needs and then writes up a report for their tutor, providing suggestions on what approach might be best for them.
 "I'm working with my first literacy 'student,'" says Linda. "He was born in the U.S., but his parents are immigrants. Now, as a father, he wants to learn how to read. That's right up my alley!"
In fact, he's been so happy with his progress that he comes to see Linda for a second hour each week--on his own time.
Forward focused
Given the program's success, Linden Ponds tutors are expanding their efforts.
 "We found that some people, even though they are native speakers, don't possess the higher level skills needed to excel in their professional and personal goals. So, we help them go the extra mile!"
"Even after my 'student' became a citizen, he's continued to work with me to improve his pronunciation and vocabulary," says Neal. "Now, we continue to meet for one hour every week, with the blessing of his supervisor."
Linda says that, in the future, she would love to expand the program's efforts to include life skills and math.
 "I believe one of the biggest benefits of our tutoring program are the bridges we build," says Jane. "In working with employees and fellow residents, there's an opportunity to develop new, long-term relationships."
To learn more about affordable, independent senior living at Linden Ponds, request your free brochure to get the scoop on amenities, floor plans, and so much more.
Back