Fostering a Family of Friends at Linden Ponds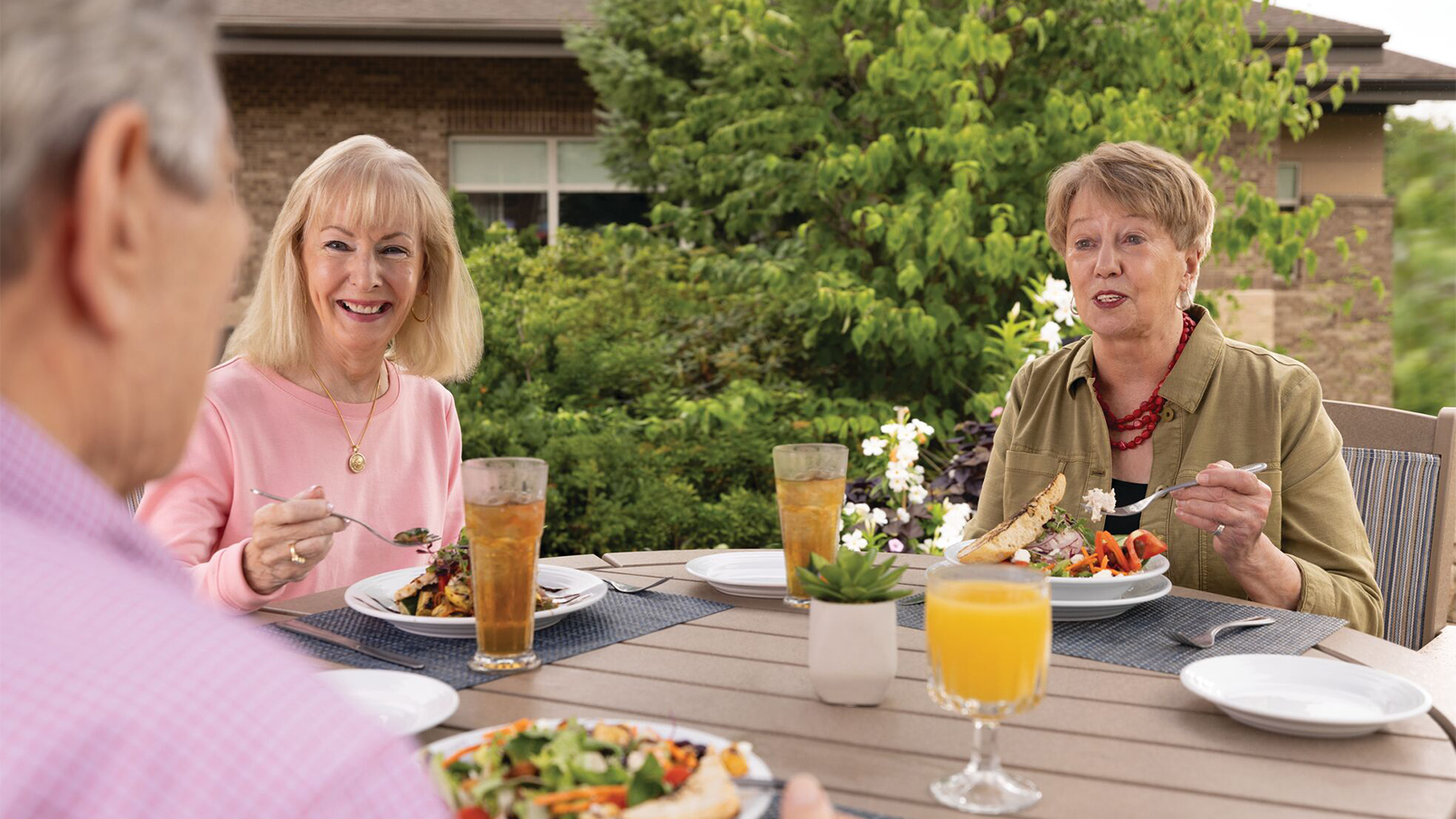 Hingham, MA - When deciding on a retirement community, it was important to Joan and John Donovan that they find a new home filled with plentiful activities and friendly neighbors.
"We wanted to age in place in an environment that provides a variety of options for participating in the community through social events, learning opportunities, and wellness activities," says Joan.
They found all that and more at Linden Ponds, an Erickson Senior Living community in Hingham, Mass., where they moved in 2019.
Benefits of socialization
"I believe, as we age, it's important to socialize more than ever," explains Joan. "Socializing keeps us alert and engaged. At Linden Ponds, we live with neighbors who have had interesting careers and life experiences. Meeting residents and building new friendships is one of the greatest gifts of living here."
At Linden Ponds, residents thrive off strong relationships, fostered in day-to-day interactions on campus as well as numerous clubs and activities.
"Having enjoyable social connections is an important, yet often overlooked, aspect of personal health and well-being," says Dr. Matt Narrett, chief medical officer at Erickson Senior Living. "From a robust calendar of events and dozens of clubs to sharing a meal together with friends, our communities are designed to maximize social engagement opportunities."
Perks of the priority list
And believe it or not, John and Joan embraced the community's vibrant, social lifestyle before they even moved in. The Donovans first visited Linden Ponds as guests of a friend, a musician who was performing at a dance event on campus.
"We were invited to join some residents at their table. It was a lovely evening," says Joan. "We asked people what it was like to live at Linden Ponds. We enjoyed ourselves so much that we attended a few more dances, and then joined the priority list. John and I liked the friendliness of the people and what they were saying about the community."
As priority list members, the Donovans received invitations to exclusive events, affording them the opportunity to get to know even more people, residents and staff members alike. These frequent pre-move visits helped the Donovans transition smoothly when they arrived on campus, as they simply reconnected with the friends they'd already made.
"I strongly recommend attending events and speaking to the people who live here. We found it really helpful!" says Joan.
Embracing a new chapter
Joan adds, "There are always people eager to say hello and offer advice and direction. If you say, 'I'm really interested in something,' someone is there with an answer or a suggestion. It's a great environment."
"Residents are encouraged to be as involved and social as they want," says Community Resources Manager Molly Lynch St. John. "Each day, there is a full schedule of activities representing a wide variety of interests. Our residents not only enjoy spending time together, they also take pride in supporting each other. There is a sense of family among our residents."
Shortly after their move, Joan mentioned her interest in Channel 918, Linden Ponds' television studio.
"I did some television work early on in my career, and I took some college courses on television production too," she says. "I was introduced to Paul DelGreco, the resident chair of the station. I was invited to the studio, and on my very first visit, I ended up on TV."
Utilizing her background in telecommunications and information systems, Joan now gives "Tech Talks" through the station and cohosts a TV program with neighbor Ann Marcus.
Bold new steps
The friendliness and support of the Linden Ponds community later gave Joan the courage to perform on stage, playing the part of Liat in Linden Ponds Repertory's production of South Pacific.
"I had never done anything like that in my life," she says. "In fact, I was afraid to go on stage in high school. I realized that this is a time in my life to do something I've never done before. It was a wonderful experience."
With John still working full-time, Joan continues to blaze new trails for herself. She was elected to serve on the Resident Advisory Committee (RAC) as the dining liaison. She also volunteers to assist residents with technology at Apple workshops, and--along with John--participates in events with the Born In The '50s Club.
"We are fortunate to live in a community made up of wonderful people," says Joan. "So many times, I've observed the benefits of having a strong support system here. We are very pleased with our decision to move to Linden Ponds."
Invest in your future at Linden Ponds. From top-notch amenities and activities to affordable, maintenance-free apartment homes, you'll enjoy living your retirement to the fullest. Request more information today!
Back