Forget Me Knots Walking Group Enjoys Daily Trips Around Linden Ponds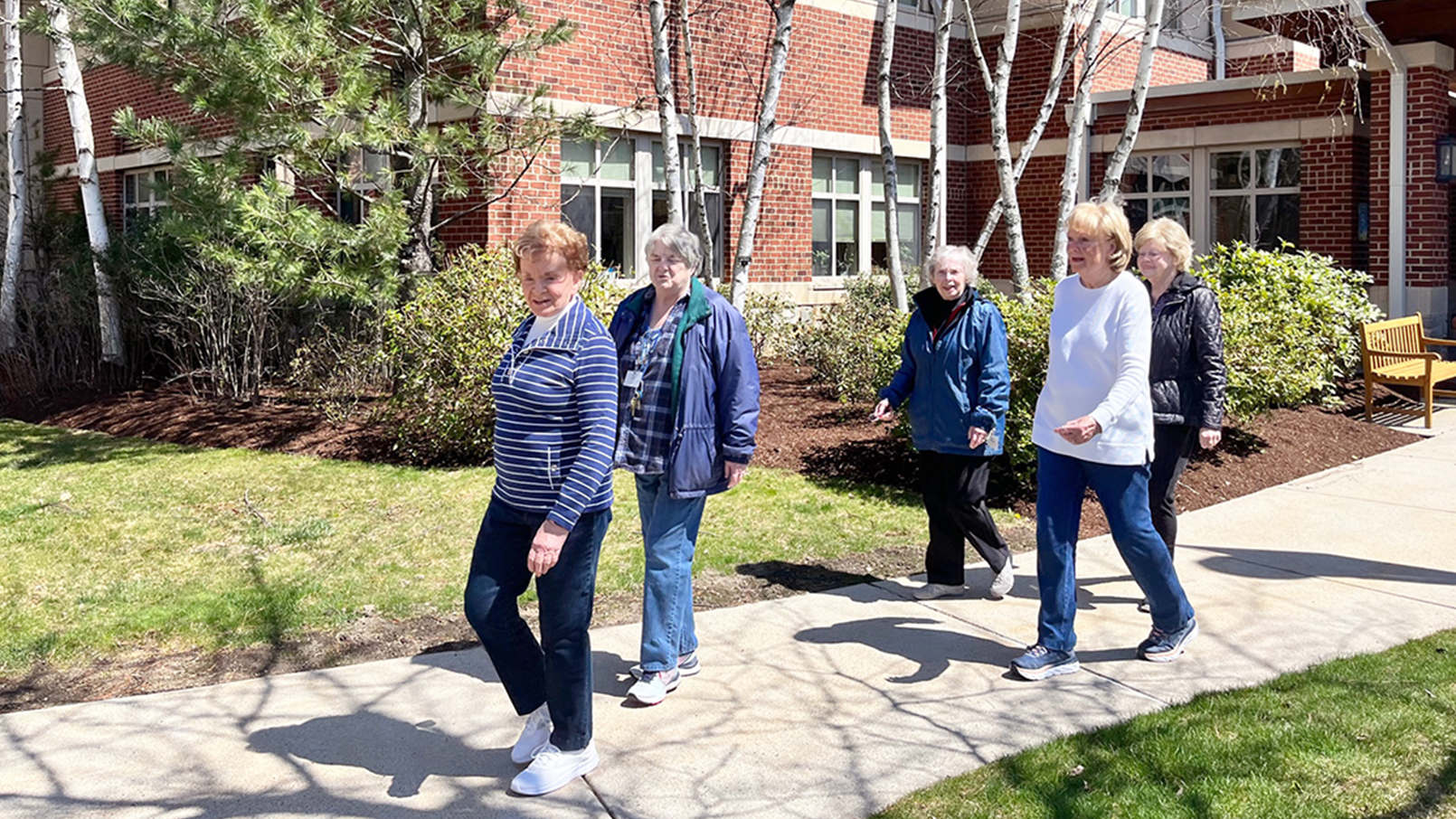 Leslie Colello knew she would be moving to Linden Ponds, an Erickson Senior Living community in Hingham, Mass., well before she received the keys to her new apartment home in July 2020.
"My sisters Connie and Debbie Graham moved to Linden Ponds eight years before I did," she notes. "Their experience really made my decision-making easier. Because I accompanied them on their visits to various communities, I knew that I would live there too one day. That decision was reinforced once I saw how well they both fit into the community, getting involved and meeting new people. I witnessed them both blossom."
Eager to move
While her sisters were enjoying their new carefree lifestyle, Leslie was helping to raise her granddaughter.
"I promised my granddaughter that I would not sell my house until she graduated and settled into a full-time job," she recalls. "Once she did, I was ready."
During those years prior to her move, Leslie explored a variety of apartment home styles at Linden Ponds before settling on her favorite. She also visited her sisters regularly, becoming familiar with the campus and the friendly community.
"I knew that by moving to Linden Ponds, I'd enjoy a wonderful life filled with activities and new people," she says. "The unexpected icing on the cake was the friends I soon made. I walked around campus a lot. I enjoy saying hi, smiling, and meeting new people. I also made a point to attend the newcomer events."
Finding the 'nudge'
It was during one of these events that Leslie met fellow resident Rita McPherson - and a new friendship quickly blossomed.
"We clicked," says Leslie. "And lucky for me, Rita is very social and already had a nice group of friends, including Mary Malloy and Susan Fichtner. We began getting dinner together. Others could see we liked having a good time and joined us."
From these friendly dinner conversations came the idea to schedule time to walk together.
"It all began when I told Susan, who I knew liked to walk, 'I'll be the nudge, if you'll be mine,'" recalls Leslie. "We decided to walk at 1:00 p.m. each day and told the rest of our friends. Bit by bit, we all started walking together through the fall, winter, and early spring. In summer, we walk in the evenings when it's cooler."
The group of friends began referring to their walking group as the Forget Me Knots.
"With a 'K,'" says Leslie. "Because our lives are knotted together in friendship. Walking together regularly gives us an opportunity to check in on each other and to catch up on what's going on in our lives. We make a point to appreciate our surroundings, whether it's stopping to talk to a neighbor, pet a dog, or watch robins build a nest. We talk about the important 'big' things and the everyday 'little' things."
Spreading joy
The smiling, social nature of the Forget Me Knot walkers inspires their Linden Ponds neighbors.
"Everyone is welcome to join us," says Leslie. "Many times, as we walk around campus, we are joined by others who are also out for a walk."
Leslie also says that her physical fitness and stamina is improving, thanks to the group's dedication to daily exercise. "When we first started, it took us about an hour to make it around the main walkways of the campus," she says. "Before long, we noticed it was only taking us half an hour. The practice really does improve us."
When the weather fails to cooperate, the group walks together through the spacious hallways and climate-controlled walkways of Linden Ponds. "That's one of the big benefits of living here," says Leslie. "You can walk 20 miles if you want to - without ever worrying about the weather. It's a nice option to have."
And while reaping the many physical benefits of walking, the Forget Me Knots say that friendship is the most important aspect - of both their group and their lives at Linden Ponds.
"It's been wonderful - becoming friends with such a diverse group of people," says Leslie. "We enjoy so many activities and have such a good time sharing our experiences and learning together. I'm very happy. Moving to Linden Ponds is the best decision I've made in a long, long time."
To learn more about affordable, independent senior living at Linden Ponds, request your free brochure to get the scoop on amenities, floor plans, and so much more.
Back