Design Your Dream Dwelling at Linden Ponds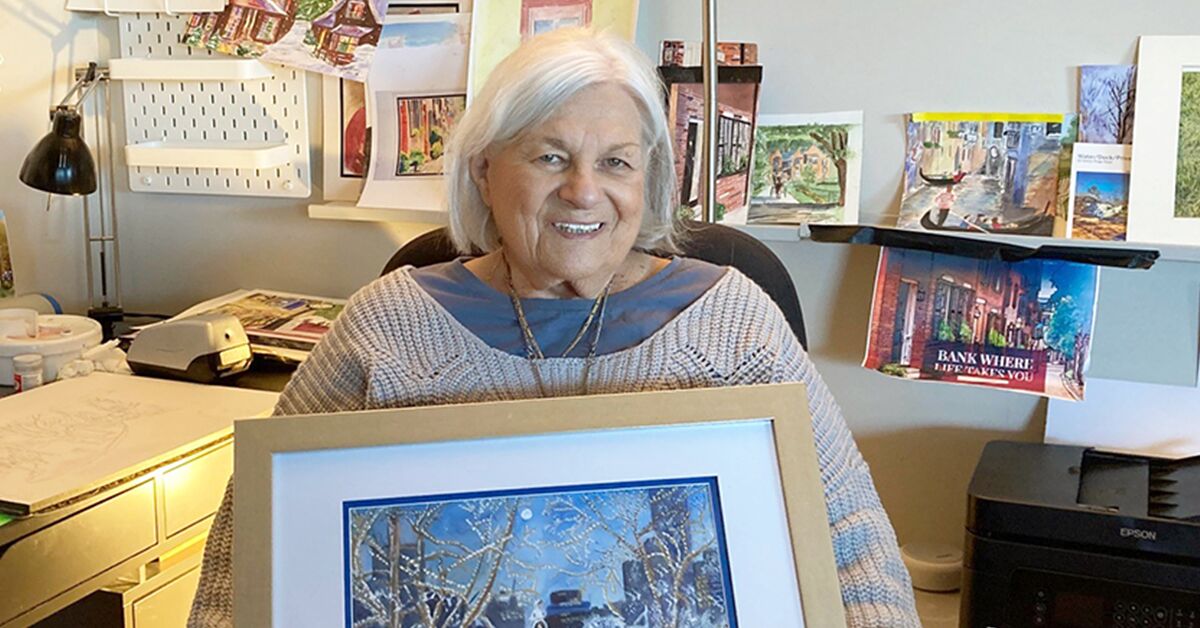 "My wife Myrna and I love living at Linden Ponds. There's no question about it!" says Marshall Brem.
In 2018, the couple moved from their large oceanfront house in Cape Cod to the Erickson Senior Living community in Hingham, Mass. As artists with a keen eye for design, they appreciated the opportunity to personalize their two-bedroom, two-bathroom apartment home, creating two studio spaces for their ongoing projects.
"We chose the Thurmont floor plan because the layout is very open," says Myrna. "That was important to us! As artists, we need our own spaces. We knew, by making a few customizations, we could create that here."
The Brems, like many of their Linden Ponds neighbors, were grateful for the community's preferred vendors and contractors, who helped them add personal touches to their apartment home.
"Our partners are vetted for quality," explains Sales Director Susan Sheehan.
"Whether creating an office, art studio, or guest room out of a second bedroom, or simply adding special touches such as crown molding and window treatments, our vendors and contractors will help with any modification you'd like to make."
Studio space for two
First on their list of renovations was transforming the large second bedroom into an art studio for Marshall, a professional stained glass artist who recently showcased his panels at the Hingham Library.
"I moved what I had in my former art studio right into this studio," says Marshall. "It's perfect! I have room for the two large tables that I used in my old home office. I also have an electric grinder for the rough edges of the glass."
Marshall notes that his smaller tools, used for refining pieces by hand, are stored in bookcases. His colorful selection of glass is organized in an armoire.
Next, the apartment home's dining room was transformed into Myrna's studio. Myrna, an accomplished watercolor artist, enjoys painting landscapes. Many of her winter scenes are featured on the couple's holiday cards.
"We have a very unique screen with shelves that looks like a permanent wall unit," she notes. "That's what we use to separate the main living area from my art studio. The space provides plenty of room for my painting table and supplies."
A reimagined kitchen
In addition to creating two art studios, the Brems opted to completely redesign their kitchen.
"We worked with preferred contractors who specialize in remodeling kitchens," says Marshall. "They redesigned it all with Myrna's help and suggestions."
"I designed our house at the Cape!" notes Myrna. "It was a very modern glass house with huge windows."
The couple knew they wanted to recreate a similar sleek, contemporary look in their new kitchen.
"I believe that less is more, and we prefer a clean look," says Myrna. "Because I am unable to reach high cabinets or appliances, we replaced them with ones that are more accessible. We also turned the double hall closet into a pantry, where we store our few small appliances, keeping the countertops clear. The kitchen is beautiful! We are so pleased that we were able to make the changes we wanted."
Thanks to the Linden Ponds' wealth of restaurants and dining options, "We knew that we would no longer need to cook our evening meal, so we removed the oven," says Marshall. "The only time we use the kitchen is for breakfast. Therefore, we installed an induction cooktop, perfect for cooking eggs or warming up leftovers."
Maintenance-free living
Since moving into their apartment home five years ago, Myrna and Marshall have fully immersed themselves in community life at Linden Ponds. 
Marshall, who serves as the bridge group's secretary, enjoys playing duplicate bridge with Myrna. The couple also belongs to the Jewish Club, making it a point to attend the monthly guest speakers.
Myrna joins new friends to play board and card games, while Marshall plays golf and pickleball.
"It's remarkable, the number of activities available to us. There are over 200 clubs encompassing so many different interests," says Marshall, who is even more impressed with the community's maintenance-free lifestyle. "It's wonderful! I don't need to worry about raking leaves, plumbing, all the little things."
At Erickson Senior Living communities, residents like Myrna and Marshall appreciate the opportunity for new beginnings - and the ability to create beautiful spaces where they can live the carefree retirement they've always imagined.
"We are happy at Linden Ponds!" says Marshall.
Invest in your future self at Linden Ponds. From top-notch amenities to affordable, maintenance-free apartment homes, you are sure to live your retirement to the fullest. Request more information today!
Back