Asian Dinner Group Shares Camaraderie and Culture at Linden Ponds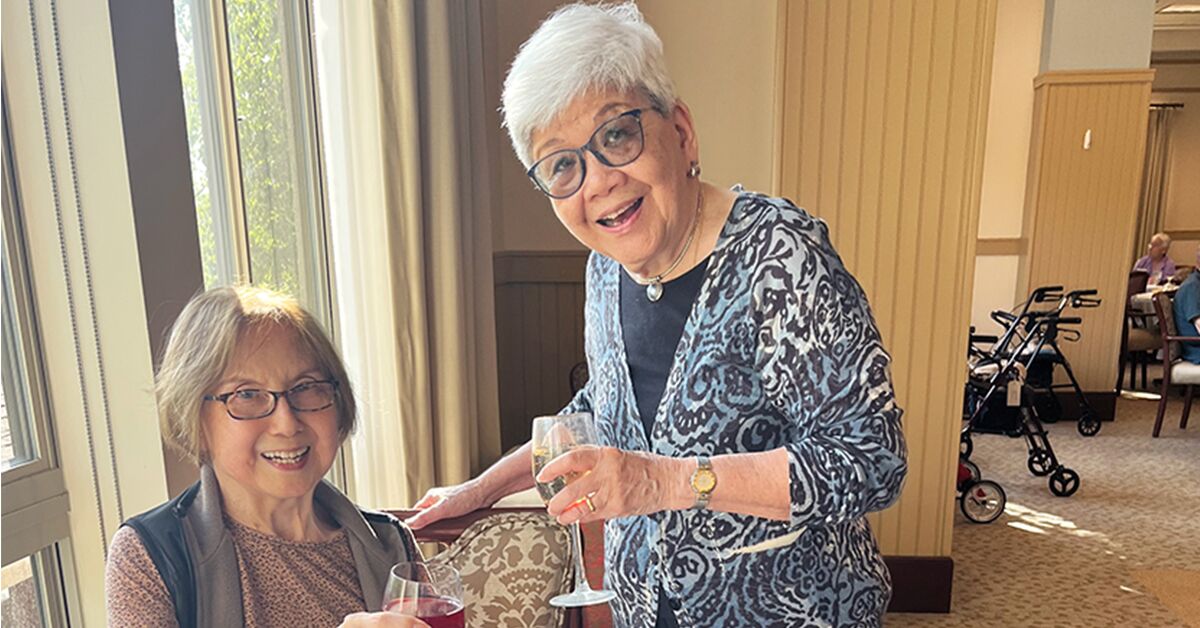 This past spring, residents and staff came together at Linden Ponds, an Erickson Senior Living community in Hingham, Mass., to recognize Asian American and Pacific Islander Heritage Month with a celebration across the campus.
For resident Carol Laufen, the popular event was just one of many ways she and her Asian American neighbors continue to foster and share their culture.
"I come from a very diverse background, but I grew up in New York City," says Carol. "My father emigrated to America from Canton [now Guangzhou], China, when he was a teenager, and my mother was from Portland, Oregon."
She continues, "I am grateful to live at Linden Ponds where diversity is celebrated, and, along with my Asian American neighbors, I can spread awareness of our culture and backgrounds."
Prior to moving to Linden Ponds, Carol and her late husband Joseph raised their two daughters, Christine and Cindi, in South Orange, N.J.
"We originally thought that when we're ready to retire, we'd move to New Jersey's South Shore," she says. "But our daughter Cindi, who was living in Wellesley, Mass., with her two little daughters, wanted us to stay in the area. So, we moved to Plymouth, where we lived for 12 years. I am so grateful for that decision, as we became close with our granddaughters."
In 2018, the couple began looking at senior living communities in the area. "Joseph and I both really liked Linden Ponds," she says. "We were invited to luncheons at the community to learn more. From the beginning, everyone was friendly and we felt welcome."
Carol and Joseph moved to Linden Ponds in March 2019, fully immersing themselves in community life. Unfortunately, Joseph passed away in August 2021.
"Everyone was very supportive during that time," says Carol, "especially those in our Asian Dinner Group!"
Connecting through culture
One of Carol's favorite activities is meeting with the Asian Dinner Group every month.
"The group started with just a few of us a few years ago, and we now have over 25 members," she says. "We dine together in the Fireside private dining room , but the gathering is less about food--we eat whatever is on the menu that night--and more about companionship. Friendships are important to me and so is cultural awareness."
The Asian Dinner Group includes residents with a variety of backgrounds.
"We like learning about each other's experiences. For example, Joseph was from Trinidad and Tobago in the West Indies," she says. "When we get together, we talk about everything from the power of the Asian culture to what is going on in our lives. Together, we've witnessed increasing diversity in our Linden Ponds community."
Building friendships
Elizabeth Fung, who moved to Linden Ponds in July 2018, also enjoys building friendships with her neighbors during the monthly dinners.
"I was born in China but moved frequently because my dad was in diplomatic service. I promised myself that I would never marry a diplomat because of frequent moves, nor would I marry a physician because of their busy on-call schedule," she says, with a laugh.
"As life would have it, my freshman year in college I met my future husband Christopher, who was then a pre-med major, and married him seven years later!"
Elizabeth, who, like Carol, lost her husband after moving to Linden Ponds, appreciates the opportunity to share her culture with her neighbors.
"There's comfort in sharing a similar cultural background with someone. Exchanging information has been really neat too," she says. "For instance, the group has given me suggestions about what to do with Chinese antiques that our kids don't want to inherit."
In May, Carol, Elizabeth, and the Linden Ponds community recognized Asian American and Pacific Islander Heritage Month with a celebration in the performing arts center.
The festivities included a performance of the Tinikling, a traditional Philippine folk dance. The dance involves beating, tapping, and sliding bamboo poles on the ground and against each other in coordination with one or more dancers, who step over and in between the poles.
"The celebration was so much fun," says Carol. "Everyone here is so friendly and eager to learn about their neighbors. I'm grateful for opportunities to increase cultural awareness and celebrate diversity. It's very important to me."
"We feel welcome as a result of these events," adds Elizabeth.
To learn more about senior living at Linden Ponds, request your free brochure to get the scoop on amenities, floor plans, and so much more.
Back