Treasure Hunting with A Purpose at Greenspring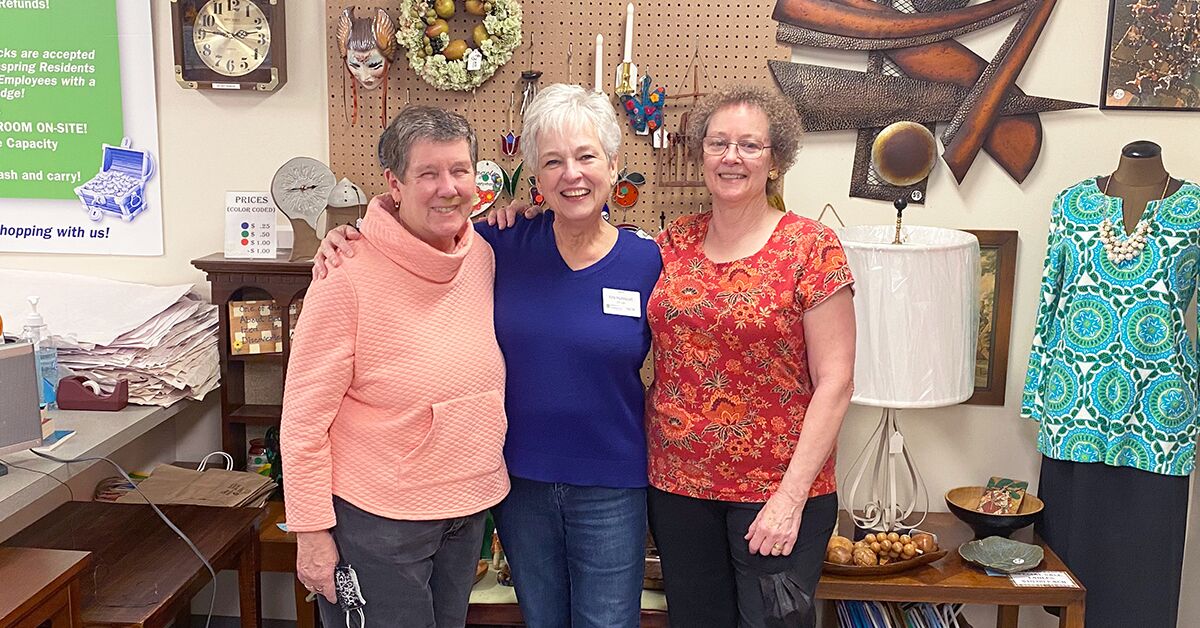 America's second-hand apparel market is expected to more than double in the next five years, according to a study by the online resale platform, ThredUp. The study also found that one in five Americans shop at a thrift store at least once over the course of a year.
It comes as no surprise, then, that "thrifting," or shopping for second-hand items at a low cost, has been growing in popularity. And residents at Greenspring, an Erickson Senior Living community in Springfield, Va., are ahead of this trend. Since 1999, residents have donated to, managed, and shopped at the community's thrift store called the Treasure Chest.
For a good cause
Since opening its doors, the Treasure Chest has raised more than $1 million dollars in support of Greenspring's philanthropic efforts. Proceeds are distributed to the Benevolent Care Fund, which assists residents who, despite careful planning, exhaust their financial resources; the Scholars' Fund, which helps the community's student workers finance higher education or trade school; and the Staff Appreciation Fund, which provides a "thank you" for hourly employees.
"The Treasure Chest is important to me because, in addition to raising money for important causes, it provides a service to residents and staff," says resident Pam Walkup, who co-manages the store with fellow residents Carla Harding and Kris Hunnicutt. "The store also provides a form of entertainment and socialization. It gives our community the opportunity to purchase some very nice items at a low cost, while also providing an outlet for items that are no longer needed."
A bit of everything
The Treasure Chest has found its home in a variety of locations throughout campus. Since 2019, it has been housed in the Connor Terrace residential building. The store is currently open on Wednesdays from 11 a.m.-1 p.m., Thursdays from 3-5 p.m., and Fridays from 1-3 p.m.
Items for sale often include wood furniture; linens; craft and sewing items; household items such as electronics and appliances, lamps, pots and pans; dishes and china; holiday items, like decorations, cards, and wrapping paper; decorative items and collectibles; CDs and DVDs; pictures and art; office supplies; jewelry; clothing; gardening items; and tools.
"We sell what is donated, so what is available for sale varies," says Pam.
Residents are invited to donate items on the second Monday of each month, with collection sites rotating among the three campus clubhouses. For larger items that need to be transported, residents get help from the Treasure Chest's managers.
"That gives us the opportunity to take a look at the item to see if we have room for it and if it is sellable," says Pam.
Working together
The sheer amount of donations they receive requires the help of 60-80 additional volunteers.
"Each week, our team of resident volunteers checks items donated for sale, prices the items, and puts them on display," says Pam. "We have additional volunteers who work in the store as sales people. A third group of volunteers helps by moving furniture and transporting items from a resident's apartment home to the Treasure Chest. It's a friendly and fun place to volunteer, and a great way to meet other residents."
"The Treasure Chest is from the residents, by the residents, and for the residents," says Carla. "One hundred percent of the money raised is donated back into the community for the benefit of the residents. It is the perfect circle of giving."
Diamond in the rough
In addition to raising funds for a variety of community causes, the Treasure Chest is the perfect place to find a new treasure.
"Our store is lovely," says Carla. "We are well supported by management and by our volunteers. It's a rare gem."
Kimberly Nelson, Greenspring's director of philanthropy, agrees.
"The Treasure Chest is an important facet of the Greenspring community," she says. "Thanks to the tireless efforts of our resident managers - Carla, Pam, and Kris - and their dedicated team of volunteers, our entire community enjoys the opportunity to purchase a variety of treasures. And when you consider the fact that the Treasure Chest has raised over $1 million - selling most items for only 25 cents to a few dollars - it's truly a remarkable accomplishment. And the best part is that together, as a Greenspring family, we are helping each other. It's a wonderful way to give back."
Invest in your future self at Greenspring. From top-notch amenities to affordable, maintenance-free apartment homes, you are sure to live your retirement to the fullest. Request more information today!
Back