New Sales Director Takes The Reins at Greenspring
Kelly Shue
February 22, 2022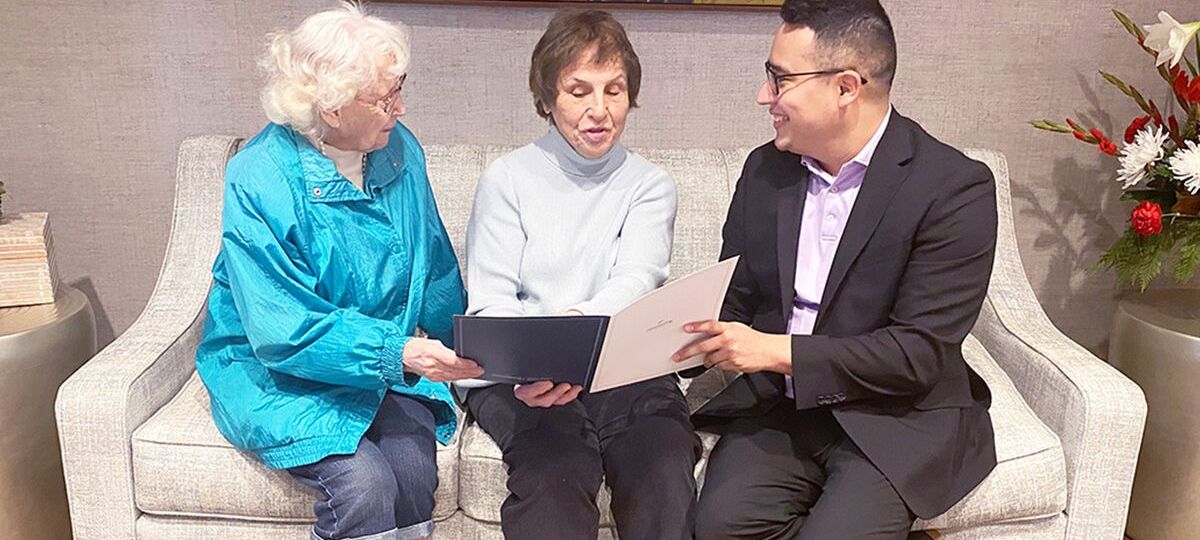 With more than a decade of experience as a member of the Greenspring sales team, and more than 15 years working full-time at the community, Franklin Funes was recently named director of sales for the Erickson Senior Living community in Springfield, Va.
"Our team is thrilled to welcome Franklin into this well-deserved leadership role," says Chandra Kumar, executive director at Greenspring. "His unwavering commitment to Greenspring, our residents, and his team members has always defined Franklin's career and his significant contributions to this community."
Growing up with Greenspring
Franklin's mother, Reyna Romero, joined Greenspring's housekeeping staff right after the community opened, making her a "pioneer" employee.
"My mom was the driving force - the reason I'm here," says Funes. "She encouraged me to volunteer at Greenspring, even before I began working as a dining services employee. She understands the purpose and importance of helping make others' lives better. From her, I learned that when you do that as an occupation, your job is no longer work, but a mission."
This mission, as Funes calls it, has led to a successful and rewarding career.
As a high school student, Funes worked as a part-time dining services employee. Following his high school graduation, he accepted a full-time position at Greenspring as a member of the general services staff, focusing on special events. Over the course of the next two years, he happily took on a variety of roles - anything from communications to security - before finding his niche with the sales and marketing team.
"As an Erickson Senior Living employee, there is a wonderful, built-in support system that enables people to take their future into their own hands," Funes says. "I began my sales and marketing career as a move-in coordinator, helping new residents get acclimated during their very first day on campus. I'd do my best to understand and appreciate each resident's unique circumstance."
He adds, "Whether it was grabbing lunch on a busy move-in day or helping a new resident find their way around campus, I looked for ways to make that big day as stress-free as possible."
This idea of giving back to residents in the most thoughtful way possible is a hallmark of Funes' leadership.
Leading by example
"One of the biggest goals of our sales team is to provide a trusted point of contact for each person who visits our office," he notes. "I also want prospective residents to know that we recognize that not everyone will choose to move to Greenspring - and that's okay. We want each person to choose the home that is best for them, now and in the future. Of course, we hope that's Greenspring! But we want everyone to have a great experience when meeting with the members of our team."
"2022 is an exciting year here at Greenspring," he says. "Over the last twenty years, we've provided the gold standard in retirement living and we're committed to maintaining that high-quality environment that residents expect from the community. We've invested - significantly - in continuing to refresh our facilities, amenities, and events."
Funes points to the newly built fitness and aquatics center; the opening of the Cork & Fork, an international-inspired restaurant; the addition of new, modern apartment homes in Garden Ridge, Greenspring's continuing care neighborhood; a new outdoor exercise space; and an expansion of the dog park.
"All of our updates are designed to enhance the overall quality of life for Greenspring residents," he says.
Open invitation
This spring, Funes and his colleagues are hosting a variety of events to help prospective residents learn more about Greenspring.
In April, priority list members will enjoy the opportunity to take part in an Erickson Realty and Moving Services event series that focuses on important move-related topics, such as planning for a move, downsizing, and financing. Current Greenspring residents will share helpful tips and advice based on their personal moving experiences.
In May, Funes and his team will host the annual home expo, providing an unmatched opportunity to walk through and explore a variety of popular apartment home styles.
Familial feeling
"I really believe I have the best job in the world," says Funes. "It makes me so happy to see someone go through the moving process and later say to me, 'I only wish I had done it sooner.'"
To Funes - a husband to wife Katy and father to two daughters, Jen and Leah - the people he helps become like family.
"At Greenspring, the residents and staff have such a unique relationship," he says. "We become like family because we want to see each other happy and successful. For me and my team, that just makes us want to work harder. We know the 'why' in what we do."
To learn more about affordable, independent senior living at Greenspring, request your free brochure to get the scoop on amenities, floor plans, and so much more.
Back