Leonard Kalkwarf Stays Busy with Hobbies, Travel, And Serving His Community
Kelly Shue
September 7, 2023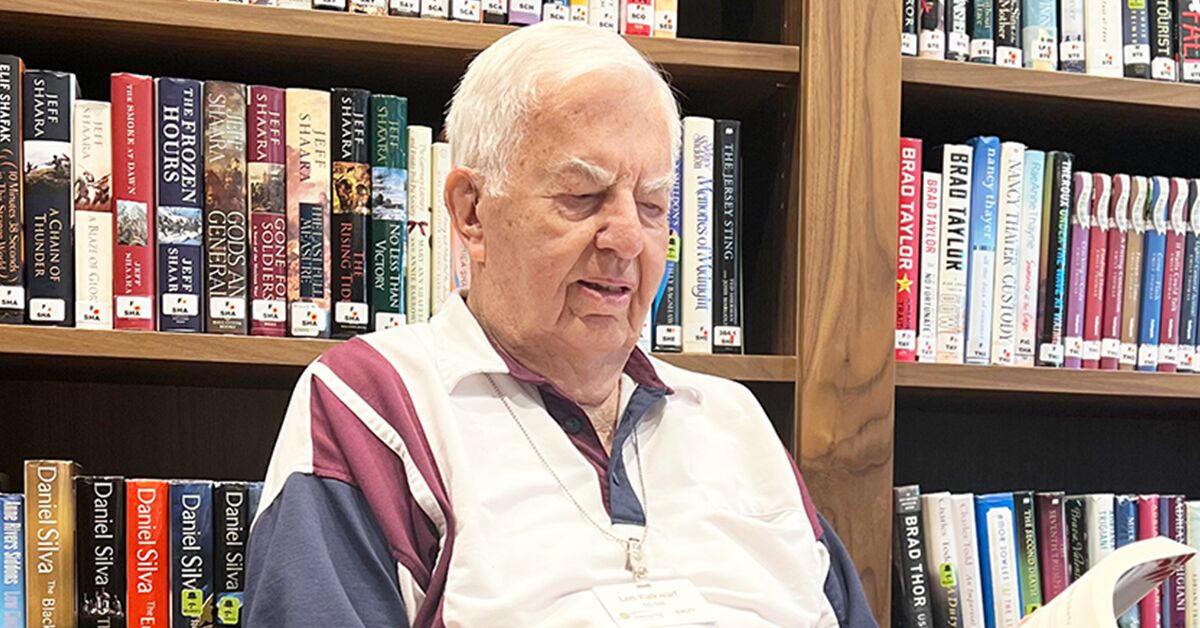 "I believe that as we get older, it's very important to be involved in activities that keep you physically and mentally active," says Leonard Kalkwarf. "It keeps you young!"
Since moving to Greenspring, the Erickson Senior Living community in Springfield, Va., Leonard has immersed himself in community life, serving the campus' Village Church, bowling with friends, and traveling - when he's not working on writing his next book. 
"I've been blessed with opportunities to stay active and develop meaningful relationships, both of which are so beneficial," he notes.
From the past
As a retired ordained minister of the Word and Sacrament of the Reformed Church in America, Leonard published two dozen articles and several religious textbooks prior to his move.
And soon after his move in 2004, he published Dear Craig, which brought biblical figures to life with modern personalities. 
Thanks to his maintenance-free apartment home at Greenspring, Leonard has found more time to pursue his interests and travel. Over the course of eight years, he and his wife Beverly visited the thirteen presidential libraries as well as sites relevant to each of the former presidents. 
Leonard used these experiences to write Exploring the Libraries of the U.S. Presidents in 2015.
"The libraries serve as a wonderful collection of information expressed through displays, newspaper articles, photos, and videos," he says. "They are a reminder of some of the great historical events from the 1920s to present time."
Four years later, Leonard published Daily Devotions, based on more than 50 years of sermons. The book contains a devotion for each day of the year, including a Bible verse of the day, a devotional thought, and a concluding prayer.
To the present
Recently, Leonard published his autobiography titled What Ever Happened to the Boy With the Blue Racer?
"The title refers to the little wagon I had as a boy," he explains. "I wrote the book primarily for my family. I thought they would like to know about my childhood experiences and the reasons why I went on to college and seminary."
Currently, Leonard is working on his tenth book - with hopes of publishing it later this year - that features sermons given from a first-person perspective. 
"For instance, I gave a sermon recently as Martin Luther on Reformation Sunday," he says. "That was very well received by the congregation here at Greenspring."
Serving the faithful
Leonard is also involved in Greenspring's Village Church, which welcomes people of all faith traditions. 
"We are an organized congregation, very ecumenical," he notes. "There are many different denominations represented." 
He continues, "Our staff pastor is with the United Church of Christ. Our associate is Baptist, and then we have another parish associate who is Episcopal. I represent the Presbyterian tradition. We also have quite a few other ministers who serve."
Leonard frequently serves as the liturgist and the celebrant for Holy Communion, and he preaches several times a year.
"I also set up the special communitywide services for Thanksgiving, Christmas, Good Friday, and Easter," he says. "On Good Friday, we invited other ministers to join us, each wearing the dress of their denomination. It was nice to see all the clergy, dressed differently but serving together."
Leading classes
In addition, Leonard leads two Bible classes, one weekly and one monthly. 
"Right now, the weekly class is talking about the Renaissance and the Reformation, specifically the different denominations that came out of the Reformation. It's very well attended!" he says. "The monthly class is exploring the Parables of Jesus."
He is also busy planning Greenspring's annual blessing of the animals that's held each October.
When he's not writing or serving the Village Church, Leonard enjoys bowling with a local league, playing billiards with friends, competing in the Northern Virginia Senior Olympics, and participating in the community's popular history forum. 
"I was asked to create a program on the presidential libraries, based on my book," he says. "I liked sharing my experiences."
Further taking advantage of his carefree lifestyle, Leonard recently embarked on a river cruise in Germany, along the Rhine.
"If I could share one piece of advice," he adds, "it would be this: Move earlier than you think so you can enjoy all the benefits of living at Greenspring!"
To learn more about affordable, independent senior living at Greenspring, request your free brochure to get the scoop on amenities, floor plans, and so much more.
Back