Greenspring's Staff Members Share a Commitment to Care
Kelly Shue
February 17, 2023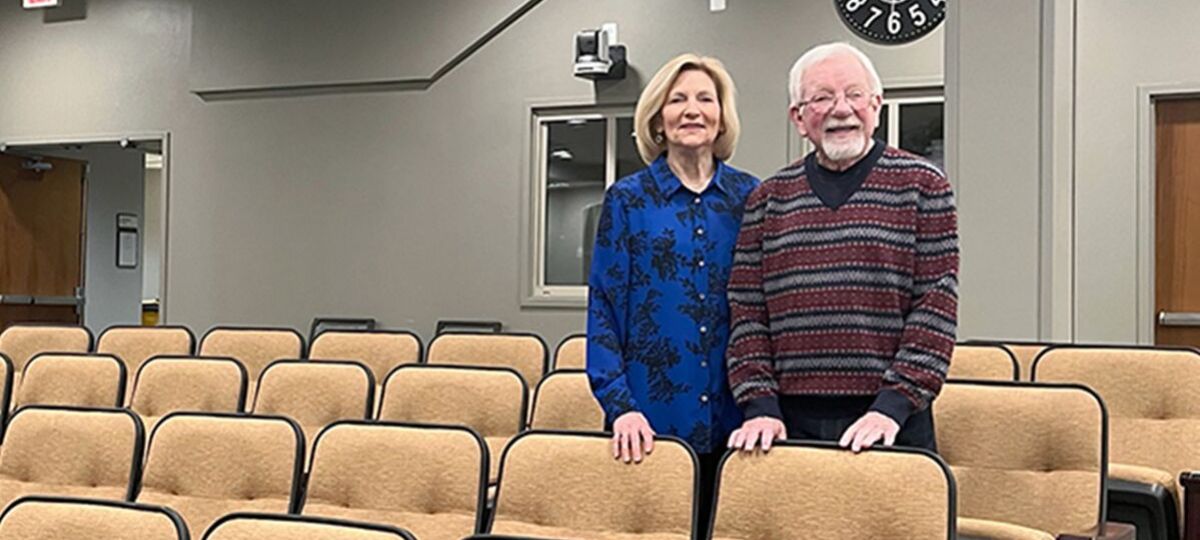 "We have wonderful staff members working at Greenspring," says Pam Walkup, a resident at the Erickson Senior Living community in Springfield, Va. "They work so hard, yet they always have a smile on their faces!"
With a great location in the Washington, D.C.-metropolitan area, Greenspring boasts one of the highest occupancy rates in the senior living industry. One of the reasons for this popularity is the community's maintenance-free lifestyle, which is supported by dedicated, caring employees.
"Our goal is to provide both our residents and our staff with the best experience possible. We offer vibrant retirement living and an unmatched workplace culture," says Executive Director Melissa Robson. "In turn, many residents and staff members form strong, meaningful bonds with one another."
Performing together
As a member of the Greenspring Players, the community's drama club, Ernie Carpenter enjoys rehearsing lines with Resident Services Manager Sue Franke, who regularly performs with the resident-led group.
"Sue is always very sweet and kind. As the resident services manager, she interacts with residents in many ways," Ernie says. "And, as a cast member, she has become close with several resident thespians. She has quite the network at Greenspring!"
For Franke, who recently celebrated 18 years at Greenspring, the ability to meet and engage with residents - on both a professional and a personal level - is one of the best aspects of her job.
"When I first visited the community nearly two decades ago, I was overcome with a sense of warmth. Residents and staff genuinely care for each other here," says Franke. "I love spending time with the residents. Their experiences and stories are inspiring."
Recently, Franke performed in the Greenspring Players' production of Harvey, which brings her playbill collection into double digits. "It's a pleasure to perform alongside them!" she says.
Sharing the mission
Reflecting on her career with Greenspring, Franke is grateful for the supportive workplace culture - as well as the long list of activities and events that keep residents, like her mom, active.
"Thanks to employees' hard work, residents are graced with fulfilling, independent lives," explains Franke. "Seeing how much the community's carefree lifestyle benefitted them, I recommended Greenspring to my mother. She moved in almost six years ago now."
"Sue's mother and I are good friends too!" quips Ernie.
Franke's dedication to helping retirees live life to the fullest is what the company's mission is all about, says Alan Butler, CEO of Erickson Senior Living.
"The services we offer to residents are only as good as the people who provide them," says Butler, pointing to the fact that Erickson Senior Living only hires the best in the business. "Senior living should be considered a destination for career-driven people who possess a passion for serving others."
Exceeding expectations
For Pam, strengthening relationships with staff members has become part of her day-to-day life at Greenspring.
"There are so many wonderful examples of how staff work with residents," she says. "As a volunteer with the Treasure Chest, our community thrift store, I see staff members bringing residents down to shop, helping them find things, carrying things home for them, and making sure they have fun."
Pam also appreciates how employees go out of their way to remember facts about each resident.
"The staff at the Potomac Café is fabulous," she says. "They are always fun! They know our names and what we like to eat."
Resident Eloise Stinger says that the maintenance team's efforts have contributed to her satisfaction at the community.
"Our maintenance workers always exceed my expectations. They work so carefully and efficiently! I am comfortable with them visiting my apartment home, whether I am there or not," notes Eloise. "Every staff person takes a real interest in our safety and well-being, addressing our concerns as quickly as possible."
Relationships matter
In an effort to further strengthen ties between residents and staff, Robson is focused on growing the Greenspring Connect program, which she started last year.
"We've developed two avenues for people to connect - one highlights ways in which residents and staff can collaborate within each department, and the second connects residents with our many groups, clubs, committees, and the Resident Advisory Council," says Robson.
She notes that these intergenerational relationships are critical to upholding the community's welcoming environment.
"Residents often share how much their lives have been enhanced through the friendships they've built with neighbors and staff," Robson adds.
Invest in your future self at Greenspring. From top-notch amenities to affordable, maintenance-free apartment homes, you are sure to live your retirement to the fullest. Request more information today!
Back