Greenspring's In-House TV Station Broadcasts Greatness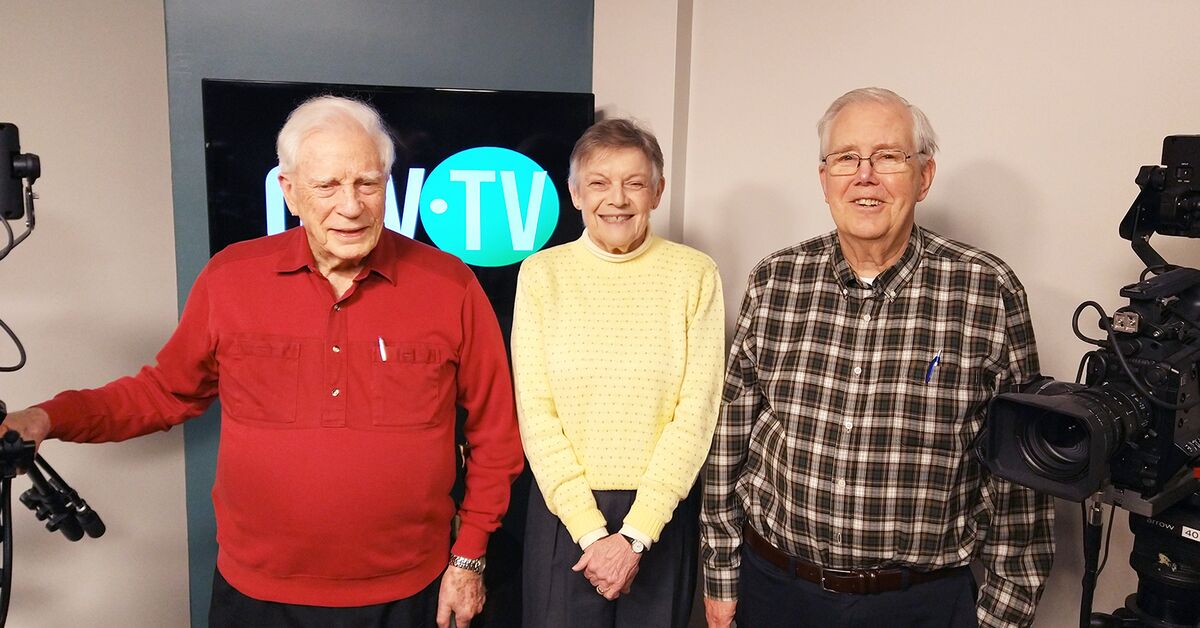 In January, the in-house TV station at Greenspring, an Erickson Senior Living community in Springfield, Va., celebrated its 21st anniversary. With a dedicated group of resident volunteers and three full-time staff members, the station (GSV-TV) produces high-quality, informative television programming.
"GSV-TV provides residents with important community information, such as what guest speakers are visiting campus soon, as well as new clubs that people might be interested in learning more about or participating in," says Clint Lambert, a host and interviewer at the station since 2013.
The station also records multiple events so residents can view them later. Previous live music performances, chapel services, and Resident Advisory Council meetings - just to name a few - are all saved in GSV-TV's digital library.
Exceptional programming
At the heart of GSV-TV's lineup is its first-ever program, Village in Motion. The live morning show, produced Monday through Friday, is an absolute hit. In fact, to keep up with demand, the show now airs multiple times every day, including weekends.
The program features a variety of guests such as Greenspring staff members, local and regional politicians, experts in the fields of safety and education, health and fitness professionals, media representatives, and residents with unique talents or life stories they wish to share with the community.
"The information provided on Village in Motion covers lots of happenings on campus," says resident Ralph Shuetz, one of GSV-TV's camera operators. "The residents who interview guests are a real hoot."
The weekly Executive Roundtable program earns rave reviews, as well. Melissa Robson, Greenspring's executive director, and members of her staff chat about updates regarding dining services, pastoral ministries, and the medical center.
Valuable volunteers
The popularity and longevity of GSV-TV is directly linked to the unwavering dedication of its resident volunteers, who provide many hours of service to meet the needs of the station's 3,000-plus daily viewers. Volunteers coordinate audiovisual requests, support lighting and sound needs, operate cameras, and serve as hosts and interviewers for various programs.
While most volunteers never worked in television before, Ralph is an exception. "I'm probably the only person who moved to Greenspring just so I could run the camera in the studio," he quips. "If you're interested, everyone receives on-the-job training, so you're welcome to join."
During his career in television production, Ralph moved around quite a bit - in more than one capacity.
He started out as a camera operator at WGBH-TV in Boston, Mass. From there, he relocated to Washington, D.C., to accept a job at PBS, where he ultimately served as a technical director and director of regular closed-circuit transmissions.
"I loved my career in TV, and now it's one of the most enjoyable parts of my weekly routine at Greenspring," he says.
In addition to operating two to three cameras on set, Ralph serves as stage manager for a majority of the station's daily live programming.
Sharing talents
Resident Gray Parks, who has performed in the Greenspring Troubadour program for more than 10 years, appreciates that the community's maintenance-free lifestyle has enabled him to pursue a lifelong dream.
"I believe these programs are good examples of what one can do at an Erickson Senior Living community," says Gray. "Often, these are things we did not have the time or opportunity to do pre-retirement."
Gray recalls how, as a kid, he would listen to 15-minute radio programs.
"I wanted to share my country and folk songs with others, and those programs seemed like a great avenue to do so. That's where my dream originated," explains Gray. "When I came to Greenspring and saw our closed-circuit TV programs, the idea of doing a program took shape."
Commitment to quality
All of GSV-TV's volunteers, regardless of experience, have much to celebrate. Since GSV-TV began over two decades ago, the station has received 33 Telly Awards. Established in 1979, the Telly Award is a premier award honoring video and television across all screens.
"Our crew demonstrates such professionalism and a commitment to bringing the highest quality work to all of our productions," says Terrance Averett, the community TV & AV manager.
With Greenspring's 25th anniversary on the horizon, the studio recently received new backdrops, furniture, and three new cameras as an early birthday gift. During the renovation, the station never lost a day on air.
"The updates are wonderful!" says Clint. "GSV-TV is here for the residents. All of us associated with the station enjoy what we do, and we are always looking for meaningful ways to better serve Greenspring."
To learn more about affordable, independent senior living at Greenspring, request your free brochure to get the scoop on amenities, floor plans, and so much more.
Back