Greenspring: Stronger Together
By Kelly Shue
March 30, 2021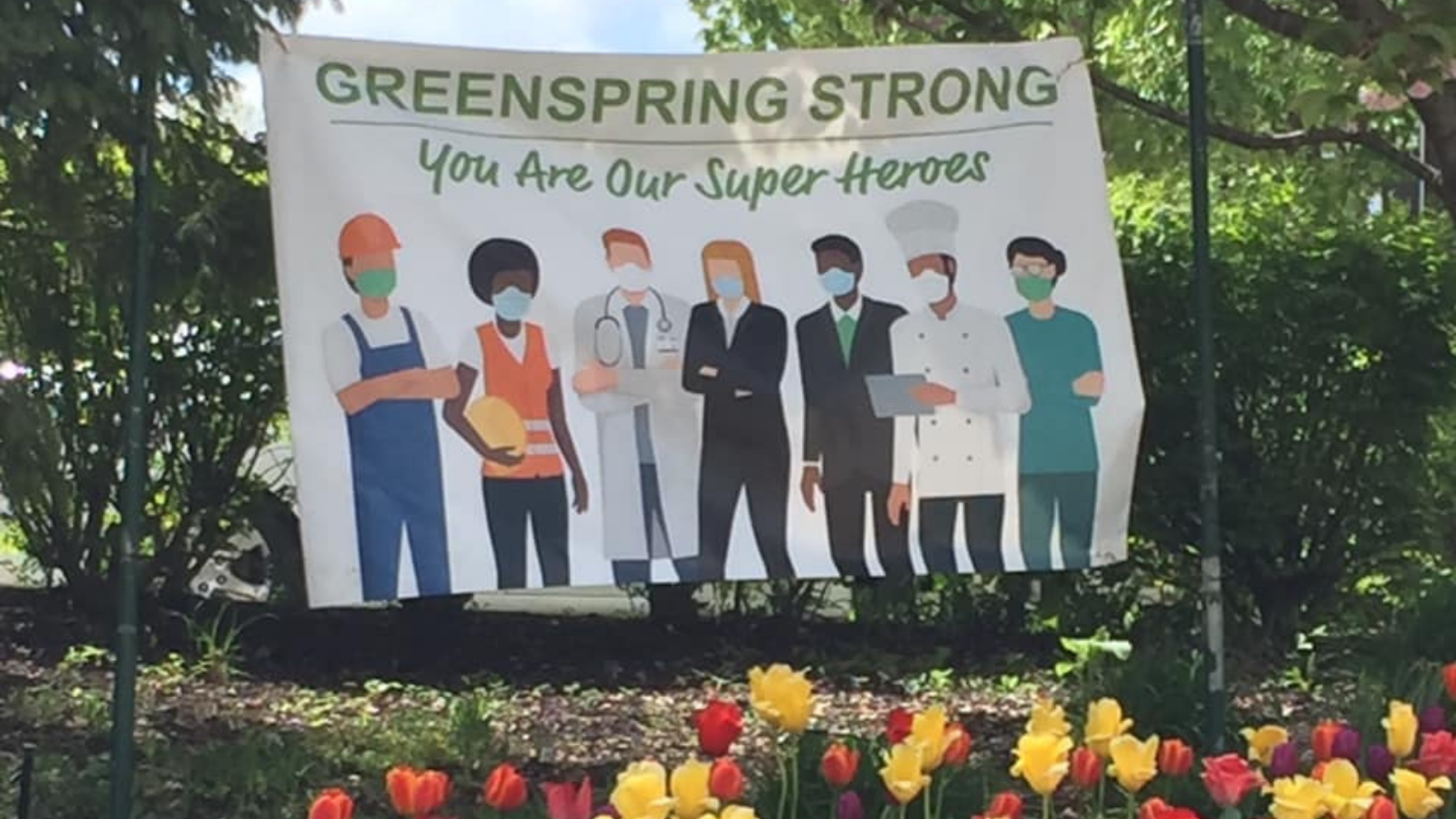 Over the last 12 months, Greenspring, a senior living community managed by Erickson Living in Springfield, Va., has gone to great lengths to ensure that community members continue to enjoy their best lives, even in the midst of extraordinary circumstances during the coronavirus pandemic.
"I'm grateful to [executive director] Chandra Kumar and the team for working so hard to keep us safe," says community member Elizabeth Norman. "They really know how to make things happen! The pandemic threw everyone for a loop and I am thankful that everyone kept their cool and pushed through. Greenspring and Erickson are a great combination."
With flexibility, creativity, and unmatched dedication, Greenspring staff and management developed new ways to keep residents safe and socially connected.
"Greenspring is a community that is not just made up of bricks and mortar, but a community that, for the past 22 years, exemplifies the spirit of family, the Greenspring family," says Chandra. "It gives me great pride to see the collaboration between residents and staff working together to keep Greenspring a great place to live and work. In these unprecedented times, I am thankful to both our residents and staff, for contributing in their own individual way, as together we are 'Greenspring strong'."
Safer together
At the heart of Greenspring's pandemic response is continuous, open communication. Beginning with daily updates on the community's in-house television station, GSV-TV, Chandra and other team members addressed all issues head-on, with honesty and openness. In addition, family members and friends were kept informed through updates on the MyErickson digital app and the community's social media.
Benefiting from Erickson Living's nationwide network of CCRCs, and more than 38 years of experience in senior living, Greenspring community members enjoy an elevated standard of service. Last spring, management launched a concierge program to facilitate the doorstep delivery of newspapers, packages, and other important items by staff members. This program helped minimize outside visitors, further keeping community members safe and healthy.
In addition, all Greenspring departments worked carefully to provide information, and in many cases, entertainment options, to community members. The pastoral ministries department sent daily email devotionals to Village Church (Greenspring's nondenominational church) members, and any residents requesting this special offering.
GSV-TV added additional programming during the week including a line dance class, a Great Decisions lecture, a sing-a-long with staff members, concerts from the Kennedy Center, museum tours, and cooking demonstrations from Greenspring chefs and residents.
Fulfilling a promise  
Earlier this year, more than 2,000 Greenspring community members and 900 staff members received COVID-19 vaccinations through a variety of well-orchestrated vaccine clinics, held at the on-site CVS pharmacy.
 "My hat's off to Greenspring, Erickson, and CVS," says community member Peggy Patrick. "And not just for securing the vaccines, but for the magnificent way everything was handled. We were able to wait in the comfort of our own homes. Once we were sent downstairs and got in line, everything went smoothly. Everyone knew their jobs and did them beautifully. There was no standing around. I applaud everyone involved. It could not have been better."
Neighbor Fran Schultz agrees.
"Congratulations to [Chandra] and staff for a perfectly planned and executed COVID-19 vaccination event," she says. "I appreciate the dedication and concern they have shown for the residents under their care. These are difficult times and it's very reassuring to live in a community where, despite many obstacles, our needs are being so well met."
Looking forward
Community members, energized by the support received over the last year, proudly share their experience with friends and neighbors. As a result, the last year has witnessed an unprecedented increase in demand for the Greenspring lifestyle.
"We are continually told that, while quarantining alone in their homes, many people began to re-evaluate their retirement needs," says director of sales David Taylor. "At the same time, we've seen a substantial increase in resident referrals. As our community members connect with friends, they share just how safe and enjoyable life is at Greenspring, and the many efforts taken to keep our community engaged and happy."
Consider Greenspring if you are interested in living in a connected and engaged senior independent living community. Beautiful walking paths, gardens, resort-style amenities, an on-site medical center staffed by full-time medical professionals, and new friends await. Request more information today.
Back