Greenspring Residents Enjoy Living Retirement to The Fullest with a Worry-Free Lifestyle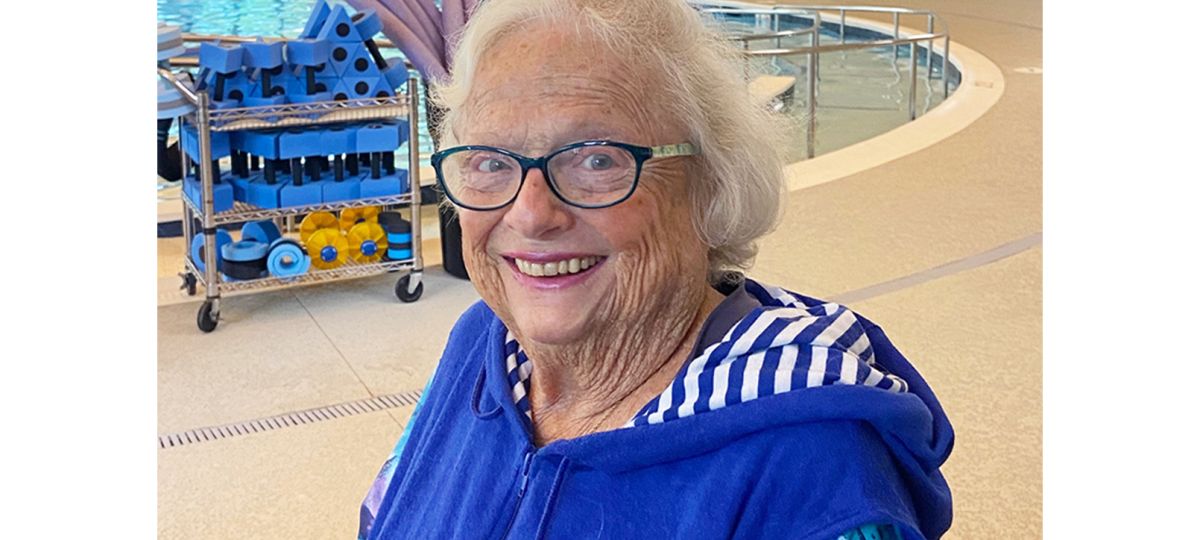 Residents at Greenspring, an Erickson Senior Living community in Springfield, Va., will celebrate their freedom all summer long with on-campus concerts, barbeques, guest lectures, and the annual Summerfest.
"The patriotic spirit of our community members is inspiring," says Director of Resident Life Ashley Walters. "They understand, in a very unique and powerful way, what it means to be free. As Greenspring residents, they enjoy the freedom to explore their passions and engage in hobbies - with the full support of our staff and their neighbors."
In the few short months since her March 2022 move to Greenspring, Joan Selman has fully embraced that freedom.
"Living at Greenspring is exceeding my expectations," says Joan. "This is such a lovely, friendly community. I'm meeting wonderful people while embracing the time to do things I love, especially swimming."
Planning ahead
Joan's journey to Greenspring began more than ten years ago.
"My husband and I began looking at various retirement communities in the area, even though we knew that a move, for us, was down the pike," she says. "That's when we first visited Greenspring. We knew, right away, that it was the best for us."
As a continuing care retirement community, Greenspring provides resources that encourage residents to care for their physical, mental, and spiritual health - now and in the future - resulting in a fulfilling retirement.  
The couple visited Greenspring several times - staying for a weekend, attending the annual pet parade, and enjoying meals with friends. However, when Joan's husband passed away, she began spending longer periods of time at their home in Florida.
But then fate stepped in. Sales Counselor Sheila Willing stayed in touch, calling Joan at her Florida house.
"She knew I had been so enthusiastic about moving to Greenspring. I updated her on my life, and she let me know about all the new updates at Greenspring. I was especially happy to learn about the new swimming pool," Joan recalls. "Within a week of our call, I was planning a visit."
During her visit, Joan moved ahead with the decision she had made years ago and selected an apartment home on the spot. "I signed up then and there," she recalls. "I was very happy in Florida, but I knew I would be happier here."
Hassle-free
After her move, Joan quickly took advantage of the many offerings at Greenspring.
Greenspring's stylish, maintenance-free apartment homes let residents live the active retirement lifestyle they've always wanted. Being part of an engaging community - with a wide range of amenities and activities to choose from - provides residents the opportunity to foster meaningful connections and friendships.
"My apartment home is wonderful," she says. "I'm a very happy camper. All I have to do is take a quick elevator ride to the newly updated Town Center Clubhouse, and I can be at the pool in two minutes. I'm there every day, and I love it."
Close to family
Another draw of the community, for Joan, is its proximity to her daughter Reesa and her family.
"Reesa and her husband Patrick now live in my former house," she explains. "It's so wonderful to be near them. They visit frequently! We just had dinner together on campus last night."
Joan's other daughter Julie and her husband Darryl, who live near Seattle, Wash., also enjoy visiting their mom in her new apartment home.
"They love it here too," she says. "Julie is a swimmer too and uses the pool with me. I'm so happy to be close to my kids. They appreciate the peace of mind that comes with knowing I'm happy and well cared for. That is important to me. I was the caregiver for my mom, and I remember how pleased I was when she was safe and settled in a retirement community. She was happy, and that made me happy."
Making new friends
Joan says that she meets new, friendly people each day.
"Everyone, from residents to staff, is so outgoing," she says. "People genuinely care for each other here. In fact, I'm always making connections with people. Just the other day, I was approached by a neighbor who wanted to make a date for dinner. We exchanged names and I wrote down her number. We had a lovely meal together."
Greenspring's worry-free lifestyle also provides Joan the freedom to keep up with friends and activities outside the community.
"Although I have my car, the Greenspring shuttles are very useful," she says. "I am able to see friends and maintain my temple affiliation. I feel very, very lucky. In such a short time, Greenspring feels like home - much more quickly than I thought. I've already met so many people and discovered new activities. I can't wait to see what's next!"
Invest in your future self at Greenspring. From top-notch amenities to affordable, maintenance-free apartment homes, you are sure to live your retirement to the fullest. Request more information today!
Back