Greenspring Residents Award $300,000 in Student Scholarships
By Kelly Shue
August 6, 2021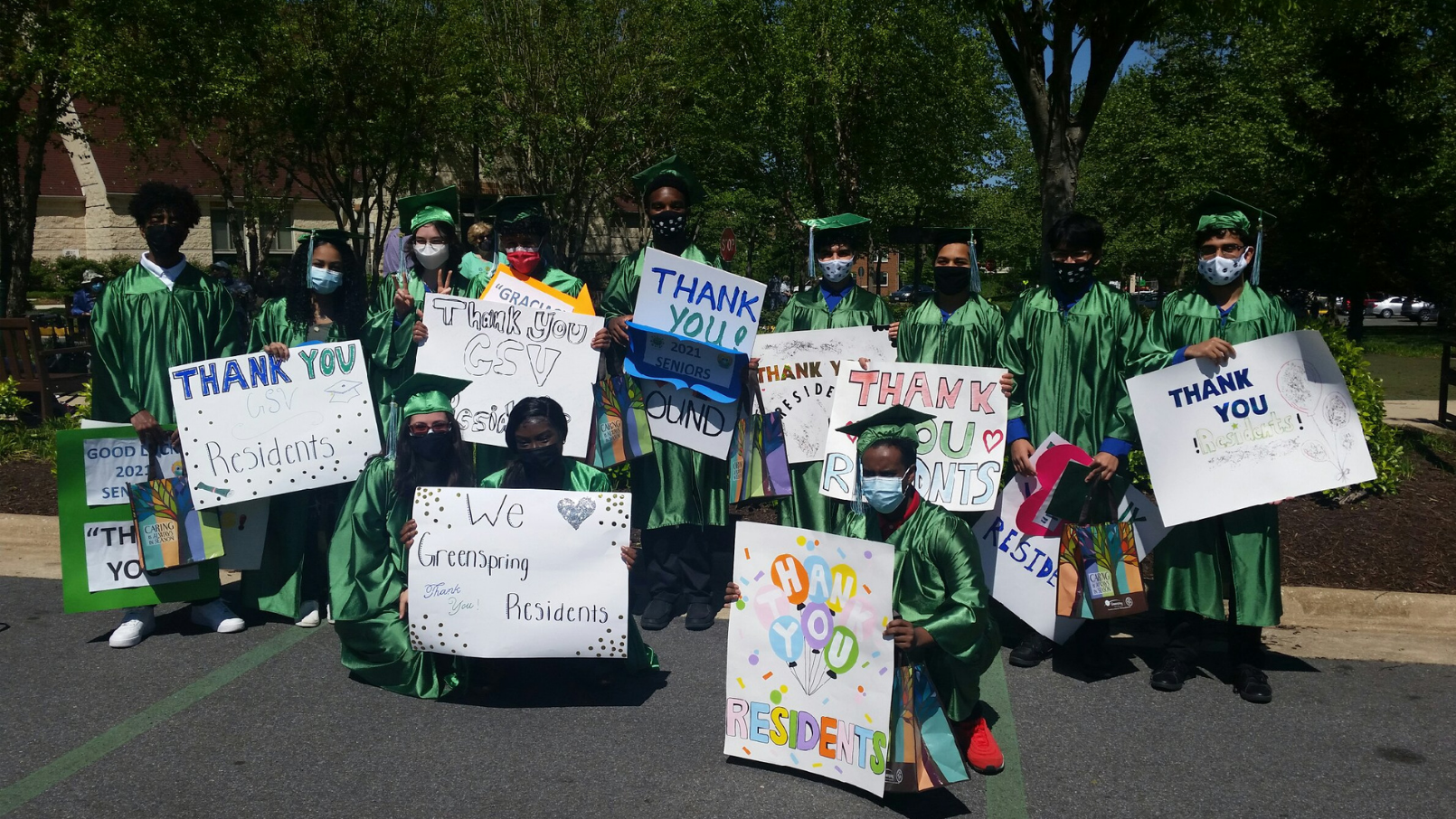 Community members at Greenspring, an Erickson Senior Living-managed community in Springfield, Va., are known for their generosity, and that has been especially clear in 2021, as they awarded more than $300,000 in scholarships to local students. The 29 students, who worked at the community part-time, are now beginning the pursuit of their higher education. Since 1999, as part of a community-wide effort called the Scholars' Fund, which helps student employees pay college costs, Greenspring community members have raised over $5.5 million for their student employees. These funds are awarded as scholarships to help ease the large financial commitment associated with obtaining a college degree.
"The Greenspring scholarship will allow me to attend my college courses and meet my academic goals without stressing about having to pay for tuition and books," says Gabriel Holder, who now attends Virginia Polytechnic Institute and State University. "My engineering courses will require my complete attention and focus. I was worried I would have to work part-time during the school year. Now, since receiving the scholarship I will be able to focus on my first-year engineering course load and keep up my GPA."
Making the grade
Of primary importance to the Greenspring community is the ability to award all eligible students who apply with a scholarship. Eligibility requires at least 750 hours of service during the student's junior and senior years of high school. They must achieve satisfactory grades, and maintain a disciplinary record free of adverse actions at their high school.
"The Greenspring scholarship will help me achieve my educational goals by taking away a part of the financial burden of my education," says Rebecca Payton, who attends Ensign College in Salt Lake City. "With two older siblings already in college, everyone in my family is working hard to support our efforts. With this scholarship, I'll be able to focus more on my studies with a clear mind."
Happy to help
Greenspring residents are more than happy to help. "The Greenspring community is very appreciative to have these young students working among us," says community member Julie Riegg. "We enjoy the opportunity to get to know them through our conversations. These students are at the top of their game and it shows in their interactions with residents. Many of these students are first generation U.S. citizens and we want to encourage and help them plan for their future."
In addition to the Scholars' Fund scholarships, three students received donor-designated scholarships as part of Greenspring's educational endowments. Megan McMahon, Dania Abu-Irshaid, and Carolina Munoz-Sarazueach received The Kathryn Coleman Scholarship ($3,000) awarded to students studying accounting.
Just like family
The generosity of the Greenspring community toward the student employees extends above and beyond the awarding of the scholarships. Each day the students and community members interact on a personal basis providing each other with friendship and support.
"It makes me feel special and my efforts appreciated when residents ask to be seated in my section," says Gabriel. "Often, we swap stories and I receive sage advice, leaving with more new friends. I find myself reflecting on the advice and stories I have been honored to receive."
"There are several residents that always remember my name when they say hello to me as we pass in hallways or when I serve them at our restaurant," says Rebecca. "One couple 'adopted' me 'as their grandchild' when I first started working, and have been very kind and supportive of me ever since."
Co-worker Soha Ahmed, who now attends Marymount University, also feels connected to the residents she serves. "I enjoy talking with the residents about their day," she says. "They remind me of my own grandparents. It is interesting to hear them tell stories about their personal experiences. Greenspring is like a second home to me, and I cherish all the memories and friendships I've created while working here."
Mutual appreciation
 It's a two-way street for the Greenspring residents. "As a member of the Philanthropy Committee, we read the student essays required of each scholarship candidate," says community member Carl Nemecek. "It was an unexpected surprise to read, in one candidate's writing, that our conversations while serving at my table, and my frequent interest in his school life and goal setting, affected him in a positive way."
"Mr. Nemecek and I have always shared a close bond," says Ali Faizi, who now attends George Mason University as a biology major. "Ever since I came to Greenspring, he has been kind to me and encouraged me to perform well academically. To this day, I appreciate our bond and his ability to motivate me to achieve my academic goals."
To learn more about retirement living as part of a caring community of neighbors, request more information today.
Back