Greenspring Provides a Wealth of Resources to Support Personal Wellness
Kelly Shue
October 27, 2022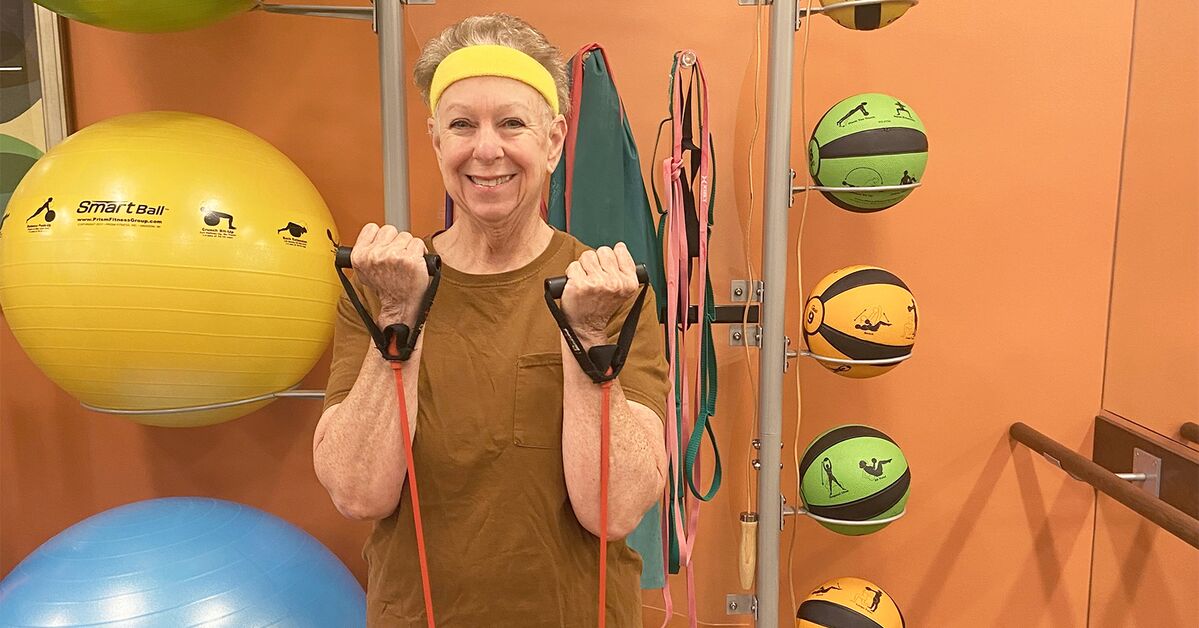 "I sincerely believe that the doctors at the medical center and the workouts in the fitness center saved my life," says Roberta Feldman, a resident at Greenspring, the Erickson Senior Living community in Springfield, Va. "Not only did the staff help me transform the way I live my life, I've changed the way I look and the way I feel. Moving to Greenspring was a wise decision."
Many of her neighbors feel the same way. As a community, Greenspring is committed to supporting all facets of personal wellness, hosting a variety of amenities and resources centered around the physical, mental, and spiritual well-being of everyone who lives there.
And Erickson Senior Living shares the same sentiment.
Enhancing well-being
This year, Erickson Senior Living provided a multimillion-dollar investment, through its Well-Being Fund, to support the addition of enhanced health and well-being programs and services to residents.
Incorporating findings from the company's research partnership with Harvard University and the Benson Henry Institute (BHI) for Mind Body Medicine at Massachusetts General Hospital, these additions are designed to better physical, emotional, and social well-being.
In 2021, residents at selected Erickson Senior Living communities participated in the Embrace Well-Being and Flourish study, which used the BHI's SMART (Stress Management and Resilience Training) curriculum to provide them with practical strategies for managing stress and improving resiliency.
Results of the study showed statistically significant changes, including increases in resilience, coping, and positive emotions, while decreases in distress and social isolation were seen.
Seeing the investment
Residents at all Erickson Senior Living communities now have greater access to tools and strategies that support resilience and overall health and well-being. Examples include Wellbeats, a new fitness app which allows residents to participate in on-demand and live exercise, yoga, and meditation classes from any location.
"Our fitness center provides unmatched opportunities to better your physical health, our pastoral ministry department supports religious and spiritual wellness, and our on-site medical center provides a tangible way for residents to monitor their overall health," says Resident Life Director Ashley Walters.
A success story
Roberta's road to optimal well-being began with a routine doctor's visit at Greenspring's on-site medical center.
Two years ago, "Dr. Bhagavathula told me that I needed to make some serious lifestyle changes to improve my deteriorating physical health," she recalls. "The first thing I did was visit the fitness center and meet with [Wellness Coordinator] Juanita Kuntz. She showed me how to use all the equipment safely and effectively."
"It's wonderful!" says Roberta. "I really appreciate the fact that the fitness center is open 24/7. I visit at all hours - days, nights, weekends. That flexibility is critical."
As a result of her efforts, Roberta has lost more than 100 pounds. 
"There were going to be serious consequences if I didn't take immediate action to improve my health," she says. "I was placed on blood pressure medicine and strongly encouraged to lose weight by exercising. I'm happy to report that I now no longer need the medicine, and I weigh less each time I visit the medical center. And I'm doing all of it the healthy way! The fitness center is key - just a two-minute walk from my apartment home."
Customize your workout
Roberta and her fellow fitness aficionados are grateful for the Well-Being Fund and all the tools and technologies it provided. 
The fitness center now has two Echelon Reflect mirrors, two Echelon Connect bikes, an Echelon Connect rower, a new Matrix treadmill and elliptical trainer, and Frisbee golf equipment.
"I especially enjoy the new Echelon mirror," says Roberta. "I call it the 'Man in the Mirror.' I am able to come at night and do Zumba and core exercises. There are hundreds of programs and activities to choose from, including strength, cardio, and stretching."
Heart of the matter
Greenspring also recognizes mental and spiritual health as important factors to living a fuller life. To ensure all residents feel welcome, the community's pastoral ministries staff hosts gatherings for people of many faith backgrounds.
Each week, Catholic Mass, Episcopal/Anglican Fellowship, Jewish Shabbat, Lutherans at Greenspring, Orthodox Christians, Unitarian-Universalists, and The Village Church provide services for residents and their family and friends.
"There are a wide variety of good reasons for choosing the Greenspring lifestyle," says Roberta. "Since moving here five years ago, I've enjoyed a wonderful new life."
"Providing the resources and tools Greenspring residents need to live healthier, longer lives is our number one goal," adds Walters.
Invest in your future self at Greenspring. From top-notch amenities to affordable, maintenance-free apartment homes, you are sure to live your retirement to the fullest. Request more information today!
Back