Greenspring Offers a Wealth of Wellness Resources
Kelly Shue
January 6, 2022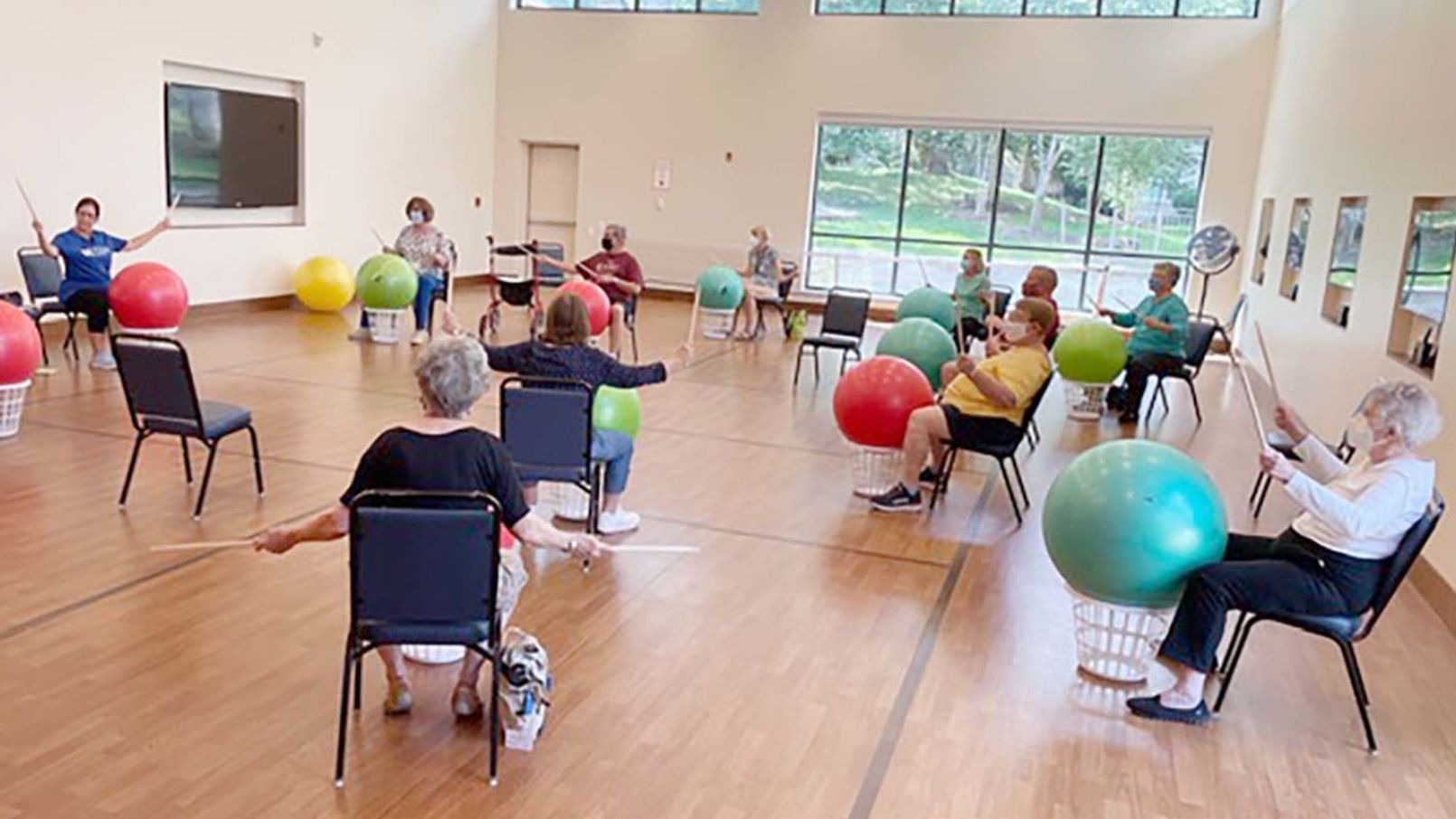 At Greenspring, an Erickson Senior Living community in Springfield, Va., residents enjoy a maintenance-free lifestyle that rewards them with time to explore healthy interests. With two on-site, state-of-the-art fitness centers; a brand-new aquatics center; walking paths and trails; an on-site medical center staffed by experienced physicians; a pastoral ministries department; and over 200 resident-run clubs, Greenspring makes it easy for residents to care for their well-being.
"Living at Greenspring provides everything you need to take excellent care of yourself," says Fitness Coordinator Juanita Kuntz. "Whether it's working out at the fitness center, participating in clubs and activities, or devoting time to mindfulness, there is no limit to the number of ways you can achieve optimal well-being."
"I have always been active," says resident Donna Roy. "Prior to moving to Greenspring, I had a membership at a fitness club. I am thrilled that I can continue working on my personal fitness goals by using the fitness center on campus."
Great place to start
Since her move, Donna takes full advantage of the modern, top-notch amenities. She participates in water aerobics classes; follows her personally tailored free-weight routine; and uses the elliptical, aqua rower, and boxing bag for her cardio workout. She also enjoys walking the campus several days a week.
Resident Eloise Stinger also likes going for long, leisurely walks along Greenspring's beautiful campus.
"When I moved to Greenspring, I started walking every day because it was so convenient and safe," she says. "It's now my favorite part of each day."
Staff support system
At the heart of Greenspring's wellness programs is the community's new, state-of-the-art fitness and aquatics center, staffed by trained professionals—many of whom are long-time Greenspring employees.
According to Fitness Manager Brad Hibbs, his team meets each resident where they are when it comes to starting an exercise regimen and setting realistic goals.
"Our large community provides numerous ways to accomplish your goals," he says. "Greenspring offers exercise classes for those who like to socialize, in addition to more personalized resources to meet your wellness needs."
When Alicia Bush moved to Greenspring in April 2020, she admits that she rarely exercised.
"I would always come up with excuses," she says. "But the skill, patience, and encouragement of the staff was very helpful in setting and meeting fitness goals."
Now, since the first time Alicia visited the Greenspring fitness center—less than two years ago—she consistently works with weights three days a week and participates in yoga, Zumba, and water aerobics classes.
"It was a surprise to me how much I enjoy water aerobics," she says. "I tried the class because a friend of mine loves it, and I promised myself I'd try new things in retirement. In the water, I'm able to jog for the first time in nearly 30 years."
Workouts in the Greenspring fitness centers also open doors to making new friends.
"I got to know some residents through the exercise classes," says Alicia. "For me, my fitness success has spilled over into exploring other interests. I believe my life is now more balanced and fun."
Meeting medical needs
Greenspring's on-site medical center provides another facet of wellness resources to residents. Staffed with four board-certified physicians; three nurse practitioners; a social worker; and a podiatrist—all specializing in geriatric medicine—an extensive range of care is always available.
"Our phenomenal team of professionals is committed to providing our community members with the ability to maintain the highest level of health and independence," says Medical Director Rizwan Dar, M.D.
Greenspring residents are welcome to keep their current primary care physicians and still utilize the center for flu shots, strep tests, and urgent care, as needed. 
Time to do it all
At Greenspring, wellness encompasses mental and spiritual health, as well. The community's pastoral ministries staff helps foster spiritual wellness through worship opportunities within 20 different faith traditions.
Each week, there are celebrations like Catholic Mass and Jewish Shabbat—in addition to other services held by the Episcopal/Anglican Fellowship, Lutherans at Greenspring, Orthodox Christians, Unitarian-Universalists, and The Village Church.
"Greenspring is a community that celebrates diversity and freedom," says Pastoral Ministries Coordinator Lisa Fiddermon. "It is our goal to provide quality spiritual care through a variety of activities. Pastoral ministries is an integral part of resident life at Greenspring."
As they embrace the fresh start of a new year, Greenspring residents have all they need to reinvigorate their commitment to health and well-being.
"I now use all the chances I get to improve my health while having fun with friends," says Eloise. "I encourage everyone to take advantage of the fitness center—and to try something new and fun."
Ready to take a look at the endless wellness amenities offered? Schedule a virtual or in-person visit to Greenspring today.
Back