Greenspring Community Members Enjoy the Great Outdoors
By Kelly Shue
August 24, 2021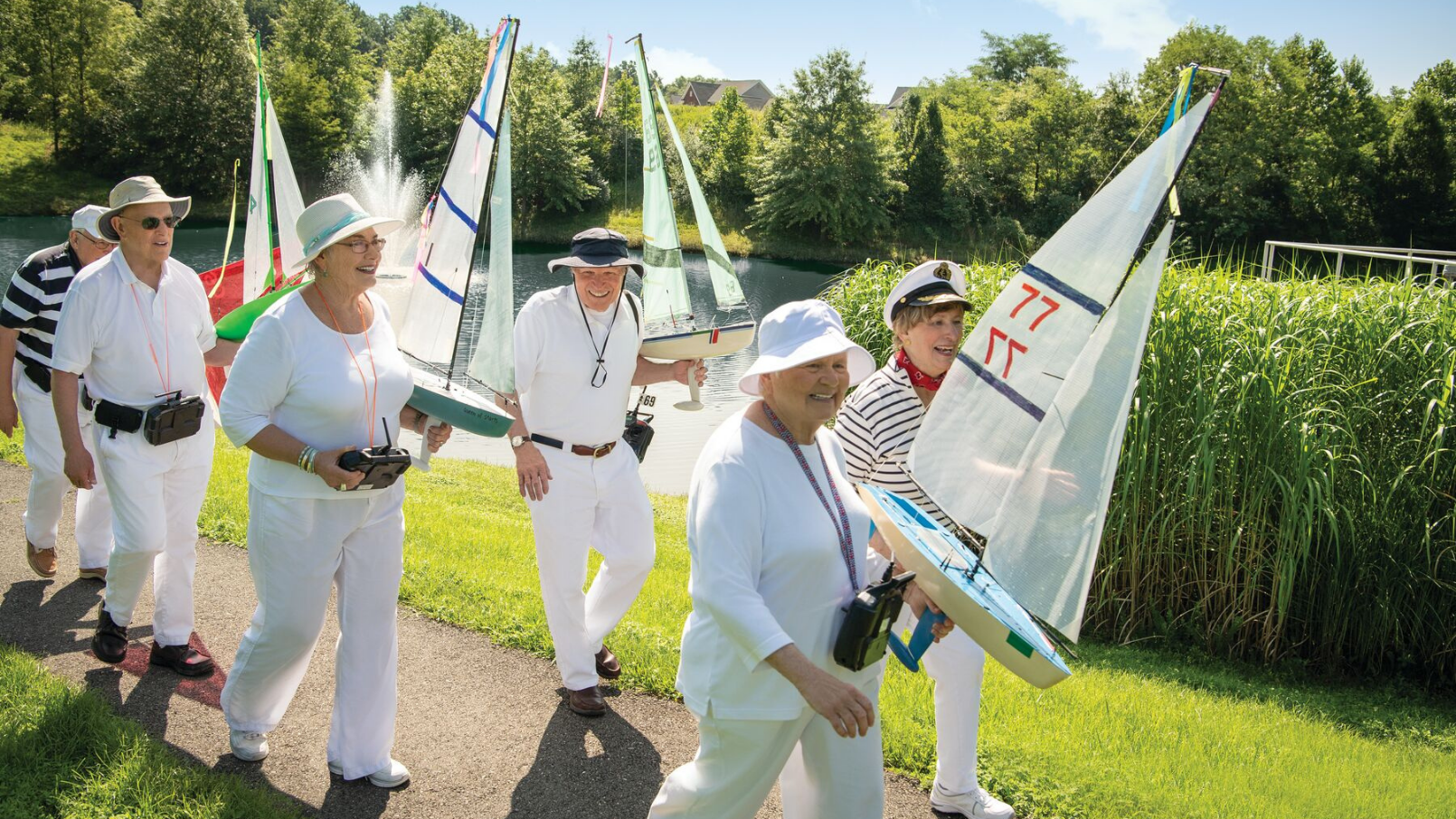 "A growing body of research suggests that exposure to nature and time outdoors provides numerous health benefits, and an improved sense of well-being," according to a study published by the American Journal of Preventative Medicine. At Greenspring, an Erickson Senior Living-managed community in Springfield, Va., access to nature is easy to find. Community members benefit from a beautiful and well-maintained 58-acre outdoor environment where they can walk or pursue activities like gardening, tai chi, and even a remote-controlled sailboat racing yacht club. "Our residents enjoy so many opportunities to explore interests, socialize, and have fun," says Renee Budd, Greenspring's community resources coordinator. "With over 200 clubs and groups, there is truly something for everyone," she continues. "Our most popular outdoor amenities include Hunter's Pond, the Accotink nature trail, bocce court, community gardens, and putting green."
Taking root
The added health benefits of time outdoors is icing on the cake for most Greenspring community members. According to a research study at the University of Minnesota, "seniors who spend ample time in blue and green outdoor areas, such as grassy parks or on the edge of koi ponds, enjoy increased feelings of connectedness and renewal." One of the most-popular outdoor activities at Greenspring, the Tillagers gardening club, provides a "green" outlet for fresh air and socialization on the beautiful campus.
"I am an outdoor person and the opportunity to spend time outside, talk with neighbors, and tend to my garden makes me happy," says community member Chiyoko Tilley. "Almost every morning, when the gardens are in season, I am out in my garden tending to my vegetables, including Japanese cucumbers and eggplant. But the best part is talking to my neighbors."
Making waves
For those who find enjoyment by the water, the Greenspring yacht club provides friendly competition and camaraderie at Hunter's Pond. Each week, from April through October, resident sailors come together on Wednesday and Saturday to race their Thunder Tiger Victoria Class model remote-controlled sailboats.
"We have a fleet of 21 boats, and two boathouses," says Mary Schaller, a community member who serves as the yacht club commodore. Mary, who had never raced a boat prior to her move to Greenspring, encourages her fellow community members to join the club and experience first-hand the unique outdoor competition.
Fun for first-timers
"When I first started, I had no idea how to sail a radio-controlled boat and my first year on the pond was hysterical," she says. "I did absolutely everything wrong at some point or other, but I got better as we went along. No experience is necessary to race a boat. It's all great fun and a wonderful way to meet new friends."
For those who prefer a quieter outdoor activity, some Greenspring community members enjoy tai chi, the ancient Chinese discipline of meditative movements practiced as a series of gentle exercises and stretches.
Community member Joan Hood enjoys getting together with friends to practice tai chi in a variety of shady spots on campus.
"We use to do tai chi indoors but last year began meeting outside," she says. "It's been a wonderful change. I really appreciate hearing the birds and breathing in the fresh air. I find it both relaxing and helpful with reducing stress."
Pathway to better health
According to Richard Ryan, a professor of psychology at the University of Rochester, "people with a greater sense of vitality don't just have more energy for the things they want to do, they are also more resilient to physical illness. One of the pathways to health may be to spend more time in natural settings."
Joan's own personal experience supports these findings. "I believe tai chi gives me more energy," she says. "It not only builds muscles, but it improves balance and stability, makes me stand straighter, which in turn provides more lung capacity. As a result, I find I have more energy throughout the day.
Year-round enjoyment
With the summer breezes giving way to cooler fall days, Greenspring community members look forward to other seasonal outdoor recreational opportunities including the harvesting of the Tillager gardens, the annual Turkey Trot in support of local food charities, softball, horseshoes, and the annual yacht club award ceremony.
"There are so many activities available for residents to enjoy," says Mary. "The problem is choosing what to do."
Interested in learning more about the active, vibrant lifestyle at Greenspring? Request more information today.
Back