Greenspring Celebrates 25 Years Looking Better Than Ever!
Kelly Shue
November 3, 2023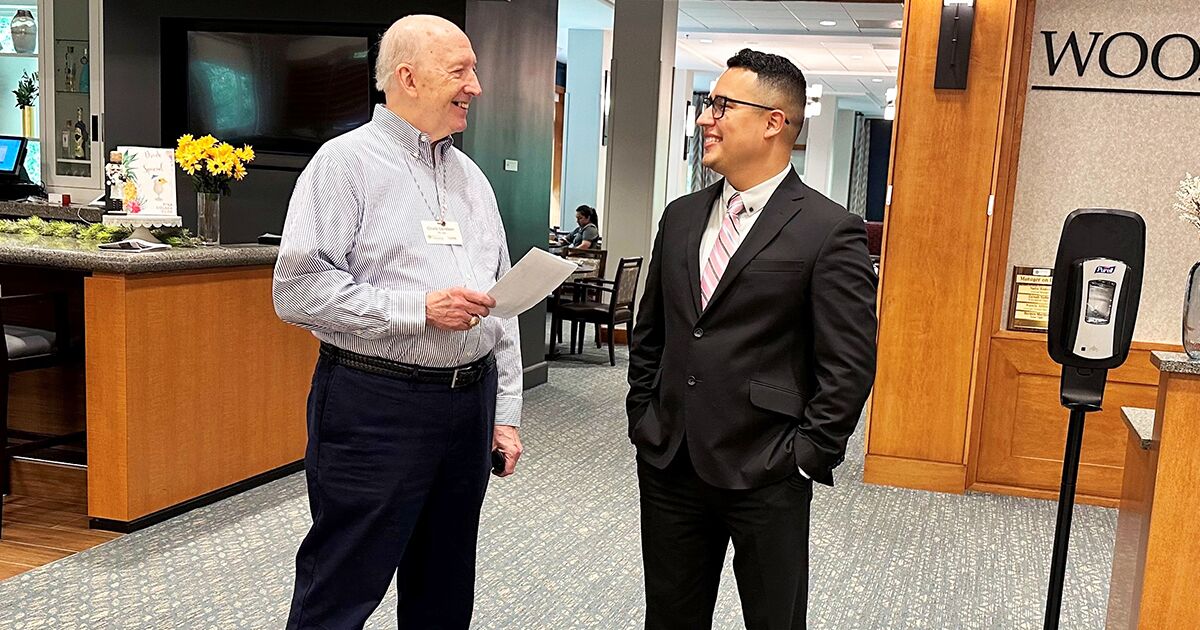 Greenspring, an Erickson Senior Living community in Springfield, Va., is excited to showcase a new look after celebrating its 25th anniversary in 2023. 
Over the last two years, the community has introduced substantial upgrades throughout campus, including renovations to all three clubhouses, the addition of three new restaurants, a modernized theater, and updates to the hallways and lobbies.
A complete makeover
"We had over two decades of experience to guide us as we planned and executed these changes, all of which were made with invaluable input from residents," says Sales Director Franklin Funes. 
Chuck Davidson, who serves as president of the Resident Advisory Council, is just one of many residents who contributed his thoughts during the planning process. He's pleased with the community's new look and feel. 
"These wide-ranging efforts show that Greenspring--and Erickson Senior Living--are committed to offering up-to-date, attractive living spaces," says Chuck. "Now, Greenspring looks as modern as a community constructed only a year ago!"
Greenspring's efforts began with renovations to Town Center Clubhouse, followed by changes to Village Square and Hunters Crossing clubhouses. Hallways were redesigned and updated with new paint, carpeting, and additional LED lighting. 
"We've received so much positive feedback on how elegant our hallways look now," says Funes. "Many residents use the hallways as indoor walking paths, so it was important to reimagine them as well."
Taste of the good life
In addition to clubhouse aesthetics, the community's restaurants have generated a lot of buzz. Cork & Fork, a new dining venue in Town Center, features internationally inspired small plates served indoors or al fresco on the popular patio.
Woodland Skies, the restaurant in Village Square, was updated to create an elevated, inviting atmosphere.
"I'd put Woodland Skies up against any local restaurant, both in terms of quality and aesthetics," says Funes. "Renovations created an elegant and warm dining venue. And now, there's a large bar. Residents are always watching sports games or enjoying a glass of wine before dinner there."
The Village Eatery, a new dining venue introduced at Village Square, serves breakfast and lunch. The menu features a variety of specialty options, including pizzas, soups, and sandwiches. 
"We love the updated restaurants. The menu selections are great," says Chuck. "Fireside and Potomac Café, two other restaurants, were also recently remodeled and now offer new menus as well. In my opinion, it's unnecessary to drive off campus to go out to dinner!" 
And with renovations to Hunters Crossing coming to a close in early 2024, the existing Jefferson restaurant will unveil a remodel resulting in the creation of two new restaurants.
Attention to detail
Greenspring's theater--a bustling hub of social activity--received new, high-tech equipment to better support resident plays and performances. 
"The new lighting, sound equipment, and stage improvements make our theater a great facility for both actors and audience," agrees Chuck.
The conference center at Hunter's Crossing, the largest multipurpose room on campus, was renovated as well to meet the needs of Greenspring's ever-growing roster of clubs and groups. 
What makes these updates even more impressive is that they were planned and completed with direct input from Greenspring residents. 
"Greenspring's leaders always establish a resident committee to provide feedback before and during a renovation effort," says Chuck. "I've been a member of several of these committees, and, as a result, have seen significant positive change."
Chuck notes that during the planning process for Hunters Crossing, residents suggested that cabinetry in craft rooms be modified and the number of six-top restaurant tables be increased. 
"Only residents have this kind of perspective!" says Chuck. "We are thankful for the opportunity to be a part of this process."
'Come visit'
For those interested in learning more about and seeing these new updates and the remaining changes coming to Greenspring, Funes suggests scheduling a tour of the community. 
"This is an exciting time to become a resident of Greenspring," he says. "Our recent efforts are just one of many ways we strive to meet the needs of existing and future residents." 
Chuck, who couldn't be happier to call Greenspring home, is eager to welcome more retirees to the flourishing community. 
"Come visit and enjoy these new amenities with us!" says Chuck.
To learn more about affordable, independent senior living at Greenspring, request your free brochure to get the scoop on amenities, floor plans, and so much more.
Back