Enjoying The Great Outdoors at Greenspring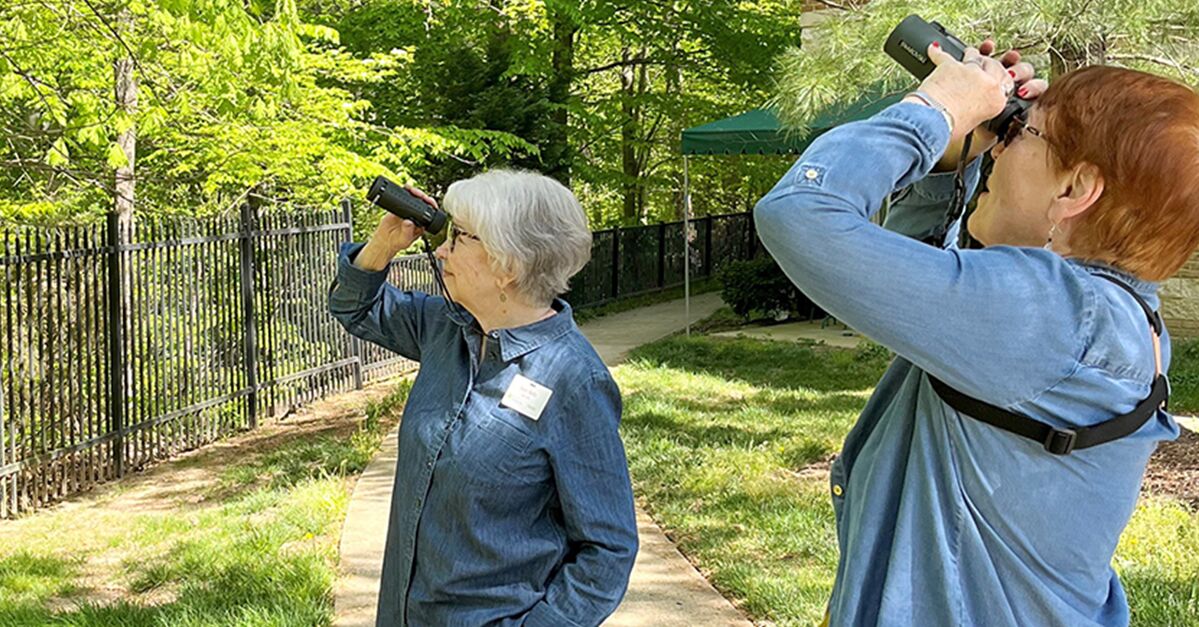 Greenspring, the Erickson Senior Living community in Springfield, Va., runs parallel to the popular Lake Accotink Trail and boasts its own range of flowering trees and plants. 
With 108-acres of picturesque green space and well-landscaped walking trails, nature lovers are grateful to call this community home.
"Greenspring's lush campus was definitely a plus when it came to my decision to move," says resident Barbara Liechti. "I think I have the best apartment home! My living room extends into my patio, and a beautiful lawn filled with red bud and cherry trees are right outside."
At Greenspring, Barbara and her neighbors maximize their time spent outdoors by socializing with friends and participating in a variety of outdoor activities.
"Being outside plays a big part in my happiness here," she adds. 
Outdoor amenities galore
"The health benefits of spending time outdoors are just icing on the cake for our active community members," says Resident Life Manager Ashley Walters. 
Adults over 70 who spend time outdoors experience fewer sleep difficulties and improved mobility, according to research reported in the Journal of Aging and Health. Studies also show that going outside lowers blood pressure, reduces stress, and improves mood and focus.
Erickson Senior Living prides itself on offering safe, accessible outdoor environments that encourage residents to get active and socialize, enhancing their overall well-being. 
"Nothing beats spending time in nature, enjoying your favorite activities with friends," she adds. "In addition to our outdoor amenities, including a dog park, walking trails, and putting greens, we also organize lots of activities. Movies on the lawn, weekly barbeques, the annual Summerfest celebration, car shows, and parades are always a hit."
Birds of a feather
Last year, Barbara founded the Greenspring Birders - a group that leads monthly, exploratory bird walks around the gated community. 
"Our bird walks allow us to enjoy nature in a safe and accessible way," says Barbara. 
While attending the Southeastern Arizona Birding Festival in 2019, she was inspired by Birdability, an effort to help make bird-watching welcoming, inclusive, and accessible for everyone. Barbara brought the concept back to Greenspring by starting less strenuous, educational bird walks. 
Welcoming both new and seasoned birders, the walks take place along the community's paved paths. 
"Following each walk, I email all the participants with information on the birds they saw and heard," she says. "I've introduced the importance of listening - I teach how to identify birds through their calls. It's amazing how many people can identify the difference between crows and other birds now!"
Green thumbs
Greenspring's scenic campus is also a perk for Roy and Lynn O'Connor, as they enjoy a scenic view from their apartment home's balcony.
"It's a beautiful campus," says Roy. "Some apartment homes have outdoor patios, but in our case, we have a balcony where we can sit outside and read in the fresh air any time of day. We can see the wooded courtyard below." 
Like Barbara, the O'Connors love strolling along the winding walkways. 
"Walking is great exercise, and there are many benches to sit and appreciate the natural beauty of the woods and wild plants," he explains. "We listen to the sounds of the flowing stream and birds, and sometimes, we're visited by a deer or red fox."
Roy and Lynn are also members of Tillagers, the community's gardening club. 
"There are over 100 garden spaces! Resident gardeners grow vegetables from spring to fall," notes Roy. "Many residents walk through the gardens on summer evening strolls. They enjoy seeing all the vegetables, plants, and flowers."
Investing in well-being
Last year, Erickson Senior Living provided a multimillion-dollar investment through its Well-Being Fund to support the addition of enhanced health and well-being amenities and services to residents in its communities across the country.
At Greenspring, funds were used to install an outdoor theater system, including a portable screen and projector. Various lawn games, such as cornhole, portable disc golf, spin ladder, and a jumbo four-score, were purchased as well.
"We have a picnic area with shaded tables and a horseshoe pitch," adds Roy. "In the summer, Dining Services organizes a weekly barbeque, which we enjoy outside under the umbrellas."
Get outside!
Thanks to resident-led efforts and investments in outdoor spaces, an increasing number of Greenspring residents are finding ways to spend time outside, which is proving to be an integral part of their active, worry-free lifestyles.
Invest in your future self at Greenspring. From top-notch amenities to affordable, maintenance-free apartment homes, you are sure to live your retirement to the fullest. Request more information today!
Back