Design Your Dream Dwelling at Greenspring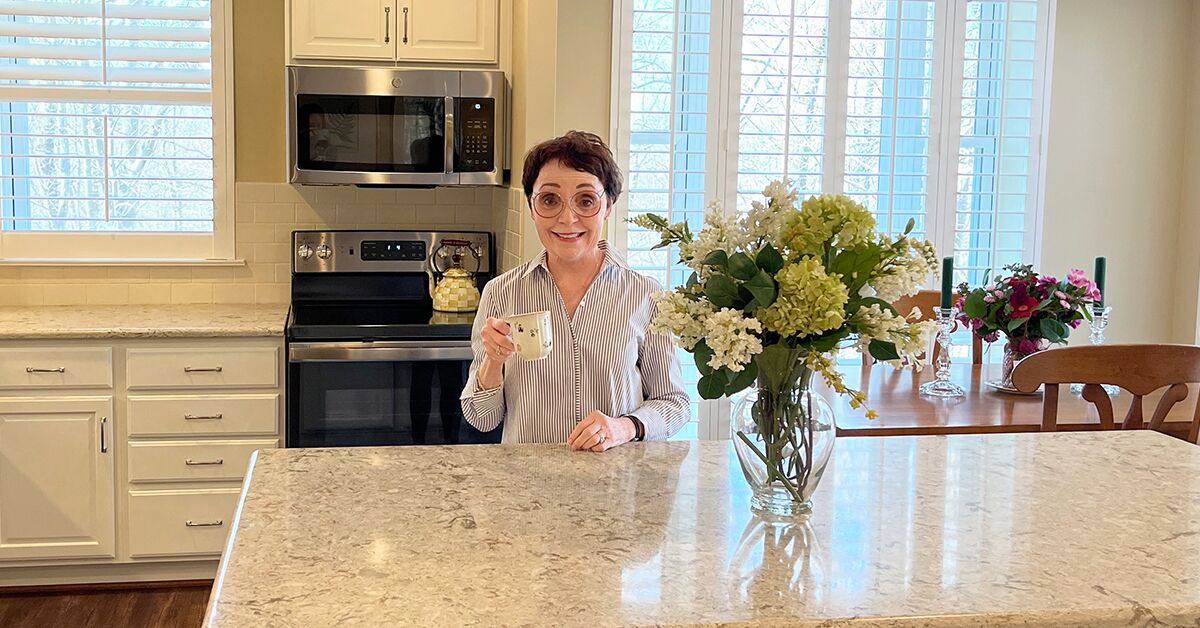 Sherie Hambidge wasn't interested in making any changes to her future apartment home at Greenspring, an Erickson Senior Living community in Springfield, Va. - until she saw the endless possibilities. 
"Before my move, I visited Greenspring for an open house tour," Sherie recalls. "On the tour, I visited an apartment home where the resident had made her sunroom into a dining room. Ideas for my apartment home started to evolve right then and there!"
Greenspring offers a wide range of floor plans to suit a variety of lifestyles and preferences. And in addition to these plentiful options, residents enjoy the freedom to personalize their apartment homes.
"For both new and existing residents, we help make updates the same way they would have in their previous houses," says Sales Associate Barbara McAlpine. "The project could be as small as changing a paint color, or something more complex like adding a new wall or built-in."
The sky's the limit when it comes to making a Greenspring apartment home your own!
Help along the way
An Indiana native, Sherie chose Greenspring not only for its active, vibrant lifestyle, but also its proximity to her daughter Betsy. Inspired by the apartment home she toured, she chose a large two-bedroom, two-bathroom layout with a sunroom. 
To Sherie's benefit, all of the customizations she wanted could be planned and executed before she moved in, even from several states away. 
"The distance wasn't a problem at all," Sherie says. "Barbara and I FaceTimed often. She would have sketches made for me, and we would send them back and forth."
And because McAlpine provided Sherie with precise measurements of her floor plan, she was able to decide, in advance, what items would be coming with her and what items would be donated to friends and family. 
A dream kitchen
"First, I wanted to put crown molding in every room, including the bathrooms, because that is what I had in my house in Indiana," she says. 
Next, Sherie opted to remove the T-shaped wall that separated the kitchen and sunroom from the living and dining room, creating an open atmosphere. 
Once the wall was removed, the sunroom was transformed into a dining area - just as she saw during her tour - to take advantage of the bright natural light coming from the floor-to-ceiling windows. 
Where the wall once stood, Sherie added a kitchen island with plenty of cabinets - the perfect place to prepare her cookies and cakes. She even updated the oven to a convection oven, a popular choice among bakers.
"I love baking for my two grandchildren who live in the area," she says. "I also make desserts for my weekly Sunday dinner with my daughter and her family, as well as cookies and an occasional cake for friends. It was important to me to have a dedicated space to bake."
Personal touches
But her list of customizations doesn't stop there! Sherie requested new cabinetry, a new paint color, a built-in bookcase for the living room, louvered shutters, and new flooring. 
Personalizing the bedrooms and bathrooms to suit her preferences was also on her to-do list. 
"I had custom closets installed in both bedrooms, as well as the closet in the entryway," she says. "In the bathroom off the hallway, I had the tub replaced with a shower. In the primary bath, I added a floor-to-ceiling cabinet that I use as a linen closet."
Sherie's second bedroom, which serves as her home office, is also furnished with a daybed for guests. "It's the perfect spot to host my girlfriends from Indiana!" she says.
The big reveal
The day of her move, Sherie eagerly anticipated seeing her new home in person for the first time.
"I was thrilled from the moment I walked in," she says. "Barbara and the Greenspring sales team were a wonderful help throughout the months leading up to my move. They had even arranged for movers to come and get my things in Indiana! They were fabulous."
Now, comfortable in her new surroundings, Sherie enjoys meeting new people and participating in a variety of activities. She meets with the stitching group, plays bridge, volunteers as a member of the philanthropy committee, and works with the sales team as an ambassador, often showing prospective residents her new, personalized home. 
"I am very happy with my decision to move to Greenspring," she says. "From the help I received prior to my move to the friendly residents and staff members that I interact with every day, life at Greenspring is a joy!"
Invest in your future self at Greenspring. From top-notch amenities to affordable, maintenance-free apartment homes, you are sure to live your retirement to the fullest. Request more information today!
Back