Couples Celebrate Years of Marriage by Renewing Their Vows at Greenspring
Kelly Shue
August 15, 2023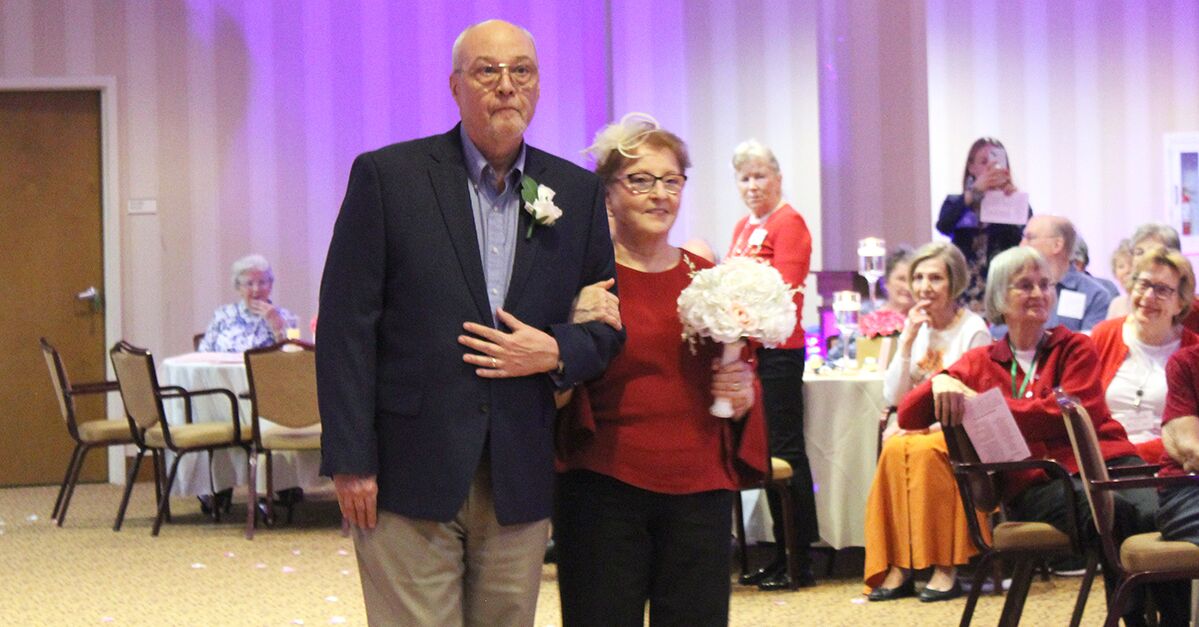 Six couples, sharing over 258 years of marriage combined, celebrated the renewal of their vows at Greenspring, an Erickson Senior Living community in Springfield, Va., surrounded by family and friends.
The ceremony, held in the community's Hunters Crossing Conference Center, featured soloist Loyce Jackson, Greenspring's pastoral ministries associate, and was presided over by Pastoral Ministries Coordinator Lisa Fiddermon. 
"There was not a dry eye in the room as the couples exchanged their heartfelt vows," says Community Resource Coordinator Renee Budd, who organized the event. "Following their first dances, the dance floor was filled with family, friends, and staff members eager to celebrate the happy couples."
To the nines
Each of the blushing brides received a morning of pampering prior to the ceremony. A bridal luncheon featuring charcuterie, fresh fruit, deli sandwiches, assorted desserts, and sparkling wine was served while brides rotated in and out of the hair and makeup chair. 
Greenspring's private dining room was the gathering place for grooms to savor lunch and share stories with their "best man" Donald Wright, assisted living manager.
Following the vow renewal, the couples and their guests enjoyed a beautiful reception, complete with champagne and sparkling cider. The couples' "first dances" were followed by a traditional cake cutting. 
More than 100 guests, including family members and staff, attended the joyful celebration. 
"We wanted to offer a unique way for residents to celebrate their commitments to each other," says Budd. "I've received overwhelmingly positive responses from so many people! One guest told me that it was one of the most meaningful events she's attended in the ten years that she's lived at Greenspring."
She adds, "Another guest told me that she and her husband, while standing in the back of the room, repeated their own vows along with the celebrated couples." 
A day to remember
The couples who participated in the ceremony share the same sentiment, noting that the entire day exceeded all their expectations. 
Married on December 13, 1985, at a quick ceremony at the Arlington Courthouse, David and Lana Massoni appreciated this special opportunity to celebrate the renewal of their vows with family and friends. 
"At the time of our wedding, Lana and I were both teachers at Glasgow Middle School in Alexandria, Va.," says David. "Because we had students who needed us, we chose a courthouse ceremony and went back to work the next day."
"With Christmas break coming up, we decided to take our honeymoon then," adds Lana. "We went to the Poconos and it was lovely. Then, that following spring, we held a wedding reception at Mount Vernon for our family and friends."
When the Massonis heard about Greenspring's vow renewal ceremony, they agreed that it would be a fun way to celebrate their 38 years of marriage.
"The entire day was delightful," says Lana. "Renee Budd and her team put together something very beautiful for us! The stage was decorated for the ceremony, we had a minister who respected all faiths, and a pianist and soloist provided lovely music. I also appreciated the gorgeous, handmade silk flowers."
"I was really impressed by the large crowd of residents who came out to celebrate with us," says David. "I feel that speaks to the friendly, caring community and supportive neighbors we have at Greenspring."
Surrounded by love
Married on August 9, 1969, at the First Presbyterian Church in Harrisonburg, Va., Greenspring residents Betty and Jim Wagner were also thrilled to participate in the vow renewal. 
"Betty and I think marriage is wonderful - ours especially," says Jim, with a chuckle. "We thought the ceremony would be a good way to share that belief with everyone. Having the ceremony presided by Lisa Fiddermon, an ordained pastor, was an added bonus. It enhanced our desire to share our belief that God has truly shown his love and blessed our marriage over the last 54 years."
"We felt so special, and we enjoyed celebrating with the other couples who participated," says Betty. "The music and decorations were wonderful, and everyone's vows were worded perfectly for the occasion. The cake and champagne were a nice surprise!"
Joined by numerous friends and family at their 1969 celebration, the Wagners were once again surrounded by neighbors and loved ones. This time, two of their children and three grandchildren were present to witness their exchange of vows. 
"They seemed to have almost as much fun as we did," says Jim. "They enjoyed the whole event, especially joining us on the dance floor."
Ties that bind
For both the married couples and their guests, the vow renewal ceremony provided an unmatched opportunity to celebrate love and friendship.
To learn more about affordable, independent senior living at Greenspring, request your free brochure to get the scoop on amenities, floor plans, and so much more.
Back