Choosing A Worry-Free Retirement at Greenspring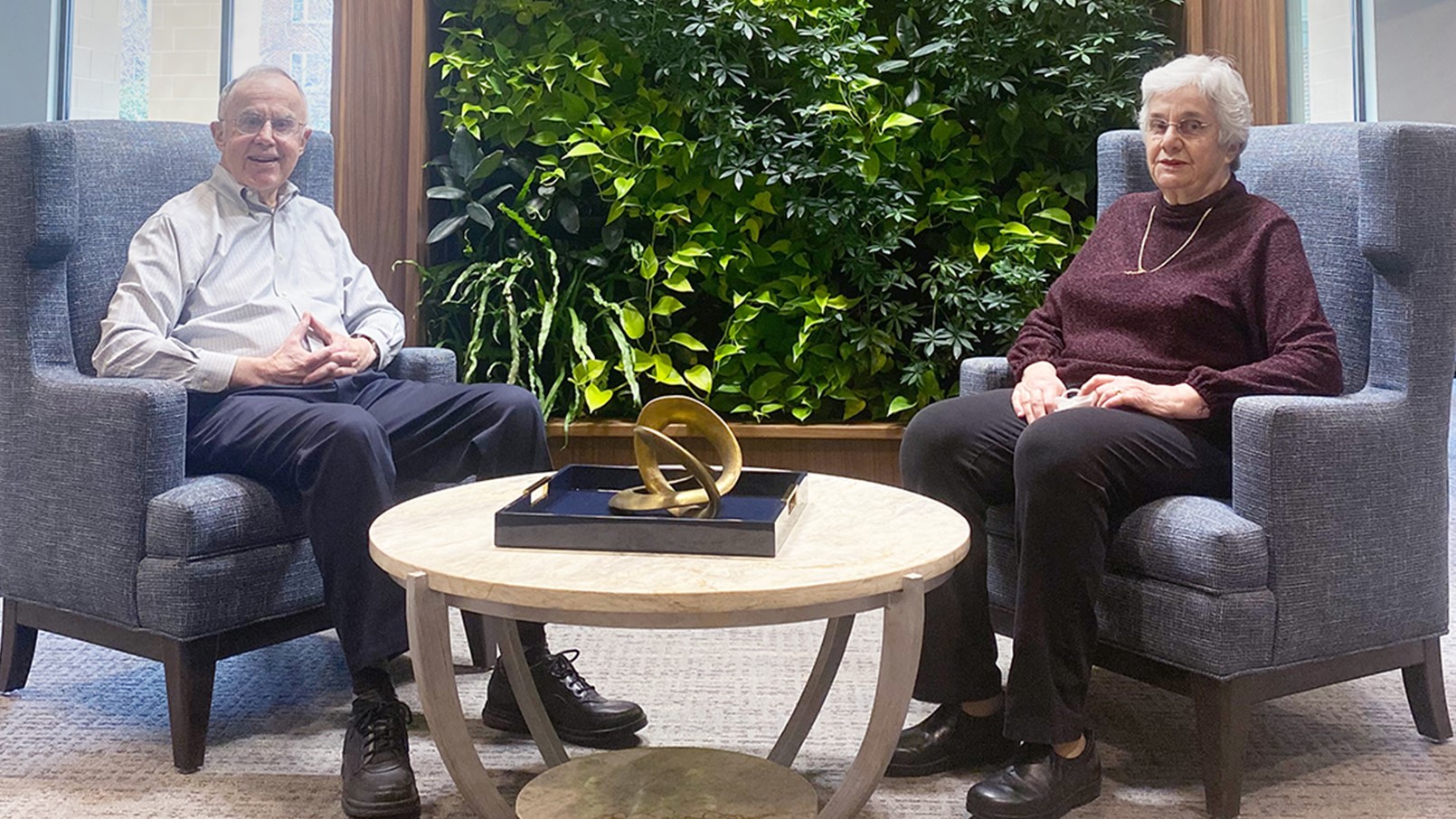 "Moving to Greenspring may very well be the best decision we ever made," says Stuart Feldstein, chair of the Resident Advisory Council's finance committee, who moved to the Erickson Senior Living community in Springfield, Va., with his wife Ellen.
Since their move in in 2019, the Feldsteins have reaped the numerous benefits that come with making the sound financial decision to move to Greenspring. By taking advantage of the industry-leading 90% refundable entrance deposit, comprehensive monthly service package, and a host of services and amenities, residents are able to enjoy their retirement years while balancing their budgets with confidence.
"Once we decided to move to a continuing care retirement community, we began looking at options in the Washington, D.C., area," says Stuart. "We visited several communities and conducted a thorough comparison. Greenspring won the contest."
He continues, "What stood out to us was the attractive campus surrounded by woods and snug up against a county park. We were also impressed with the services provided. And it has a community feeling - we felt surrounded by other active people. The overall package gave off a positive vibe."
Peace of mind
At the heart of Greenspring's financial structure is the 90% refundable entrance deposit, which is further explained in the Residence and Care Agreement. For many residents, knowing that their deposit can be returned to them or their beneficiaries in the future is priceless.
Greenspring residents also relish the peace of mind that comes with knowing they have a home for life, thanks to the Benevolent Care Fund. The Fund acts as a safeguard for residents who, despite careful planning, find they may outlive their savings.
The community's approach to caring for residents' well-being, now and in the future, is what fosters peace of mind and creates a true sense of community.
Reaping the rewards
In addition to providing a financially secure investment, Greenspring provides many benefits through the monthly service package.
The monthly service package covers the costs of all utilities, including telephone and internet; maintenance, including repairs and replacements; 24-hour security and emergency response; scheduled shuttle service; trash collection and recycling; basic cable television; professional landscaping, and more.
The package also includes a flexible dining plan that you can use at any of Greenspring's five on-site restaurants, which offer fresh, flavorful dishes that make it easy to eat healthy, or satisfy a craving for something sweet or savory. The community prides itself on providing an exceptional dining experience with a wide variety of delicious options.
"Greenspring provides wonderful value for retirees," says Stuart. "As we age, it is important to have a plan in place that ensures our money will last. That means forecasting what our costs will be for months and years. The monthly service package enables us to do that. Knowing what our expenses will be each month is a comfort and definitely a benefit."
High-value options
With their financial future secured, the Feldsteins are free to enjoy a wide range of activities and services, which are hallmarks of the Erickson Senior Living experience.
Residents gain access to a range of unbeatable amenities right outside their door, including a large chapel, accommodating various faith communities; a new, state-of-the-art fitness center with pool; a medical center; and a performing arts theater. There are also more than 200 resident-run clubs and activities, providing a wealth of opportunities to meet like-minded friends.
"Greenspring provides the space to create your own activities," says Stuart. "Those who love theater can put on shows with the drama club. Those who like to sing can join the choir. Those who love fitness and sports can join teams like the pickleball group. There are so many opportunities!"
In addition to his work with the finance committee, Stuart visits the fitness center multiple times a week and attends lectures with the cosmology and history clubs.
"If you can't find anything to do, then you aren't looking," he says.
Taking the first step
Best of all, Greenspring has a range of apartment homes to suit every need and budget.
"Just as not everyone has the same tastes, not everyone has the same budget," says Sales Director Franklin Funes. "I believe that one of the many reasons why Greenspring continues to grow is due to our commitment to providing the highest standard of services and a wide variety of financial options."
Further boosting the demand for the community's offerings is the strong real estate market.
"The D.C.-area housing market is currently experiencing the lowest inventory ever recorded," says Funes. "It's just one more reason why demand for the Greenspring lifestyle is at an all-time high."
He adds, "I encourage anyone wishing to learn more about our vibrant, financially secure community to schedule a pressure-free visit this summer."
To learn more about affordable, independent senior living at Greenspring, request your free brochure to get the scoop on amenities, floor plans, and so much more.
Back