Chefs Serve Up Creative Fare at Greenspring's Restaurants
Kelly Shue
September 14, 2022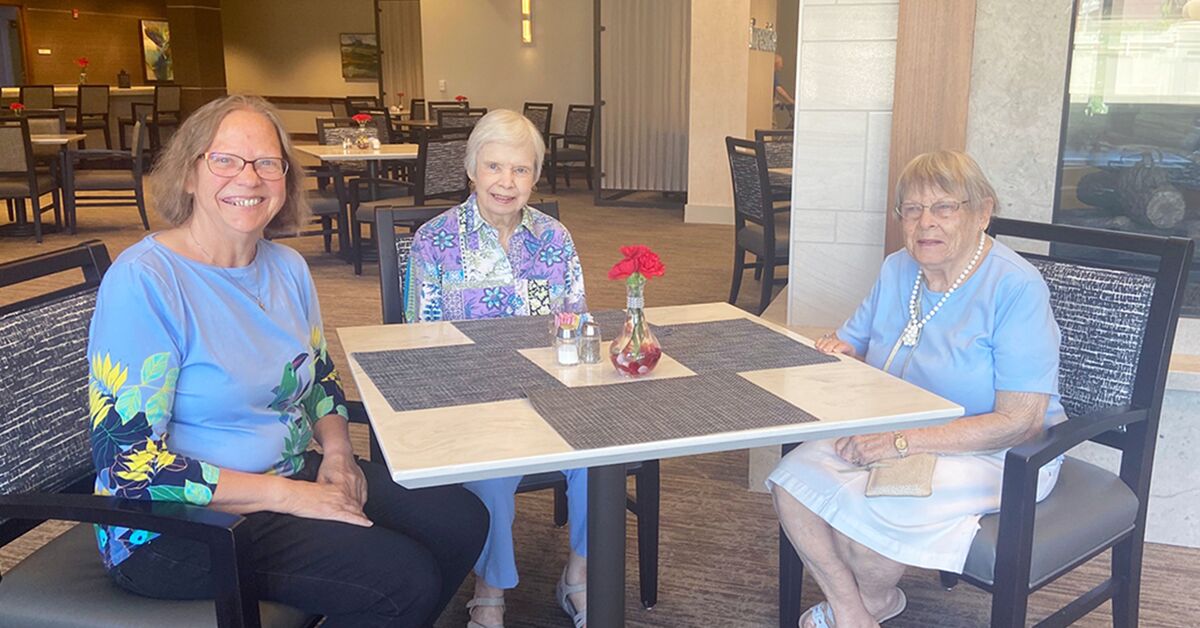 Residents at Greenspring, an Erickson Senior Living community in Springfield, Va., enjoy an extraordinary experience each time they dine at one of the six on-campus restaurants.
Thanks to Greenspring's Signature Dining program, which emphasizes preparing high-quality, cooked-to-order dishes, residents can choose from an array of menu items that are made with the freshest ingredients.
Flexible meal plan options, covered by the monthly service package, allow residents to visit the community's restaurants as often as they'd like. Whether you're looking to savor a three-course meal or stop by for a cocktail, Greenspring has it all.
"Dining at Greenspring is a special collaboration - a one-team approach - between our residents and staff," says Jason Healey, Greenspring's director of dining services. "Our menus reflect this collaboration, driven by both resident feedback and the creativity of our culinary team."
Residents recognize and appreciate the careful attention and skill that's directed to their daily menu. "There are so many choices! Residents can eat whatever they desire," says Betty Griffin, chair of the resident-led dining services committee. "Our food is very good and really beats cooking every meal at home."
Variety is the spice of life
Greenspring's talented chefs make it their priority to create healthy, delicious dishes that meet the unique needs of all residents. Each restaurant prepares meals as they are ordered, allowing the chefs to better meet dietary restrictions and food preferences.
"Greenspring is well-known for its dining experiences," says resident Karen Johnson, who also serves on the dining services committee. "We have such a variety of options for our meals. I enjoy eating at all the restaurants, and I have developed my list of favorites, including roast turkey with all the fixings, chicken wings, and baked salmon."
"Woodland Skies offers good entrée salads, and the Potomac Café has a carving station on weekday nights," she adds. "Cork & Fork restaurant, a brand-new dining experience, has wonderful international dining options." Cork & Fork provides diners the unique opportunity to watch the chefs prepare their meals, or dine alfresco at the popular outdoor patio tables.
"Prior to the opening of Cork & Fork, we put up a map of the world and asked residents, 'Where do you want us to take our menu?'" says Healey. "Responses included places where many of our residents lived previously, such as India, Nigeria, and Vietnam. Our chefs researched, tested, and created menu items to reflect the cultures of the different countries selected."
Healey also points out that his team works closely with Greenspring's diversity and inclusion committee to craft dishes that reflect the various tastes found throughout the community. "Food provides a tremendous opportunity to learn about other cultures," he says. "Certain foods act like a time machine, allowing the diner to reconnect with memories of family and home."
'Powerful partnership'
The dining services committee has become a valuable resource for staff and residents alike.
"Committee members bring desires, complaints, and compliments from residents to the dining services administration, restaurant managers, and chefs," says Ellen Sinclair, who previously served as chair of the committee. "The entire committee meets once a month with management. We also have monthly subcommittee meetings for each neighborhood. Reading comment cards is an important task for the subcommittees."
"It is a strong, powerful partnership," says Healey. "Our restaurants are not just restaurants - they're part of each resident's greater home. As a result, we cook and respond with respect and care. Our team does an amazing job building relationships and taking risks. We don't simply 'play to the hits' to avoid criticism, but work diligently to create menus that earn compliments."
One of the best ways Greenspring residents can stay informed about their menu choices is by visiting the My Nutrition section of My Erickson®, an app accessible to community members via a smart device. "My Nutrition is especially helpful for those with specific dietary needs," says Ellen.
Firsthand experience
For those interested in tasting the flavors of Greenspring dining, Sales Director Franklin Funes recommends reserving a spot at one of the community's monthly informational luncheons. "Our luncheons are a great way for prospective residents to enjoy many of the same menu items that are featured daily," he says.
"I feel it's essential for those considering a move to Greenspring to experience the various cuisines we choose from," says resident Clint Lambert. "Our community is truly a great place to dine!"
Invest in your future self at Greenspring. From top-notch amenities to affordable, maintenance-free apartment homes, you are sure to live your retirement to the fullest. Request more information today!
Back