Meet New Members of The Grandview's Sales Team
By Greg Alexander
May 9, 2023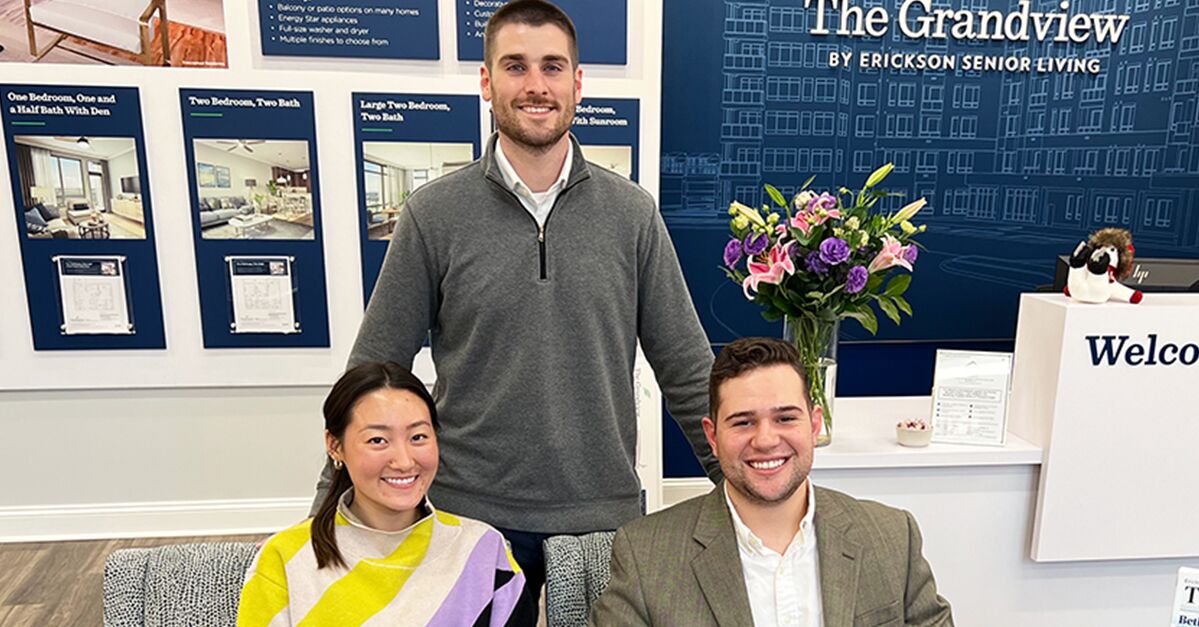 Michael Fletcher learned about Erickson Senior Living while he was working at RE/MAX, helping clients sell their homes in order to move to Riderwood, an Erickson community in Silver Spring, Md. 
"RE/MAX is the preferred real estate company for Riderwood, so I got to know the values of Erickson Senior Living pretty quickly," he explains. "I remember thinking, 'They're quite impressive!'"
He also got to know George Mishraky, Riderwood's sales director at the time, who now heads up sales at The Grandview, an Erickson Senior Living community planned for Bethesda, Md.
'Challenging and rewarding'
So, when a position opened up on The Grandview's sales team, Fletcher jumped at the chance. Since August, he's served as a senior sales associate, watching the community take shape from the ground up.
"It's going to be an exciting ride," he says. "This will be Erickson Senior Living's first vertically designed community, so watching the final product take shape has been both challenging and rewarding." 
Fletcher is also impressed by the incorporation of ample green spaces and outdoor recreation opportunities for future residents, given the community's urban landscape.
He notes that interest in The Grandview is already very high. "I enjoy talking to prospective residents that come to visit," says Fletcher. "They have such interesting backgrounds and life experiences!"
The right path
Megan Chun, who joined The Grandview as a sales associate in 2022, excelled as a soccer player in college at UMBC (University of Maryland, Baltimore County) - but was unsure of what her major should be. 
"It reached the point where if I wanted to keep playing soccer at UMBC, I had to declare a major," she recalls, with a laugh. 
Upon researching the programs offered, she discovered the university's Erickson School of Aging Studies and decided to major in the management of aging services. 
"As part of the program, I got to visit several Erickson Senior Living communities. I grew to respect and love the company's culture," says Chun. 
After learning about the many different career paths in her chosen field, she pursued sales, as she enjoyed talking with and getting to know residents.
"They have so much wisdom, interesting backgrounds, and rich life experiences," she notes.
Like Fletcher, Chun is excited about watching The Grandview flourish. 
"I'm sure there will be some unexpected twists and turns along the way, which will make members of our team work together even more!" Chun says. 
Opportunity knocks
After joining Erickson Senior Living's corporate team and working in Custom Interiors at Oak Crest, an Erickson community in Parkville, Md., Michael Price was ready for something new within the company. 
Opportunity knocked when The Grandview's sales team announced they had an opening. 
"Erickson Senior Living is known for offering growth and advancement within the company, which is a huge draw," says Price. "Also, the company is constantly expanding, which points to a strong future full of interesting career possibilities!"
Like his colleagues, Price is excited to be a part of The Grandview's history from the start. 
"Oak Crest opened in 1995, so the culture was already well established when I joined," he explains. "People in Bethesda - who share history with this location - have been waiting for an Erickson Senior Living community to be built here, so I'm happy to help them build the kind of community they're looking for."
Invest in your future self at The Grandview. From top-notch amenities to affordable, maintenance-free apartment homes, you are sure to live your retirement to the fullest. Request more information today!
Back