An Industry Veteran Looks No Further than The Grandview
By Gregory J. Alexander
September 14, 2023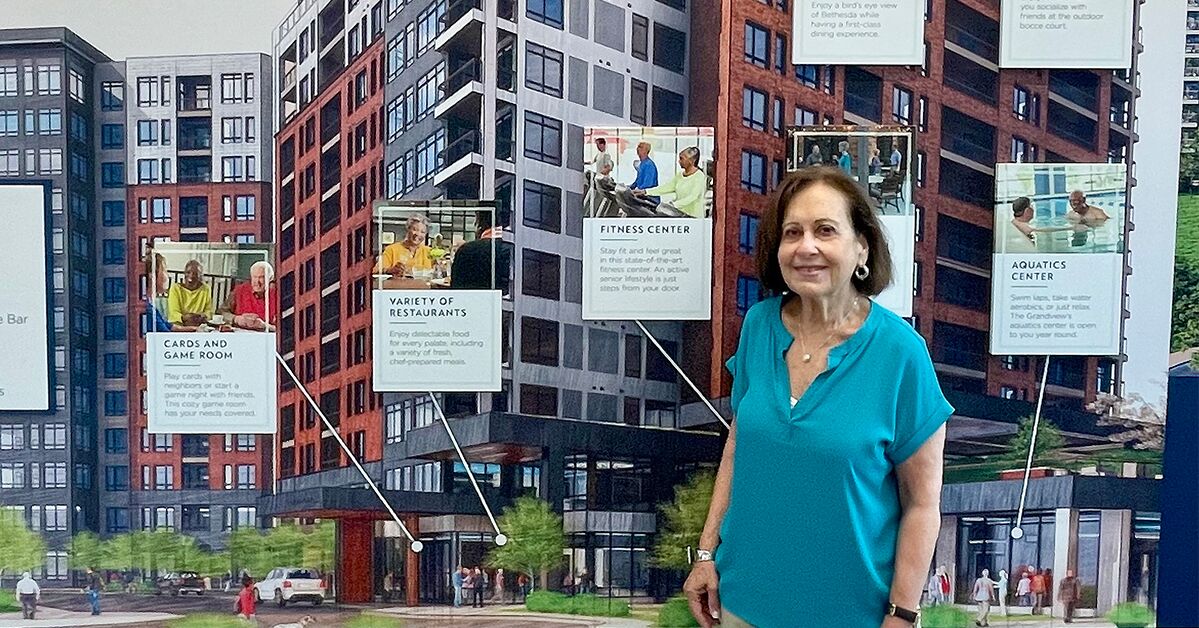 Marsha Greenfield knows a thing or two about the senior living industry, having spent more than 20 years as vice president of health legislation for LeadingAge, a community of nonprofit organizations serving seniors. Since her retirement in 2021, she has continued to serve on a board that represents aging and disability groups.
Given her years of experience, she recognizes the value of living in a continuing care retirement community (CCRC)--and has been impressed by Erickson Senior Living in particular.
"In fact," Marsha says, "when I started my job, one of the first places I visited was Riderwood," the Erickson Senior Living community in Silver Spring, Md. "So, when I started looking for a place to live in retirement, I first considered Riderwood."
But then she learned about The Grandview, an Erickson Senior Living community coming to Bethesda, Md., which is closer to her current house in Gaithersburg. "It's brand-new, and it looks lovely!" she says.
Martha's extensive experience also taught her the importance of planning ahead.
"What I learned is that you want to make your own decisions. The last thing you want is for your family members to have to make decisions for you because you are not able to. I don't have children, and I know my cats will not do this for me," says Marsha, with a laugh.
Lots to love
For Marsha, The Grandview's biggest draws are the realty and moving help and access to eventual on-site continuing care if it's ever needed.
"Erickson Senior Living has been in this field for a long time. From what I've seen, it is a high-quality company with a good reputation," says Marsha.  "There are many factors that you consider when choosing where to live, but the most important is whether you can trust that the company will provide the care you need."
She continues, "They help with selling your house, downsizing, and moving. They will come into your house and help you decide what's really important to you and where it will fit in your new apartment home."
Feline friendly
Marsha appreciates that her most cherished possessions can come with her to The Grandview--her cats!
"It's a big step for me to choose a retirement community, but also, in some ways, an easy decision," says Marsha, who believes that moving to a 55-plus community has no appeal. Instead, she wanted a CCRC with access to levels of health care. "I may never need them, but you never know. You have to plan for every scenario."
Joining the priority list
To learn more about The Grandview, Marsha attended a brunch hosted by George Mishraky, sales director for The Grandview. She was impressed and decided to join the priority list.
"The $1,000 deposit is completely refundable," she says.
Priority list members can reserve the apartment home of their choice before the general public and take advantage of special events, opportunities, and perks.
"I have enjoyed all of the priority list events that I have attended so far, such as the ice cream social. I also met others who may be my neighbors one day, and I think it's smart that they are already setting up groups and clubs in advance," she notes. "Erickson Senior Living has been doing this for so long--you can tell that they know what they are doing!"
Ideal location
Like many prospective residents, Marsha is excited about The Grandview's convenient Bethesda location, close to the Westfield Montgomery Mall, Old Georgetown Road, and Balducci's Food Lovers Market, a gourmet grocery store.
"Parking in downtown Bethesda is very difficult, so being able to go on The Grandview's shuttle will be great," says Marsha, adding that she was pleasantly surprised by the community's scenic views and well-landscaped design.
"It's a big site--33 acres--and they have designed it well to make it walkable with lots of green space and gardens. It looks like a resort. The Grandview is a very attractive place in the right location!" she concludes.
To learn more about the benefits of moving to a maintenance-free community, request more information today. 
 
Back