High-End Living at The Grandview
By Gregory J. Alexander
March 9, 2023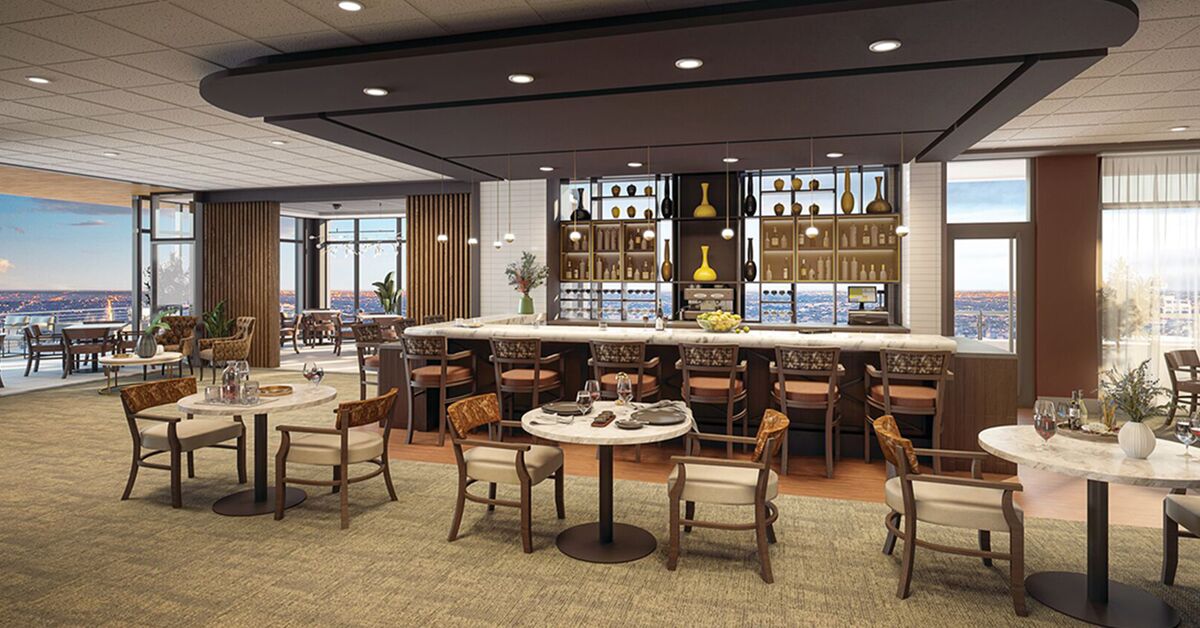 A prime location, stylish apartment homes, and a maintenance-free lifestyle aren't the only appeal of The Grandview, an Erickson Senior Living community planned for Bethesda, Md.
The community will also provide a wide range of amenities and activities on site for residents to enjoy. The vertical design of The Grandview--a first for Erickson--positions these amenities throughout the buildings, which will also encompass beautiful apartment homes.
Erickson Senior Living's commitment to health and well-being, embodied by an array of classes at the community's fitness center and access to personal fitness trainers on staff, will make it easy for residents to maintain their active lifestyles.
Top quality fitness amenities
"We will have a wonderful fitness center with top-of-the-line equipment, two private studios for personal training and classes, and a beautiful, two-lane Olympic-size pool that's perfect for laps and aqua aerobics," says George Mishraky, sales director at The Grandview.
Residents also will gain access to Wellbeats, a fitness app that stores on-demand and live exercise, yoga, and meditation classes, as part of the inclusive and affordable monthly service package.
"The on-site urban park will have exercise equipment and walking paths. Residents can also play bocce outdoors. Pickleball, an increasingly popular sport at Erickson Senior Living communities, will be indoors in the Life Enrichment Center," says Mishraky.
He adds that residents will help tailor future exercise programs--chair aerobics, balance classes, or golf outings, for example--based on their input and feedback.
"We're meeting with people before they move in to discuss what their hobbies are, so we can facilitate clubs based on their individual interests--anything from travel and computers to current events and books," notes Mishraky.
For game enthusiasts, expect get-togethers for activities like mah-jongg, dominoes, bridge, poker, chess, and more. Groups for pet owners, gardeners, genealogy enthusiasts, artists, line dancers, and--a regional favorite--those interested in government affairs are sure to grow. Special luncheons, happy hours, and movie nights will encourage quality time with friends and neighbors. Worship services will also be available each week in the Life Enrichment Center.
Trips and more
There are plans to facilitate daytrips, too, such as attending cultural events at the nearby Music Center at Strathmore.
"Residents will determine what trips they want to take," says Mishraky. "Once a group meets and identifies a particular performance they want to go to, we will help arrange transportation and purchasing of the tickets."
The community will offer innovative, made-from-scratch cuisine, as well as themed dinners for holidays and cultural events.
Multiple restaurants, serving more casual, grab-and-go style options; cafés; grilles; and high-end dining will provide endless opportunities. Look forward to a wine bar, which will feature beautiful views of the campus. Outdoor terraces, rooftop decks, and other outdoor dining spaces will be available for gathering with friends too.
To learn more about affordable, independent senior living at The Grandview, request your free brochure to get the scoop on amenities, floor plans, and so much more.
Back