Siblings Follow in Their Mother's Footsteps at Ashby Ponds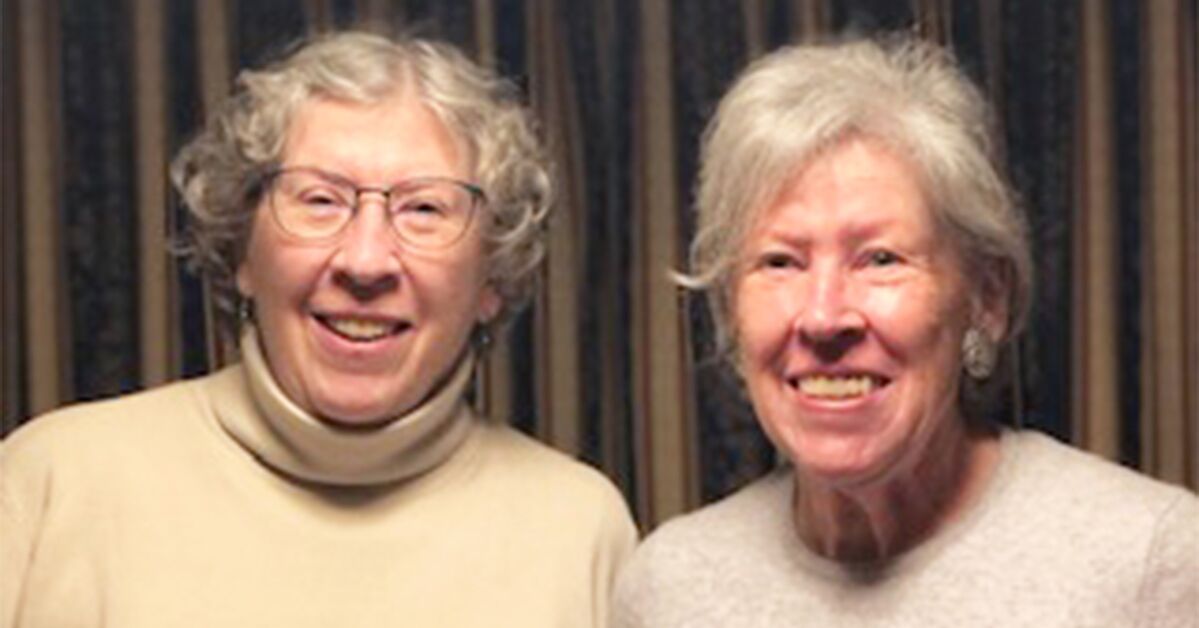 In 2008, sisters Kathie Huettner and Laurie Mayer went with their mother, Peggy Mayer, on a visit to Ashby Ponds, an Erickson Senior Living community in Ashburn, Va.
"Our mother's good friend lived at Linden Ponds, which is an Erickson Senior Living community in Hingham, Mass. We were so impressed by the lifestyle there," says Laurie. "She put our mother's name on the Tribune's mailing list, and that's how we learned about Ashby Ponds."
With Ashby Ponds under construction at the time, it might have been difficult to envision how the community would look when it was complete - but the promise of a maintenance-free, engaging retirement spoke for itself.
Kathie's husband Charles, who had accompanied the women that afternoon, started to imagine a future for himself there, and he wasn't alone.
That day, all four family members signed up for Ashby Ponds' priority list - a decision that changed their lives in all the best ways.
"Even though we visited Ashby Ponds for Peggy, the three of us knew that, one day, we would be competing with every other Baby Boomer to move in," says Charles. "We had nothing to lose!"
'Healthy and engaged life'
A bitter winter followed their visit, causing Peggy to stress over roof repairs and finding someone to plow the snow.
"Although she lived in a lovely community, all of her neighbors worked, so there wasn't anyone nearby to help," says Laurie. "It was getting difficult for her to maintain such a big house."
Peggy was ready to embrace a new life at 93 years old, so she prepped and packed for a move.
"She was in great health, but we wondered if she would make new friends," says Laurie. "But then, after living at Ashby Ponds for only six months, our mother turned to all of us and said, 'I have made the best friends I've had in my entire life.'"
"It was remarkable," adds Charles. "She developed a very tight-knit group of friends. Upwards of ten of them ate together for lunches or dinners, daily."
"Mom lived to be almost 101; I credit those friends for a good bit of that," says Kathie. "They were always eager to get together. Living at Ashby Ponds allowed her to live a healthy and engaged life, even in her older years."
Priority list perks
After seeing their mom lead a fulfilling life among newfound friends, Laurie, Kathie, and Charles knew that choosing Ashby Ponds was the right decision.
In 2019, Laurie moved to the community from her home in New York. Just a year later, Kathie and Charles moved into their dream apartment home - just across the hall.
"Being on the priority list enabled us to choose the apartment homes we wanted," says Kathie.
Because of their tenure on the priority list, the siblings were able to choose their preferred floor plan layouts before anyone else. 
"My original intention was to move after I fully retired," explains Laurie. "But when I got the opportunity to live across the hall from my sister, I asked my boss if I could work remotely. He agreed. The rest is history!"
Following in her footsteps
Since retiring last fall, Laurie fills her calendar with all the social activities and events that Ashby Ponds has to offer. 
"Ashby Ponds is a wonderful place to live," says Laurie. "I have really good friends, and if you ask me, we have the best floor mates in the entire community! We all watch out for each other."
Laurie and Kathie, both proud of their green thumbs, joined the garden club and enjoy tending to their personal gardens. They also help organize frequent happy hours for their neighbors.
Charles, an author of four books, participates in the community's annual writers' fair. He's joined a number of clubs as well, including the science and faith group and the men's golf group.
"My problem - if you can call it that - is that there are so many great things to do, I have to choose where to spend my time," he quips. "Kathie and I also enjoy traveling. We can lock our door and leave without worrying about anything!"
Sharing the love
Just as Peggy illuminated Kathie and Laurie's path to Ashby Ponds, they now enthusiastically share their experiences with friends.
"Even before our move, we invited a friend of mine from my Air Force days to join us for dinner at Ashby Ponds," says Charles. "They liked it so much that they signed up for the priority list and moved in a year before we did."
Kathie adds, "To see your mom thrive with new friends and new experiences, that is a precious gift. We are grateful to Ashby Ponds for making this engaging lifestyle possible for two generations of our family."
To learn more about affordable, independent senior living at Ashby Ponds, request your free brochure to get the scoop on amenities, floor plans, and so much more.
Back