Recognizing Ashby Ponds' Notable Accomplishments in 2021
By Kelly Shue
December 3, 2021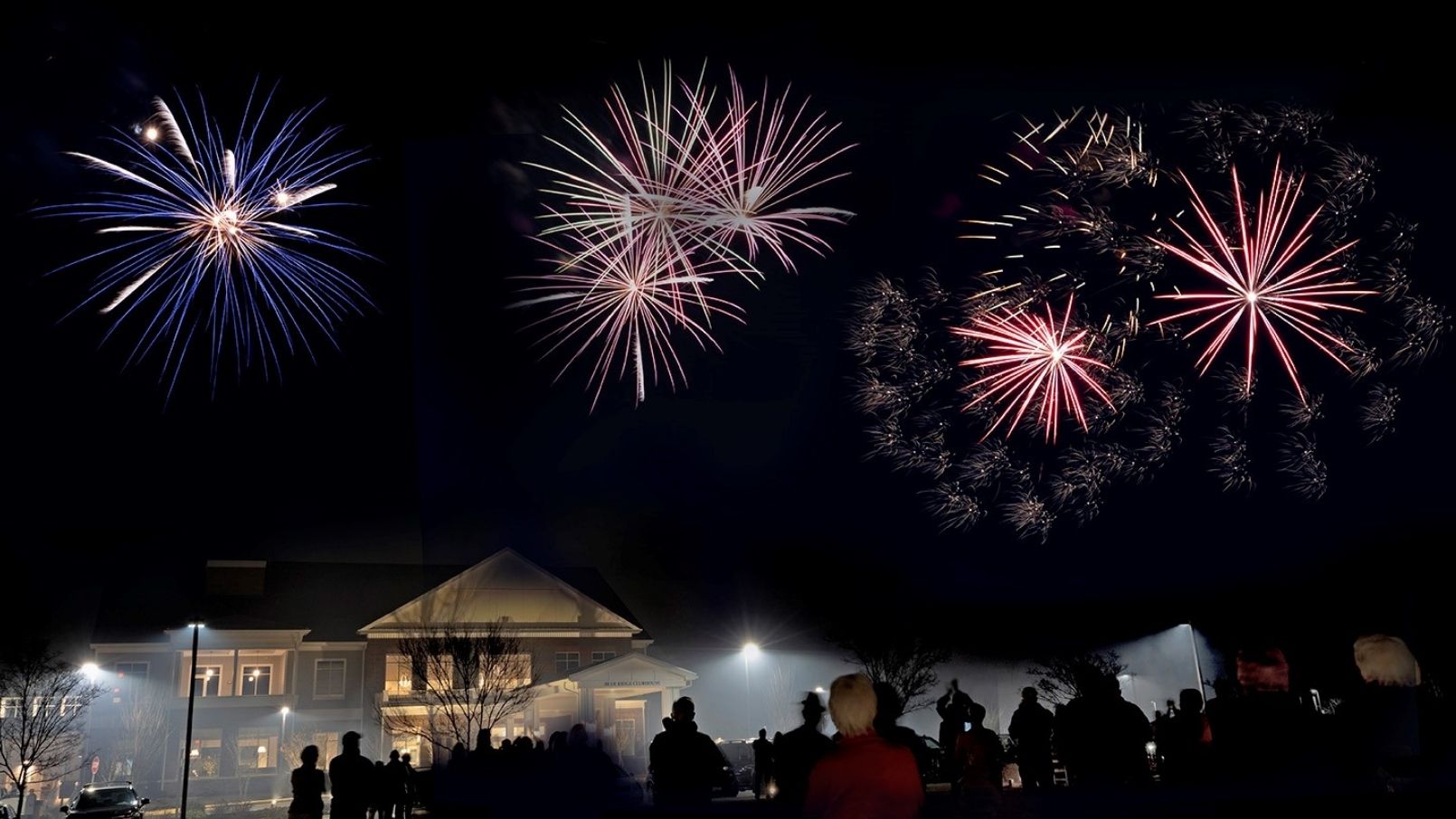 Country singer Brad Paisley once said, "Tomorrow is the first blank page of a 365-page book. Write a good one." For community members at Ashby Ponds, an Erickson Senior Living community in Ashburn, Va., residents and staff members did just that - utilized every day to create lasting memories. 
1. Successful COVID vaccinations. 
Thanks to Ashby Ponds' commitment to sustaining the health of community and staff members, beginning in January, several COVID-19 vaccination clinics were held at the on-site CVS. In March, the community celebrated 98% of residents receiving both doses with fireworks. 
"The fireworks display was a special way of expressing our appreciation to the residents, employees, and partners of Ashby Ponds," says Executive Director Will Nance. "It was also a fun way to convey our confidence and optimism for the future."
2. New venue for celebrations. 
With an array of exciting amenities and services, the Blue Ridge Clubhouse opened in early 2021. Ashby Ponds' third and final community clubhouse quickly became a popular hub for dining, entertainment, and socializing with friends. 
Inside, residents enjoy the new, state-of-the-art fitness and aquatic centers; an educational endeavors room; game room with poker tables; a full-size, regulation pickleball court; and a dazzling salon and day spa complete with a mani-pedi room, massage room, and barber shop. Outside additions include two new bocce courts and a town green, complete with a beautiful pergola. The Blue Ridge Clubhouse also features two new restaurants, the casual Skyline Grille and the sophisticated Potomac.
3. Space to live. 
The newest independent living residential building at Ashby Ponds, Hamilton Way, features 146 modern apartment homes and welcomed its first residents this summer. 
Each of the new apartment homes contain amenities already popular at Ashby Ponds, including modern kitchens with granite countertops and stainless-steel appliances; full-sized, side-by-side washers and dryers; walk-in closets; and custom flooring and light fixtures. Hamilton Way also boasts two brand new floor plans: the Reagan, a large two-bedroom, two-bath apartment with bay windows; and the extra-large Sydney, with two bedrooms, two baths, and a porch.
4. Record number of new residents. 
After the uncertainty of 2020, people, many of whom planned a move to Ashby Ponds at a future date, recognized the value of the vast safety net available to community members. This fact, coupled with the opening of Hamilton Way, created in an increased demand for the Ashby Ponds lifestyle. 
5. Sellers real estate market. 
Throughout the year, the Northern Virginia real estate market remained even hotter than usual. With the help of Erickson Realty and Moving Services partners, Ashby Ponds' sales team helped many residents move to the community in 2021, using a combination of in-person visits and online technology to help future residents stage their home for sale, downsize, and create a packing/moving plan.
6. Providing for students. 
This year, more student employees than ever before received Ashby Ponds scholarships. Forty high school seniors from schools across Loudoun County received the award. 
In addition to these traditional scholarships, the Scholars' Fund launched a new program to support any Ashby Ponds employee pursuing educational opportunities with a $2,000 award. Also new in 2021, the Lieselotte "Laura" Michak Scholarship provided five college-bound students an additional $5,000 per year.
7. Generosity knows no bounds. 
In addition to funding the scholarships, community members donated to Ashby Ponds' Benevolent Care Fund (BCF), one of the community's biggest philanthropic efforts. The BCF provides support to residents who, despite careful planning, outlive their financial resources. 
This year, as a direct result of the second annual BCF telethon and silent auction, fundraising goals were exceeded. The fund allows for residents experiencing financial adversity to continue living at Ashby Ponds, in their home, among their friends, receiving the necessary care. 
8. Baby celebration. 
This summer, in celebration of seven expectant employees, almost 100 community members came together for a fun-filled afternoon complete with baby facts trivia and a number of other interactive games. As a "gift" to the parents-to-be, residents donated 130 packages of diapers to Loudoun County's Foster Care Services.
9. Let us entertain you. 
Ashby Ponds community members enjoyed time together through the first summer outdoor concert series, which featured a variety of local musicians, including Joanne Francis on the steel drum, the Lonesome Fiddle Ramblers, and the Nuage Rhythm Trio.
10. Tech savvy. 
In 2021, the number of My Erickson app activations reached an all-time high with over 1,000 active accounts. My Erickson provides instant access to community information, messages, dining menus, meal balances, activity calendars, transit schedules, local directories, and staff information.
To learn more about vibrant senior living at Ashby Ponds, request your free brochure and get the scoop on floor plans, pricing, and so much more. Ready to take a look at the endless amenities offered? Schedule a virtual or in-person visit.
Back