Healthcare Careers at Ashby Ponds Provide Flexibility and Numerous Benefits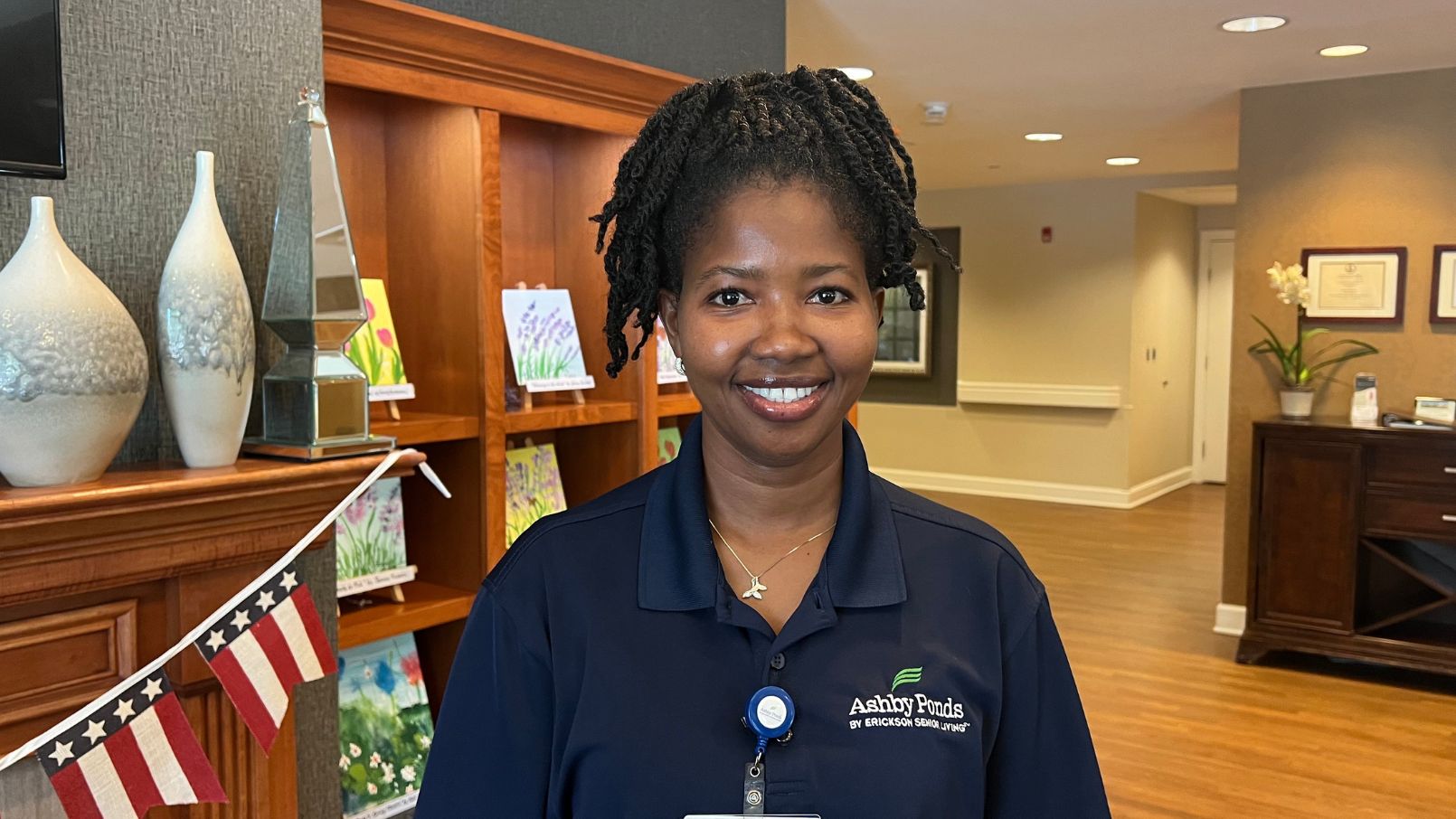 "I chose to work at Ashby Ponds because I believe it is one of the best companies for growth in terms of your career," says Mariama Jalloh. "I also enjoy strong relationships with the residents. That not only makes my job enjoyable but creates strong bonds of trust."
A leader in the senior housing industry, Ashby Ponds, an Erickson Senior Living community in Ashburn, is the employer of choice for health care professionals eager to make a difference in the lives of residents, while enjoying competitive benefits and management support; unique training opportunities; and a sought-after work-life balance.
"There has never been a more exciting time to be a part of the health care team," says Ashby Ponds executive director Tom Channon. "The rewarding work, diverse training programs, and opportunities to help others provide an ideal pathway for a successful career. There is nothing more exciting than seeing team members make significant contributions while enjoying career advancement and numerous opportunities to build their portfolio of skills."  
Mariama began her career at Ashby Ponds in 2017 as a certified nursing assistant (CNA) and registered medical assistant (RMA) focusing primarily on memory care at Maple Grove, Ashby Ponds' continuing care neighborhood. At the same time, she was attending school to become a registered nurse.
While juggling the demands of her job and schooling, Mariama enjoyed flexible work hours, one of the many advantages of a healthcare career at Ashby Ponds.
"I'm very grateful to my bosses for giving me the opportunity to change my work schedule in order to work around my school schedule when needed," she says. "I can't imagine how difficult it must be to adjust a schedule that changes every 3-4 months, but they did that for me. I can't imagine working and going to school without being able to switch my work schedule."
As a member of the health care team at Ashby Ponds, Mariama enjoys a work environment that encourages professional growth seen in a variety of benefits and education support.
"One of my favorite parts of my job is the role Erickson Senior Living played in my nursing education," she says. "I received a good amount of financial assistance for my fees which helped cut down the amount of my school loan. I was also able to use some of the assistance for books as well."
Recognizing Mariama's hard work and success, she was promoted to an RN position upon her graduation and the awarding of her nursing license.
"I continue to enjoy a flexible work schedule," she says. "Ashby Ponds grants employees time off when requested. I have never had any problems taking the time I need."
In addition to the numerous tangible benefits of her healthcare career at Ashby Ponds, Mariama enjoys her daily interactions with residents and their families.
"Creating positive relationships and interacting with residents is very important to me," she says. "My manta is – I am here for the residents and my main purpose for being here is for MY residents. I refer to them as "my" residents because I see taking care of them is my responsibility and I am grateful to Ashby Ponds for the opportunity to do so."
Anyone interested in health care or other exciting career opportunities at Ashby Ponds should browse the company's careers website.  


 
Back