Enjoying The Great Outdoors at Ashby Ponds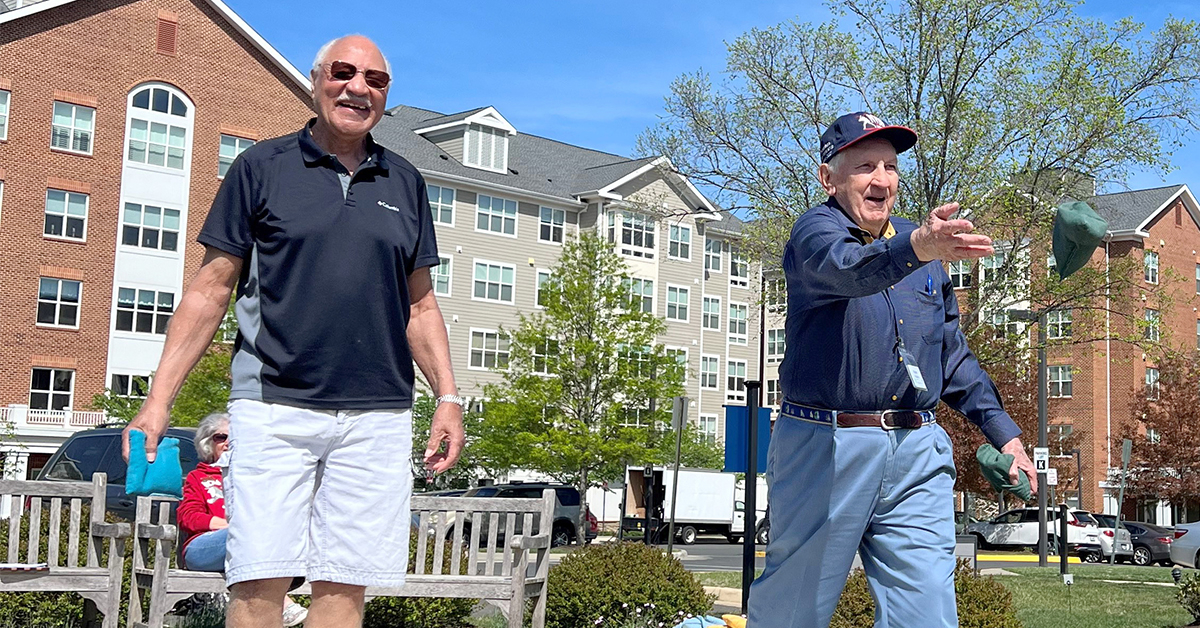 With 132 acres of enviable green space, Ashby Ponds, the Erickson Senior Living community in Ashburn, Va., boasts a range of flowering trees and plants, well-landscaped walking trails, and several ponds.
"The campus is designed to promote exercise, enjoyment of nature, and interaction with others," says resident Kim Finan, who frequents the community's walking paths.
At Ashby Ponds, Kim and her neighbors maximize their time spent outdoors by socializing with friends; participating in outdoor activities such as gardening, cornhole, and bocce; and enjoying music concerts and al fresco dining.
Outdoor amenities abound
"The health benefits of spending time outdoors are just icing on the cake for our active community members," says Resident Life Director Faith Edwards.
Adults over 70 who spend time outdoors experience fewer sleep difficulties and improved mobility, according to research reported in the Journal of Aging and Health. Studies also show that going outside lowers blood pressure, reduces stress, and improves mood and focus.
Recognizing the importance of these findings, Erickson Senior Living prides itself on offering safe, accessible outdoor environments that encourage residents to get active and socialize, enhancing their overall well-being.
"I'm proud of the many ways Ashby Ponds invests in resources and unique activities for residents," notes Edwards. "In addition to our outdoor amenities, including a dog run, walking trails, and putting greens, we also organize outdoor activities. The Father's Day Fishing Tournament, our concert series, our Grand Camp event, and the annual Resident Olympics are always a hit."
Green thumbs
Kim, who has quite the green thumb, appreciates the variety of blooms and buds that appear on campus throughout the seasons.
"Our walking paths provide year-round interest," says Kim. "During these hotter months, there are roses, crape myrtles, and an abundance of summer perennials. Looking ahead to the fall, there are gorgeous maple red trees and white and pink Japanese anemones."
In the winter, Ashby Ponds' campus is brimming with winterberry. Early spring brings yellow flowers to the winter jasmine and color to the redbud, cherry, and crabapple trees.  
"All of it refreshes the soul and brightens one's outlook," she adds. "Why go down to the Washington & Old Dominion Trail when the scenery of campus changes all the time?"
The garden club, which first took root in 2009, expands the community's flora and fauna by growing an assortment of flowers, veggies, and herbs in in-ground and tub gardens. Kim, one of the 150 club members, tends to peppers in her space at the community garden.
Friendly competition
A hop, skip, and jump away from the garden club is Ashby Ponds' cornhole group, founded by resident Ron Kutscher.
"I enjoy cornhole because, mainly, it's outdoors," explains Ron. "With four matches going on at the same time, there is a great deal of friendship and companionship. I find the benefits of playing cornhole to include physical exercise and invigorating competition."
Over the last few years, participation in the cornhole group has grown exponentially, requiring the addition of several more boards.
"It's wonderful to be able to get outside and have fun," he says. "There is always the opportunity to meet residents you would not know otherwise. If you sign up alone, no worries - I will partner you up, making it easy to find a new teammate and friend."
In addition to cornhole, residents are big on bocce, played on two new courts at the Blue Ridge Clubhouse, and horseshoes.
Investing in well-being
Recently, Erickson Senior Living provided a multimillion-dollar investment through its Well-Being Fund to support the addition of enhanced health and well-being amenities and services to residents in its communities across the country.
At Ashby Ponds, funds were used to install new dog run equipment, create signage for the walking trails across campus, and support the popular Concerts On The Green concert series.
"These fall and spring concerts cover a variety of genres," says Kim. "They are an opportunity to socialize, sing along, and dance - if you feel so inclined! Some folks bring lawn chairs, some sit on benches in the shade, and others listen from the clubhouse porticos. When we're all together on the green, we feel like one big community."
Get outside!
Thanks to resident-led efforts and investments in outdoor spaces, an increasing number of Ashby Ponds residents are finding ways to spend time outside, which is proving to be an integral part of their active, worry-free lifestyles.
"The ability to enjoy time outside with neighbors is a wonderful advantage for residents at Ashby Ponds," says Ron.
Invest in your future self at Ashby Ponds. From top-notch amenities to affordable, maintenance-free apartment homes, you are sure to live your retirement to the fullest. Request more information today!
Back