Enjoy The Best Ashby Ponds Has to Offer - You've Earned It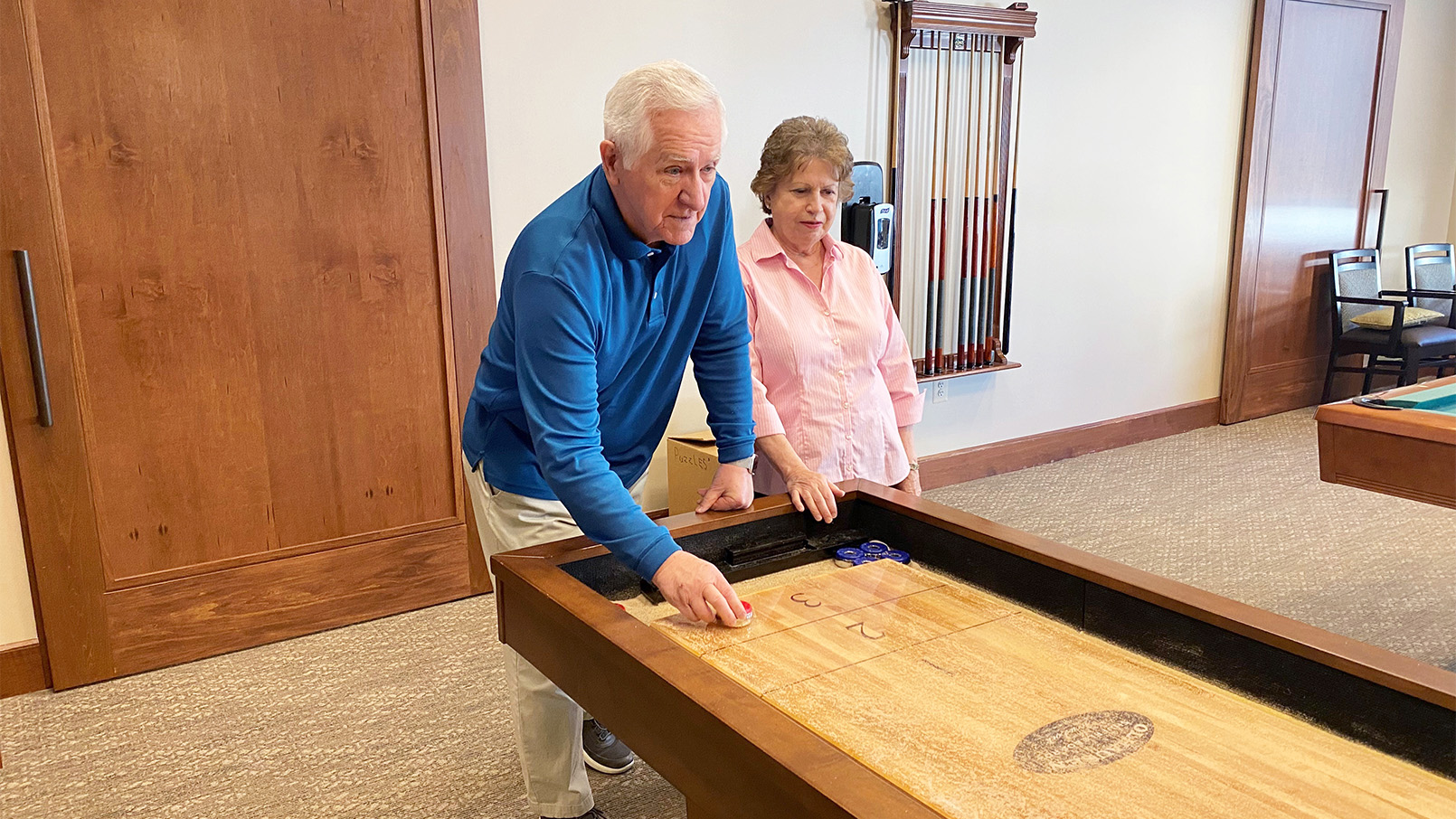 After living in a beautiful lakeside house in Lake of the Woods, Va., for several years, Larry and Judy Eiben made the move to Ashby Ponds, an Erickson Senior Living community in Ashburn, Va., in September 2020.
"We didn't plan on moving to Ashby Ponds as soon as we did," says Larry. "But when the apartment home we wanted became available to us, we decided to go for it. And we are so glad that we did."
Since their move, the couple continues to reap the benefits of their active, new life at Ashby Ponds, which includes financial security, a wide range of activities to choose from, and an enviable maintenance-free lifestyle. Erickson Senior Living communities are the perfect choice for retirees who are eager to take advantage of opportunities to learn, grow, socialize, and pursue their passions.
"Because we were living in a larger house, I wondered how we would adjust," says Larry. "But thanks to the supportive staff, the friendliness of our neighbors, and the many activities to keep us busy, it's been so easy."
Decision time
Prior to the Eibens' move, the couple researched a variety of different retirement communities across the state of Virginia.
"We kept coming back to Ashby Ponds," says Larry. "It stood out above all the others. As a result, we joined the priority list and took advantage of all the exclusive events. We found them to be informative and helpful."
It was because of their priority list status that the Eibens were notified about the availability of their preferred apartment home - before the general public.
Financial sense
In the months leading up to their move, the couple also explored the financial benefits of moving to Ashby Ponds.
"Judy is the financial guru of the family. She carefully weighed the cost benefit of moving to Ashby Ponds versus staying in our house," says Larry. "What she found was that the costs are similar, but at Ashby Ponds, we enjoy a more carefree lifestyle. Everything is taken care of for us. We get so much for our money."
Larry notes that he was always on the go before their move. "Whether it was volunteering with the rescue squad or Meals on Wheels, I was busy, busy, busy. I swore that when we moved to Ashby Ponds, I would sit in my recliner and enjoy a glass of wine."
Despite his intentions, both Larry and Judy are involved with club meetings and other activities. Together, the couple began playing cornhole, shuffleboard, and bocce. In addition, Larry joined the woodworking club and the veterans group. He also competed in the Northern Virginia Senior Olympics and recently joined the Resident Advisory Council's dining services committee.
"My plan didn't work out so well," he laughs. "You find your neighbors getting out and enjoying the many activities - you just want to be a part of it all."
Newfound freedom
The couple credits the maintenance-free lifestyle for providing both the freedom and the time to explore these new activities. Whether a faucet leaks or a lightbulb burns out in their two-bedroom, two-bath apartment home, an Ashby Ponds staff member arrives quickly to take care of it.
Ashby Ponds also offers a wide variety of unique floor plans to suit a range of needs and budgets. The best part? No matter what apartment home you choose, you still gain access to the community's top-notch amenities and services.
The monthly service package bundles monthly and quarterly expenses like electric, property taxes, water, and cable, into one predictable bill, allowing residents to balance their budgets with confidence.
Family support
Moving to Ashby Ponds also brought the Eibens closer to their daughter Laura, who lives with her husband and four sons in Ashburn, less than 10 minutes from the community.
"She is thrilled to have us nearby," says Larry. "Laura and her family visit us often. We also love visits from our son and his family, who live in Richmond. Both of our children fully support our decision to move."
"We recognize how hard you worked and how carefully you planned for retirement. Family members often recognize that too," says Sales Director Holly Henderson. "We want you to enjoy these years you earned to the fullest."
Larry agrees. "I discovered I'm not ready to sit back in a recliner with that glass of wine. Instead, I'm excited about what's next."
Invest in your future self at Ashby Ponds. From top-notch amenities to affordable, maintenance-free apartment homes, you are sure to live your retirement to the fullest. Request more information today!
Back