Design Your Dream Dwelling at Ashby Ponds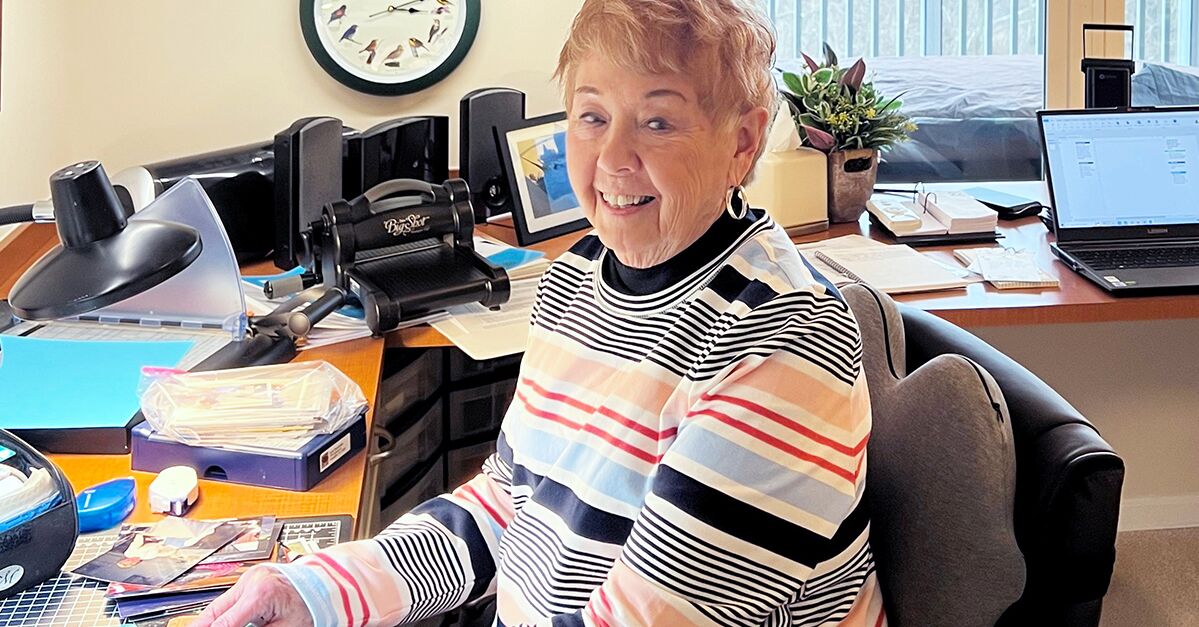 "I'm so grateful for the help I received while customizing my apartment home," says Karen Danzenbaker, a resident at Ashby Ponds, an Erickson Senior Living community in Ashburn, Va.
She adds, "From custom closets to installing ceiling fans and shutters to creating a scrapbooking room, everything is better than I imagined!"
Ashby Ponds offers a wide range of floor plans to suit a variety of lifestyles and preferences. And in addition to these plentiful options, residents enjoy the freedom to personalize their apartment homes.
"The sky's the limit!" says Custom Interiors Coordinator Dena Stansbury. "Some residents have created an office, art studio, or guest room out of a second bedroom. You can also add special touches, such as crown molding, built-in bookcases, custom closets, and window treatments."
These services aren't exclusive to incoming residents, though, notes Stansbury.
"I help existing residents make changes the same way they would have in their previous house," she explains. "Trying a new paint color, updating countertops, and adding additional storage with custom closets are pretty popular."
Set up for success
After visiting several senior living communities in the area, Karen and her husband Warren knew that Ashby Ponds was the best place to make the most of their retirement years.
"Only Ashby Ponds felt like home," recalls Karen. "We wanted to surround ourselves with people and activities, and no other community felt as vibrant or active."
After selecting a two-bedroom, two-bath apartment home with a den and porch, the couple worked closely with Sales Counselor Dana Bradshaw to prepare for their move. Bradshaw connected the couple with a preferred real estate agent, move manager, and design company.
Prioritizing passions
"When I look at four walls, I see four walls," says Karen, with a laugh. "I knew we needed someone with expertise, so we met with Closets by Design, which works with Ashby Ponds."
A designer scheduled a home visit with the Danzenbakers to measure furniture and take note of high-traffic areas. Seeing how passionate Karen and Warren were about their hobbies of scrapbooking and railroad modeling, respectively, she planned out those spaces first.
"Shortly after our home visit, she came back with drawings that showed us where all of my scrapbooking paper and tools would go. She also showed us a space that Warren could use to run his railroad," explains Karen. "We just thought, 'Wow,' and decided to proceed."
Ashby Ponds also helped the couple select custom window coverings and coordinated the installation of ceiling fans on their porch.
"I was done with sheers, curtains, shades - anything traditional," says Karen. "My daughter-in-law has louvered shutters, and I wanted them too. We were well on our way!"
Change of plans
However, two weeks before the couple was going to put their house on the market, Warren passed away unexpectedly.
"It was devastating. Our real estate agent found out first, so they notified Dana," says Karen. "Ashby Ponds staff was wonderful. Even though most of the custom work was already done, I was asked if I wanted to make any changes. I ultimately decided to remove some paneling that would have hidden Warren's electrical stuff for his trains."
Once renovations on the apartment home were complete, Karen moved to Ashby Ponds in June 2019 with the help of her two sons. The second bedroom was transformed into a beautiful office space, organized to accommodate her passion for scrapbooking.
"I was able to mimic the scrapbooking room I had in our former house," she says. "It looks just like it. There is even a closet with enough room for all of my materials, as well as clothes."
Because Karen's movers replicated the organization of her previous cabinets and drawers, "I have not moved one thing since they put it all away," she says. "It was just an incredible experience!"
'A good, good life'
At Erickson Senior Living communities, residents like Karen appreciate the opportunity for new beginnings - and the ability to create eye-catching spaces where they can live the carefree retirement they've always imagined.
Comfortable in her new surroundings, Karen now takes full advantage of the many activities and amenities available right outside her door.
"I enjoy playing shuffleboard, Wii bowling, and bocce with my neighbors," she says. "I also play bridge, chess, and mah-jongg."
On Friday nights, Karen indulges her passion for digital scrapbooking by attending an online pizza party with thousands of scrapbookers across the globe.
"I have a good, good life here," she says. "This is one of the best decisions I've ever made!"
Invest in your future self at Ashby Ponds. From top-notch amenities to affordable, maintenance-free apartment homes, you are sure to live your retirement to the fullest. Request more information today!
Back