Construction at Ashby Ponds Brings Unparalleled Opportunities to Retirees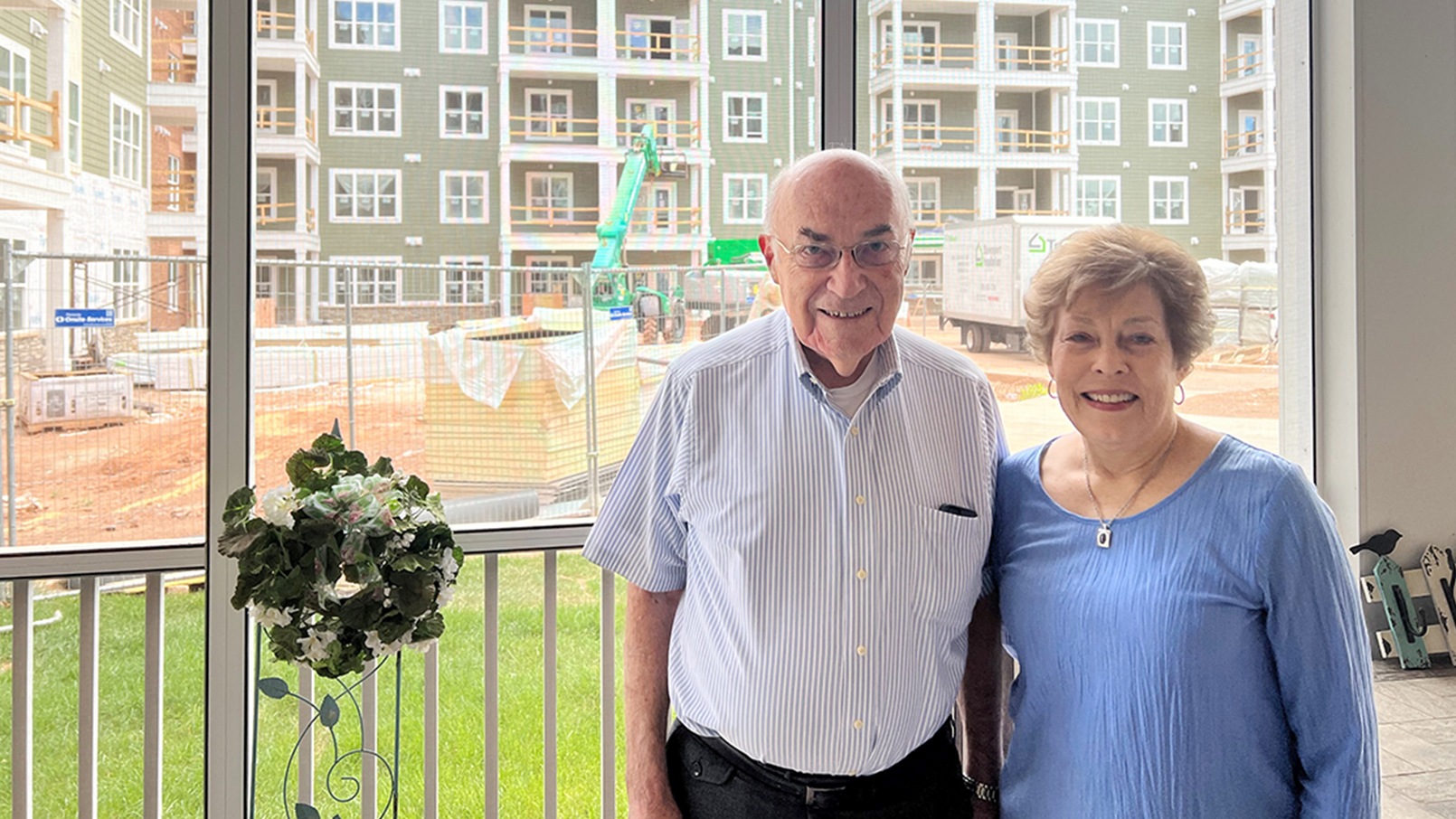 Due to unprecedented demand for the worry-free, engaging lifestyle at Ashby Ponds, an Erickson Senior Living community in Ashburn, Va., the construction of yet another residence building was recently announced.
Harpers Mill, the second-to-last residence building coming to the sought-after community, will boast 110 apartment homes that feature open layouts, modern finishes, and custom flooring and light fixtures.
"The announcement of each new residence building ushers in an exciting time of growth," says Sales Director Holly Henderson. "Everyone is eager to welcome new residents to our vibrant community."
'In the same boat'
Harper Mill follows directly on the heels of Waterford Station, which welcomed its first residents last December.
Andrew "A.J." and Marlene Steger, two of Waterford Station's first residents, understand and appreciate the benefits that come with moving into a new building.
"The Ashby Ponds sales team was wonderful! They did a great job making us feel welcome," says A.J. "We were invited to events prior to our move that were designed to help us meet our future neighbors."
With 132 acres-worth of neighborhoods and amenities, there was a lot for the Stegers to learn, but they weren't alone.
"Because so many of us moved into a new building at the same time, we were all in the same boat. I would walk around and see others who were also looking to meet new people," A.J. recalls. "And we all had the same questions, like, 'Where is this restaurant?' and, 'How do we get to the next building?'"
Now, in the eight short months they've called Ashby Ponds home, A.J. and Marlene know the ins and outs of the community - and have exponentially expanded their social circles.
"When I think back to how many people we knew when we moved in compared to now, it's astonishing," says A.J. "All you have to do is say hello! And not only have we made many new friends, but we've reconnected with people we met years ago. We didn't even know that they lived here at Ashby Ponds."
Family first
When the Stegers began contemplating a move to Ashby Ponds from their home in nearby Great Falls, Va., their focus was on two primary factors: keeping up with their close-knit family ties and ensuring that they found a welcoming community where it would be easy to make new friends.
"We knew that moving here would be a gift to our children, Craig and Kristy," says A.J. "Marlene and I experienced several difficult situations with our aging parents. We didn't want our kids to deal with the same things."
The couple also wanted to keep their Family Day tradition going.
"For at least 15 years, we've celebrated what we call Family Day," he explains. "Once a month, we all get together. It's been our way of keeping the family together despite busy schedules. As a result, it's kept us close, allowing our grandchildren to spend time together too."
With Craig's family in Ashburn and Kristy's family in Fairfax, Ashby Ponds' location helped check one of the couple's two requirements.
"Our kids are delighted," says A.J. "We moved in on December 20 - right before Christmas. We celebrated the holiday here with the whole family, all 12 of us. We've hosted the holiday for years, so we were happy that we didn't have to break the tradition. Everyone's visited since then, even the grandkids who are in college!"
Opportunities abound
Their second requirement, finding a community where they could make friends easily, was also met at Ashby Ponds.
"It's people, not things, that matter to us. It was the people at Ashby Ponds that sealed our decision to move here," says A.J. "It's been so easy to make friends, and we are just getting started."
Since their move, the Stegers have enjoyed dining with neighbors, visiting the fitness center, attending musical concerts, and participating in an array of activities.
First-hand advice
"There's something exciting about a new group of people moving in at the same time," notes A.J., as he reflects on their move to a brand-new residential building. "For us, it's been an unbelievably positive experience."
For the retirees who are considering moving into Harpers Mill when it opens next year, A.J. shares two pieces of advice.
"My biggest piece of advice is to begin this transition sooner than later, when you and your family can experience it together," he says. "Ashby Ponds has been such a blessing for our family."
"And secondly," he adds, "come for a visit. It's a great way to start meeting people while also discovering all the things there are to do here."
To learn more about affordable, independent senior living at Ashby Ponds, request your free brochure to get the scoop on amenities, floor plans, and so much more.
Back